Kumho Solus KH16 Tire Review & Rating
The Solus KH16 from Kumho is used as original equipment on a number of today's sport coupes, sedans, minivans and crossovers. It's touring all-season design is engineered to provide year-round traction and handling performance, to go with a smooth and more comfortable ride quality.
A high-tech all-season tread compound uses Kumho's ESCOT design technology that optimizes the shape, sidewall stiffness and tread contact. The result is a tire that provides increased lateral response, while absorbing bumps and improving ride comfort. Cornering Lag Technology, or CLT, enhances steering response by reducing the time the steering wheel is turned to when the vehicle reacts, which is something this tire does very well.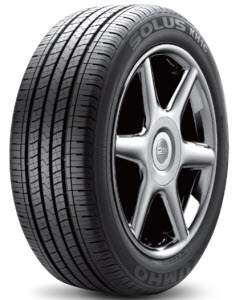 Four circumferential grooves and multiple lateral grooves deliver wet traction performance and reduce the risk of hydroplaning by channeling away water from under the tread. The tire's multi-sipe design adds winter traction on snow and ice. Kumho uses a variable pitch sequence in the tread blocks to effectively lower outside road noise, which this tire does a solid job at.
Inside the tire you will find two steel belts with nylon belt edge strips for increased strength and stability when driving at higher speeds. A polyester cord body further enhances ridecomfort. This model comes with a 60,000 mile tread guarantee, and is available in a wide range of 14-19 inch sizes.
Pros
Excellent dry and wet traction

Cornering grip

Steering is crisp and responsive

Ride is comfortable and quiet
Cons
Would like to see a little more winter handling
Overall Thoughts
While the KH16 is used as original equipment on several of today's new cars, it is still a very worthy addition on any vehicle. Traction on both dry or wet roads is excellent. The tire grips the surface very well in the corners, and the steering response is among the best in this class. It provides the type of feel that you are looking for from your tires.
We would like to see a little more winter handling capabilities, but this is an all-season tire and not a winter tire. Beyond that, the ride on this tire is very comfortable and smooth, and road noise is minimal. In fact, this is one of the most quiet tires in the Kumho lineup.
Treadlife is good for the most part, although we have heard some drivers complain about getting less than the 60,000 mile tread warranty out of them. Overall, we like what Kumho has done with the Solus KH16 and rank it in the top half of the touring all-season class.
Click Here For Current Kumho Coupons
Click Here To Find Current Prices
What Vehicles Will The Kumho KH16 Fit?
(This is not a complete list of ALL vehicles this tire will fit)
Acura 3.2 TL, TSX, Legend

BMW 740i, 325i

Buick Terazza, Regal

Chevrolet Cobalt, S10, Equinox

Chrysler 300, Pacifica

Dodge Magnum, Journey, Grand Caravan

Ford 500, Taurus, Focus, Escort

Honda Accord, Civic, CR-V, Pilot, Odyssey

Hyundai Entourage, Elantra, Sonata, Accent

Infiniti M35

Kia Forte, Optima

Lincoln LS, Town Car

Mazda6, Mazda3

Nissan Altima, Sentra

Subaru Outback, Forester, Impreza WRX

Toyota Camry, Matrix, Highlander, Sienna, Prius, RAV4, Corolla

Volkswagen Passat
Tire Sizes
14″
P185/60R14 82H BSW
P195/60R14 85H BSW
P185/65R14 85H BSW
15″
P195/55R15 84V BSW
P195/55R15 84V BSW
P195/60R15 87H BSW
P205/60R15 90H BSW
P215/60R15 93H BSW
P185/65R15 86H BSW
P195/65R15 89T BSW
P205/65R15 92H BSW
P215/65R15 95H BSW
16″
P205/50R16 86H BSW
P195/55R16 86V BSW
P205/55R16 89H BSW
P215/55R16 91H BSW
P225/55R16 94H BSW
P235/55R16 98H BSW
P205/60R16 91H BSW
P215/60R16 94H BSW
P225/60R16 97H BSW
P235/60R16 99H BSW
P205/65R16 94H BSW
P215/65R16 96H BSW
225/70R16 102T BSW
17″
215/45R17 91V BSW
P215/45R17 87H BSW
205/50R17 93V XL BSW
P215/50R17 90V BSW
P225/50R17 93H BSW
P235/50R17 95H BSW
P215/55R17 93V BSW
P225/55R17 95H BSW
225/55R17 101V BSW
P235/55R17 98V BSW
P215/60R17 95H BSW
P225/60R17 98H BSW
235/60R17 102T BSW
255/60R17 106H BSW
P215/65R17 98H BSW
P225/65R17 100T BSW
P235/65R17 103H BSW
P245/65R17 105T BSW
18″
P245/45R18 96V BSW
P225/50R18 94V BSW
P235/50R18 97V BSW
P225/55R18 97H BSW
P235/55R18 99H BSW
255/55R18 109V XL BSW
P225/60R18 99H BSW
19″
225/55R19 99T BSW
225/55R19 99H BSW
Price Range
Prices on the KH16 range from approximately $62 and up. You may also find occasional rebates, discounts, coupons and special offers on this tire.
Click Here To Find The Current Prices On All Kumho Solus KH16 Sizes
Warranty
Kumho provides a 6-year or 60,000 mile tread warranty on the KH16. The mileage portion is reduced by half if the rear tires are a different size than the front. Tire uniformity is guaranteed for one-year or the first 2/32 inch of wear.
Materials and workmanship are warranted for 6-years and include free replacement during the first 2/32 inch of wear. A prorated amount is given for the remaining time period or down to the final 2/32 inch of tread depth.
---