Kumho Ecsta PA 51: Tire Rating & Review
Overview
The Kumho Ecsta PA51 tires are ultra-high performance all-season tires that are designed for sports cars, coupes and performance sedans. They work well with passenger cars, too. They're specially developed for drivers who want high drivability and performance all year round with no compromises because of changing seasons.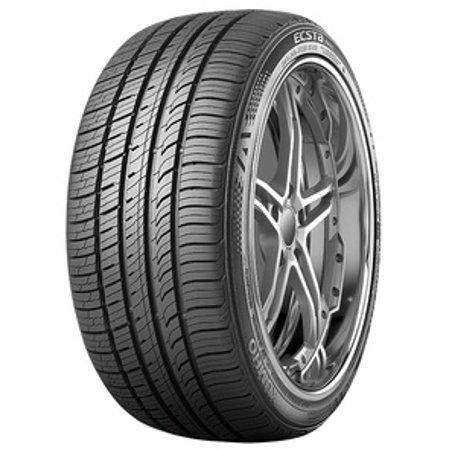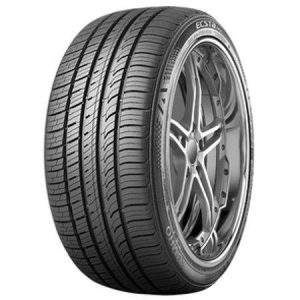 Kumho Ecsta PA 51 tires allow your car to have better handling, responsiveness, high-speed stability and traction.
There are a few reasons for that.
First, the asymmetrical design of the tread with lateral grooves allows your car to have a firm grip on the road. Secondly, the four central ribs combined with the rigid outside shoulder enable you to have greater cornering grip, stability and traction. This also provides even wear and increases the useful life of the tire.
Plus, you'll notice that the Kumho Ecsta PA51's are wide tires, this allows greater contact area with the road, enabling more exceptional grip, traction and stability on roads. This means that you will get excellent stability even at high speeds.
Road noise is reduced due to Kumho's variable pitch sequence technology. This allows for a quieter, smoother and more comfortable ride.
Kumho Ecsta PA51 also increase the contact area with the road for better grip and asymmetric pattern of the tread is great for dry conditions as the car will remain stable even when driving at high speeds.
Another interesting thing to note is the high-grip, all-season tread compound that is reinforced with silica and helps boost wet traction.
The zig-zag circumferential grooves help maintain grip in light snow conditions. The full-depth sipes on the Kumho Ecsta PA51 tires' edges allow them to have better winter traction in snow and ice when there's nothing to hold on to.
In wet weather conditions, water is evacuated from the Kumho Ecsta PA51 with the help of the tread design that features.
All in all, this tire manages to perform well in conditions when many other tires would struggle. If you want a high-performance tire that can deliver in challenging weather and ensure a comfortable drive throughout the year, this is it.
Pros
Increased traction and stability in all weather conditions

Low road noise

Comparatively low priced

Better handling at high speeds
Cons
Not designed for off-road or muddy conditions
Overall Thoughts
The Kumho Ecsta PA51 tires are quite affordable, and they're rated high-performance all-season. The sipes allow greater winter traction and the wide central grooves allow ejection of water and snow so that you get greater responsiveness from your tire.
The tire has lesser hydroplaning risk and performs well in light snow as well. The tread design and compound allows this tire to be suitable for different performance vehicles in all weather conditions on the road.
They may not do well in off-road conditions and in mud, however. But that's because they're not rated winter tires, but all-season high-performance. This means they can handle a little bit of snow and even the rain.
The strong central ribs and strengthened outside shoulder will all help maintain greater traction in different weather conditions. So if you live in an area that doesn't get an obscene amount of snow but rainy weather, these will make the perfect tires for your daily driver or your track car.
What Vehicles Will The Kumho Ecsta PA51's Fit?
The following is a list of vehicles that the Kumho Ecsta PA51 all-season UHP tires will fit.
Subaru Impreza

BMW 3 Series

Chevrolet Camaro

Jaguar XJ

Acura Integra

Fiat Uno

Dodge Neon

Honda Jazz

Honda Accord

Honda City

Mazda Speed 6

Mazda Miata

BMW 5 Series

Kia Forte

Toyota Aqua

Toyota Yaris

Lexus IS350

Mini Cooper

Volkswagen Polo

Volkswagen Passat
Please note that this is not a complete list. There are more vehicles that the Kumho Ecsta PA51 all-season UHP tires can fit.
Tire Sizes
16"
185/55R16 83V

195/50R16 84V

195/55R16 87V

205/50R16 87V

205/55ZR16 91W

215/55R16 93V

215/60R16 95V

225/50R16 92W
17"
205/40R17 XL 84W

205/45R17 XL 88V

205/50ZR17 XL 93W

215/45ZR17 XL 91W

215/50ZR17 XL 95W

215/55ZR17 94W

225/45ZR17 XL 94W

225/50ZR17 XL 98W

225/55ZR17 97W

235/45ZR17 XL 97W

235/50ZR17 96W

235/55ZR17 99W

245/40ZR17 91W

245/45ZR17 95W

245/50ZR17 99W

255/40ZR17 94W

275/40R17 98W
18"
215/40ZR18 XL 89W

215/45ZR18 XL 93W

225/40R18 XL 92W

225/45ZR18 XL 95W

225/50R18 95W

235/40ZR18 XL 95W

235/45ZR18 XL 98W

235/50ZR18 97W

235/55ZR18 100W

245/40R18 XL 97W

245/45ZR18 XL 100W

245/50ZR18 100W

255/35ZR18 XL 94W

255/40R18 XL 99W

255/45R18 XL 103W

265/35R18 XL 97W

275/35R18 95W

275/40R18 99W
19"
225/40ZR19 XL 93W

225/45ZR19 92W

245/35R19 XL 93W

245/40R19 XL 98W

245/45R19 XL 102W

245/50R19 XL 105W

255/35ZR19 XL 96W

255/40R19 XL 100W

275/35R19 XL 100W

275/40ZR19 XL 105W

285/35R19 99W
20"
245/35ZR20 XL 95W

245/40R20 XL 99W

245/45ZR20 99W

255/35R20 XL 97W

255/45R20 XL 105W
Price Range
Prices for the Kumho Ecsta PA51's start as low as $85 per tire and go up to $174 per tire, depending on the size. This means you can get a full set of 4 Kumho Ecsta PA 51 tires for under $350.
It is always recommended to get the tires from an authorized Kumho distributor or dealership so that you get the best value for money.
Dealerships may have discount offers and will be able to exact your warranty if you need to. Kumho offers warranties on their tires and authorized distributors and dealerships help you get the most out of your Kumho Ecsta PA 51 tires.
Warranty
The Kumho Ecsta PA 51 tires have a 45000-mile limited treadwear warranty provided by the manufacturer. They also have a 30-day Satisfaction-Guaranteed Trial Warranty on the complete set of 4 Kumho Ecsta PA51s purchased from an authorized distributor or dealership.
In addition to these warranties, the PA51 also has a road hazard warranty that can be claimed within the first 2/32" of original tread depth and 12 months of purchase, if normal road hazard conditions irreparably damage the tire.
All warranties are subject to terms and conditions which must be followed by the original owner of the tire to avail the warranty.