Kumho Ecsta 4X KU22 Tire Review & Rating
For drivers who own sports cars or higher performing sedans and are looking for a tire that not only handles all types of weather conditions, but also allows for more spirited driving, the Kumho Ecsta 4X KU22 could be just what you're looking for.
The asymmetric tread design on the Ecsta 4X uses Kumho's advanced silica tread compound. This compound, combined with the intermediate tread blocks and larger shoulder blocks on the outside of the tire, is built to provide high performance handling and increased steering response in the corners.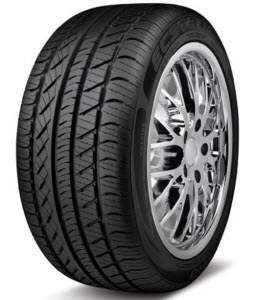 A notched center rib around the tire adds more stability for straight linea cceleration. It also helps to reduce outside road noise.
Wet surface traction is enhanced through four circumferential grooves and added lateral grooves. Driving on snow covered roads is made safer due to the multiple sipes around the tread that provide numerous biting edges resulting in better handling.
Kumho uses ESCOT, or tension control optimization, technology for the carcass of the 4X, which gives the sidewalls and shoulders of the tire better uniformity and distributes the pressure more evenly. This helps keep the tire cooler, and adds durability as well.
Inside the tread you will also find two belts made of high-tensile steel and a spirally wrapped jointless cap ply, which work together to give the tire more durability and stability at higher speeds.
Click Here For Current Kumho Coupons
Click Here To Find Current Prices
Pros
Dry surface grip and stability is outstanding

Ride comfort is smooth and enjoyable

All-season tread design provides good traction in winter weather conditions

6-year or 40,000 warranty is very good for tires in this class
Cons
Would like to see a touch better wet pavement traction
Overall Thoughts
The Ecsta 4X ranks as one of the better performing low-cost high-performance all-season tires. While we feel models like the Continental DWS06, BFGoodrich Comp-2 A/S, among others, are at the top of the class, this Kumho model is impressive. Dry surface traction and steering response are excellent.
The ride is very comfortable and road noise is minimal. While wet traction and handling are above average in its class, it could be improved on to take a place among the top tier tires. Overall, a nice tire from Kumho.
What Vehicles Will The Ecsta 4X Fit?
(This is not a complete list of ALL vehicles this tire will fit)
Acura TL, Integra, TSX

Audi A4, A6, TT

BMW 328i, Z4, 330xi, 528i, M3

Cadillac CTS

Chevrolet Cruze, Camaro, Aveo

Ford Mustang, Focus, Fusion, Taurus

Honda Civic, Accord, Fit

Hyundai Sonata, Genesis

Kia Optima

Mazda3, Mazda6, Miata, Protege

Mini Cooper S

Nissan Maxima, Altima

Nissan 370Z

Subaru Impreza WRX, Outback

Toyota Solara, RAV4, Avalon, Celica GTS

Volkswagen Passat, Jetta, CC Sport, Golf, GTi

Volvo S60, 850, S40
Tire Sizes
15″
195/55R15 85V BSW
205/55R15 88V BSW
16″
195/50R16 84W BSW
195/55R16 87V BSW
205/50R16 87W BSW
205/55R16 91W BSW
215/55R16 93W BSW
225/50R16 92W BSW
225/55R16 95W BSW
17″
205/40R17XL 84W BSW
205/45R17XL 88W BSW
205/50R17XL 93W BSW
215/45R17XL 91W BSW
215/50R17XL 95W BSW
225/45R17XL 94W BSW
225/50R17XL 98W BSW
225/55R17 97W BSW
235/45R17XL 97W BSW
235/50R17 96W BSW
235/55R17 99W BSW
245/40R17 91W BSW
245/45R17 95W BSW
245/50R17 99W BSW
255/40R17 94W BSW
275/40R17 98W BSW
18″
215/45R18XL 93W BSW
225/40R18XL 92W BSW
225/45R18XL 95W BSW
225/50R18 95W BSW
235/40R18XL 95W BSW
235/45R18XL 98W BSW
235/50R18 97W BSW
245/40R18XL 97W BSW
245/45R18XL 100W BSW
245/50R18 100W BSW
255/35R18XL 94W BSW
255/40R18XL 99W BSW
265/35R18XL 97W BSW
275/35R18 95W BSW
19″
245/40R19 94W BSW
255/35R19XL 96W BSW
255/40R19XL 100W BSW
20″
245/35R20XL 95W BSW
245/45R20 99W BSW
255/35R20XL 97W BSW
255/45R20XL 105W BSW
Price Range
Prices on the Ecsta 4X range from approximately $91 and up. You may also find occasional rebates, discounts, coupons and special offers on this tire.
Click Here To Find The Current Prices On All Kumho Ecsta 4X KU22 Sizes
Warranty
Kumho warrants the Ecsta 4X for 6-years or 40,000 miles. A 1-year or first 2/32 inch of wear guarantee is provided for tire uniformity.
Materials and workmanship are backed for 6-years and include free replacement during the first year or first 2/32 inch of wear. The amount is prorated for the remaining time period or until the final 2/32 inch of tread depth.
You will also receive a first 2/32 inch of wear road hazard warranty on this model as well.
---