Kumho Crugen HT51 Tire Review & Rating
Released in March 2016, the Kumho Crugen HT51 is the company's newest all-season tire built for drivers of light trucks, SUV's, crossovers and vans. Featuring an all new tread design, the HT51 will be a replacement to the older and popular Road Venture KL51.
Kumho uses an all-season tread compound and asymmetric tread pattern that is designed to provide increased traction and handling on dry or wet road surfaces. An optimized tread pattern and stiffer center tread blocks enhance steering response, straight-line handling and cornering stability throughout the speed range.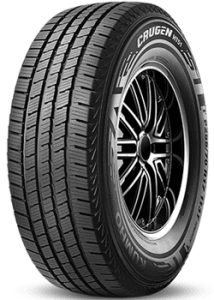 Four wide circumferential grooves that run zig-zag around the tread combine with 3D sipes to provide added grip on wet pavement, which is an area this tire does quite well. The zig-zag grooves effectively channel away water and further increase hydroplane resistance. In addition to improved traction on wet streets, the 3D sipes aid in delivering better grip in light snow and slush road conditions as well.
Inside the tire are twin steel belts wrapped with nylon which results in added strength and durability, while the tire's two-ply polyester cord body provides increased ride comfort. Kumho has released 35 LT and non-LT sizes ranging from 15-20 inches. The Crugen HT51 is backed with up to a 70k mile tread warranty.
Pros
Dry and wet traction
Smooth and quiet on the highway
Treadlife
Value for the money
Cons
Traction in deep snow and hard-packed ice
Overall Thoughts
As a replacement to their best-selling KL51, this new Kumho Crugen HT51 has managed to up the levels of performance and deliver a solid all-around highway all-season tire. You can expect to find excellent ride comfort, with this model providing a smooth ride that is very quiet. In fact, we feel this is one of the quietest truck/SUV tires in its class.
Treadlife has shown to be very good at this early stage and this is an area mentioned in driver reviews as well. Traction in lighter amounts of snow is good, although you might experience difficulties in deeper amounts of snow and on ice or hard-pack. Naturally, this is an area that plagues most every all-season tire.
Overall, the HT51 sits in the upper half of this category and makes an excellent choice in a truck/SUV all-season tire. It's comparable to top models like the Michelin Defender LTX M/S, Cooper HTP and Yokohama YK-HTX among others. Add in the lower price and this Kumho tire delivers good value and performance for the money.
Click Here For Current Kumho Coupons
What Vehicles Will The Kumho Crugen HT51 Fit?
(This is not a complete list of ALL vehicles this tire will fit)
Chvrolet Silverado, Avalanche, S10, Suburban, K2500, Colorado, Blazer
Dodge Ram, Dakota, Durango
Ford Expedition, Ranger, Bronco, F-150, Explorer
GMC Yukon, Sierra, Canyon
Honda Element, CR-V, Ridgeline
Isuzu Trooper
Jeep Wrangler, Grand Cherokee, Liberty
Mazda B4000
Mercury Mountaineer
Mitsubishi Montero
Nissan Titan, Xterra, Frontier, Pathfinder
Toyota Tacoma, Tundra, FJ Cruiser, Sequoia, Land Cruiser, Highlander
Tire Sizes
15″
P235/70R15 102T BSW
P235/75R15 105T BSW
LT235/75R15 104/101S BSW
16″
P215/70R16 99T BSW
LT215/85R16 115/112R BSW
LT225/75R16 110/107S BSW
P225/75R16 104T BSW
235/70R16 106T BSW
P235/75R16 106T BSW
LT235/85R16 120/116R BSW
245/70R16 107T BSW
P245/75R16 109T BSW
LT245/75R16 120/116S BSW
P255/70R16 109T BSW
265/70R16 112T BSW
P265/75R16 114T BSW
LT265/75R16 112/109S BSW
17″
235/70R17 108T XL BSW
LT235/80R17 120/117R BSW
245/65R17 111T XL BSW
245/70R17 108T BSW
LT245/70R17 119/116S BSW
LT245/75R17 121/118S BSW
265/65R17 112T BSW
P265/70R17 113T BSW
LT265/70R17 121/118S BSW
18″
P255/70R18 112T BSW
P265/60R18 109T BSW
P265/65R18 112T BSW
P265/70R18 114T BSW
P275/65R18 114T BSW
LT275/65R18 123/120R BSW
LT275/70R18 125/122R BSW
20″
P275/55R20 111T BSW
P275/60R20 114T BSW
Price Range
Kumho Crugen HT51 prices range from approximately $89 and up. You may also find occasional rebates, discount prices, coupons and special offers on this tire.
Warranty
Kumho provides a 6-year or 70,000 mile tread warranty on P-metric sizes and 45,000 miles on LT models of the Crugen HT51. Tire uniformity is guaranteed for the first year or first 2/32 inch of wear.
Materials and workmanship are warranted for 6-years and include free replacement during the first year or first 2/32 inch of wear. A prorated amount is given for the remaining time period or down to the final 2/32 inch of tread depth.
---