Kelly Safari Signature Tire Review & Rating
The Kelly Safari Signature is the company's highway all-season tire designed for drivers of pickups, SUV's, crossovers and commercial style vans. Engineered to provide year-round traction and handling, the Safari Signature features a smooth ride and longer lasting treadlife.
An all-season tread compound and symmetric tread pattern are made to provide enhanced dry and wet traction. The uniformity of the tread design gives it predictable handling and cornering grip, as well as more responsive steering.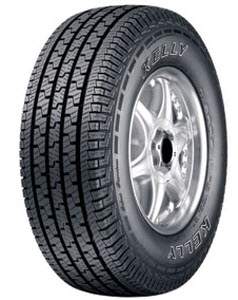 Wet handling is enhanced through the tire's four circumferential grooves and unique zig-zag lateral grooves. Together, they channel away water for increased traction on wet streets, while further reducing the risk of hydroplaning. These grooves also give the tire more grip on snow and ice covered road surfaces, something this tire does a more than adequate job at.
Inside the tire you will find two steel belts that are nylon reinforced for added strength and durability. The polyester radial cord body provides increased ride comfort and promotes more even treadwear. Sizes range from 16-18 inches, and Kelly backs the Safari with a 55,000 mile tread guarantee.
Pros
Excellent dry and wet traction

Cornering grip is good and tire remains stable at all speeds

Tire rides comfortably

Longer lasting treadlife
Cons
A little extra road noise as tire wears down
Overall Thoughts
The Safari Signature ranks highly in its class. This tire provides the kind of performance you would find on similar tires from Pirelli, Goodyear, Bridgestone and other tire makers. Expect excellent traction on dry or wet roads, including light snow covered surfaces. This model offers good stability, and the ride is comfortable as well.
Road noise may be an issue to some as the tire wears down, but it is nothing excessive. Treadlife is very good for a highway truck/SUV tire, which is something you will find mentioned in other driver reviews and ratings.
Overall, we like this Kelly tire a lot for its nice performance and lower price. The value you get for the money is very good on this model.
What Vehicles Will The Safari Signature Fit?
(This is not a complete list of ALL vehicles this tire will fit)
Acura MDX

Chrysler Pacifica

Chevrolet Avalanche, Silverado, Tahoe

Dodge Durango, Ram, Dakota

Ford F-150, Escape, Expedition, Explorer

GMC Yukon, Envoy, Sierra

Honda Pilot, CR-V

Hummer H3

Hyundai Santa Fe

Jeep Grand Cherokee, Liberty

Nissan Armada, Xterra, Murano

Saturn Vue

Subaru Tribeca

Toyota Highlander, Tacoma, 4Runner, RAV4
Tire Sizes
16″
235/65R16 103S BSL
P215/70R16 99S OWL
P225/70R16 101S OWL
P235/70R16 104S OWL
P245/70R16 106S OWL
P255/70R16 109S OWL
P265/70R16 111S OWL
P245/75R16 109S OWL
P265/75R16 114S OWL
17″
P235/60R17 100S BSL
225/65R17 102T BSL
P235/65R17 103S OWL
P245/65R17 105S OWL
P265/65R17 110S BSL
P245/70R17 108S OWL
P265/70R17 113S OWL
18″
265/60R18 110T OWL
P235/65R18 104S BSL
P255/70R18 112S OWL
P265/70R18 114S BSL
Price Range
Kelly Safari Signature prices range from approximately $116 and up. You may also find occasional rebates, discount prices, coupons and special offers on this tire.
Warranty
Kelly provides a 55,000 mile tread warranty on the Safari Signature. Tire uniformity is guaranteed for 6-months or the first 2/32 inch of wear.
Materials and workmanship are warranted for 6-years and include free replacement during the first year or first 2/32 inch of wear. A prorated amount is given for the remaining time period or down to the final 2/32 inch of tread depth.
---