GT Radial Champiro VP1 Tire Review & Rating
The GT Radial Champiro VP1 is engineered to provide all-season driving performance to go with an attractive budget-friendly price. Designed for drivers of all types of coupes, sedans, minivans, and even smaller crossovers and SUV's, the VP1 offers an advanced tread technology and versatility for everyday driving needs.
An all-season advanced rubber tread compound is designed to extend the life of the tread, while providing increased dry and wet traction. It also features a lower rolling resistance, which enhances fuel efficiency and lowers fuel costs over time. The tire's shoulder blocks and lateral grooves quicken steering response and add more feel on dry or wet pavement.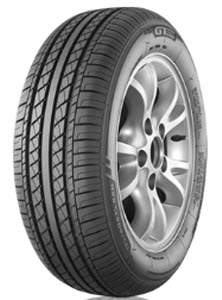 The tire's optimized tread block design combines with four wide circumferential grooves and integral lateral grooves to expel water from under the tire and reduce the risk of hydroplaning, which this tire does well. Added sipes around the tread provide biting edges for better grip on wet or snow covered roads.
GITI Tires utilizes their road noise cancelling technology on this tire, which virtually eliminates outside noise, making for a more comfortable ride. Inside the tire you will find steel belted construction for added strength and durability, as well as increased ride quality and a longer treadlife. The VP1 comes with a 40,000 mile tread guarantee and is available in a wide variety of 13-18 inch sizes.
Pros
Very good dry and wet traction

Lower rolling resistance for added fuel efficiency

Ride is comfortable and quiet

40,000 mile warranty

Excellent value for the low cost
Cons
Traction in winter weather conditions
Overall Thoughts
The VP1 is one of our favorite cheap tires for all-season use. But just because the tires are low-priced doesn't mean they do not perform well. You can expect predictable performance on both dry and wet road surfaces. Ride comfort is very good, but it does come at the expense of higher cornering power due to the softer sidewall. That said, this tire is not designed to be a high performance sports tire. Treadlife is another plus for this model, which has been mentioned in numerous driver reviews as well.

The area where this tire struggles is definitely on snow and ice. It's poor, especially during braking or acceleration. We've heard this same thing time and again from other drivers, and even some other leading consumer reporting magazines.
Overall, if you're simply looking for an everyday "daily commuting" type of tire that will also save you a lot of extra cash, this GT Radial tire is a nice choice. It ranks as one of the better low cost all-season tires available today.

Click Here To Find Current Prices
What Vehicles Will The GT Radial VP1 Fit?
(This is not a complete list of ALL vehicles this tire will fit)
Buick Century

Chevrolet Cavalier

Chrysler Sebring

Dodge Intrepid

Ford Contour, Crown Victoria

Hyundai Accent

Saturn Ion

Toyota Corolla
Tire Sizes
13″
175/70R13 82T BSW
185/70R13 86T BSW
14″
185/60R14 82H BSW
195/60R14 86H BSW
175/65R14 82T BSW
185/65R14 86H BSW
P185/65R14 85T BSW
195/65R14 89T BSW
175/70R14 88T BSW
185/70R14 88H BSW
195/70R14 91T BSW
205/70R14 98T BSW
P185/75R14 89S BSW
P195/75R14 92S BSW
P205/75R14 95S BSW
15″
P185/60R15 84T BSW
195/60R15 88H BSW
P195/60R15 87T BSW
205/60R15 91H BSW
205/60R15 91V BSW
215/60R15 94H BSW
185/65R15 88H BSW
195/65R15 91H BSW
P195/65R15 89T BSW
205/65R15 94H BSW
P205/65R15 92T BSW
P215/65R15 95T BSW
P205/70R15 95T BSW
P215/70R15 97T BSW
P225/70R15 100T BSW
P235/70R15 102T BSW
P205/75R15 97S BSW
P215/75R15 100S BSW
P225/75R15 102S BSW
P235/75R15 105S BSW
16″
205/60R16 92H BSW
P205/60R16 91V BSW
P215/60R16 94T BSW
P215/60R16 94H BSW
P215/60R16 94V BSW
225/60R16 98H BSW
P225/60R16 97T BSW
235/60R16 100H BSW
P235/60R16 99T BSW
215/65R16 98T BSW
225/65R16 100H BSW
235/65R16 103T BSW
17″
P215/60R17 95T BSW
P225/60R17 98T BSW
235/60R17 102T BSW
P215/65R17 98T BSW
225/65R17 102H BSW
P235/65R17 103T BSW
18″
P225/60R18 99H BSW
P235/60R18 102H BSW
P235/65R18 104T BSW
Price Range
Prices for the VP1 range from approximately $45 and up. You may also find occasional rebates, discounts, coupons and special offers on this tire.
Click Here To Find The Current Prices On All GT Radial Champiro VP1 Sizes
Warranty
The VP1 comes with a 40,000 mile tread warranty. Tire uniformity is guaranteed for the first 2/32 inch of wear.
Materials and workmanship are warranted for 5-years and include free replacement during the first 2/32 inch of wear. A prorated amount is given for the remaining time period or until the tire reaches the final 2/32 inch of tread depth.
---