Goodyear Wrangler DuraTrac Tire Review & Rating
The Goodyear Wrangler DuraTrac has been designed to provide outstanding off-road performance, to go along with well-mannered on road traction and handling. Engineered for drivers of jeeps, SUV's, trucks and commercial vehicles, the DuraTrac features the latest Goodyear tire technology in an effort to deliver the best possible all-around driving performance.
An all-season, all-terrain tread compound is created to withstand the tough day-to-day requirements for loading, towing and rugged off-road use. It is built to resist chips, tears and chunking, which it does very well. The symmetric tread design sports self-cleaning shoulder blocks that prevent the build-up of dirt, snow, gravel and mud for better performance and stability.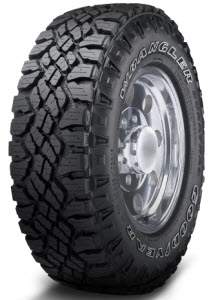 Performance on dry or wet pavement is enhanced through the high angled center tread blocks. These blocks increase traction and provide lateral stability. Snow traction is outstanding on this tire, and if you need studs for severe winter conditions, the tire is built to accept #16 metal studs.
Goodyear's exclusive TractiveGroove technology is at the bottom of the tire's circumferential grooves to provide additional biting edges for even greater traction. Reviews from other drivers state how well the DuraTrac handles itself in mud, snow and other terrain.
Inside the tire you will find two steel belts with nylon reinforcement to add strength and durability to the tire. It also increases tread life, which is another strong point for the Wrangler DuraTrac. Goodyear has included a rim lock to prevent wheel slip, and has also added a rim protector to help in eliminating accidental damage to your expensive wheels.
Goodyear offers a wide range of 15-20 inch LT and non-LT sizes, and load ratings of C, D and E. A limited tread warranty is also part of the package.
Pros
Off-road traction is outstanding

 

Snow traction is as good as any winter tire

 

Tires ride more comfortably than you might expect

 

Long lasting tread that also looks great

 
Cons
Tires are little noisy on dry pavement

 
Overall Thoughts
There is a reason why the Goodyear Wrangler DuraTrac tires are so popular… because they are among the best tires for anyone demanding serious on/off road traction and handling. This tire goes through everything and doesn't let you down. Snow traction is excellent and comparable to any winter tire, despite the fact this is not a dedicated snow tire. Simply put, they handle, ride and look great on any vehicle, whether it be for work or play.
Tread life is excellent. Sure, due to the tread style you can expect to get a little more noise than you would with a highway touring tire, but it's not a big issue.
Overall, if you want one of the better all-around off-road tires you can find, this is one of them.
What Vehicles Will The Goodyear DuraTrac Fit?
(This is not a complete list of ALL vehicles this tire will fit)
Cadillac Escalade

 

Chevy Colorado, Silverado, Suburban, Colorado, Avalanche

 

Dodge Ram

 

Ford F-150, F-250, Ranger, Bronco II, Explorer

 

GMC Sierra, Canyon, Yukon, Savana

 

Hummer H3

 

Isuzu Rodeo

 

Jeep Wrangler, Grand Cherokee, Liberty

 

Lincoln Navigator

 

Nissan Titan, Frontier, Xterra, Pathfinder

 

Suzuki Grand Vitara

 

Toyota Tacoma, Tundra, 4Runner, Land Cruiser, Sequoia

 
Tire Sizes
15″
LT235/75R15C1 104Q W
31X10.50R15C1 109Q W
33X12.50R15C2 108Q W
16″
LT215/85R16E1 112Q B
LT225/75R16E1 115Q B
LT235/85R16E1 120Q B
LT235/85R16E1 120Q B
LT245/75R16E1 120Q W
LT245/75R16C1 108Q W
LT265/75R16C1 112Q W
LT265/75R16E1 123Q W
LT265/75R16E1 123Q B
LT285/75R16E1 126P W
LT285/75R16E1 126P W
LT305/70R16E1 124Q B
LT305/70R16E2 124Q B
LT315/75R16E2 127Q B
17″
LT235/80R17E1 120Q B
LT245/70R17E1 119Q B
LT245/75R17E1 121Q W
LT265/70R17C1 112Q W
LT265/70R17E1 121Q B
LT285/70R17D1 121Q W
LT315/70R17D2 121Q B
18″
LT275/65R18E1 123Q B
LT275/70R18E1 125Q B
LT295/65R18E1 127P B
LT325/65R18E2 127Q B
20″
LT275/65R20E1 126Q B
LT285/60R20E1 125Q B
LT305/55R20E2 121Q B
LT325/60R20E2 126Q B
Price Range
Prices on the Wrangler DuraTrac range from approximately $172 and up. You may also find occasional rebates, discounts, coupons and special offers on this tire.
Warranty
Goodyear includes a limited warranty on the DuraTrac. Tire uniformity is guaranteed for 6-months or the first 2/32 inch of wear.
Materials and workmanship are warranted for 6-years and include free replacement during the first year or first 2/32 inch of wear. A prorated amount is given for the remaining time period or down to the final 2/32 inch of tread depth.
---