Goodyear Ultra Grip Winter Tire
Overview
The Goodyear Ultra Grip Winter Tire is a touring winter/snow variant made for crossovers, minivans, sedans, SUVs and light-duty pickup trucks. As such, it is perfect for cold weather conditions, and meets the industry's severe snow service requirements as evident through the three-peak mountain snowflake (3PMSF) symbol.
According to the manufacturer, some of the best features of this tire include: superior stopping power on snow (6 feet (1.8 m) shorter) compared to many other competitors, added traction through multiple sipes and biting edges, wide tread grooves to push slush and snow away, etc. Also, alternating rows of metal studs can be added by users later on to increase traction on hard packed icy and snow filled roads.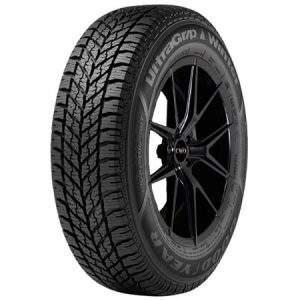 Additionally, the tires feature a winter silica tread compound that is combined into a directional tread pattern; this further increases their on-road performance during winters.
Besides a stiff tread base, their specially designed and strong shoulder blocks promote even treadwear and provide excellent handling for drivers.
Even better, the enhanced pitch sequence and block shift helps minimize noise levels for a comfortable and smooth driving experience.
Built to last in extreme winters, these tires are available from 14″ to 18" with a speed rating of "T".
In short, Goodyear winter tires are excellent for those looking for a good blend of performance and economy without compromising on safety during winters – it's important to note that the manufacturer also offers a replacement limited warranty on this product.
The Pros
Superior handling ability in winter driving conditions

Possesses schematic sipes that form a firm road grip

Resistance to hydroplaning

Additional metal studs can be added to increase traction

Shortened braking distance

Enhanced cornering ability

High speed capability
The Cons
Dry cornering grip

Durable treadwear

Users have reported that these are slightly noisy

Low traction over thin ice
Overall Thoughts
These Goodyear winter tires are certainly a decent option. They function well in moderate winter conditions and are priced well below other brands.
According to some consumers, the Goodyear Ultra Grip is one made for relatively shorter distances and less frequent usage. If you are a frequent driver covering extra miles in extreme weather, you might want to look at other options before making your decision.
Regardless, the tire's performance over thick, packed snow is simply fabulous, proved by customer ratings. Only if these could present a similar grip and robust handling over thin snow and icy surfaces, they would've been one of the best choices for winter tires.
Vehicles Compatible With Goodyear Ultra Grip Winter Tire
Here's a list of vehicles that can be suitably paired with Goodyear snow tire of various sizes:
Buick LeSabre Custom, LeSabre Limited, Park Avenue, Park Avenue Ultra

Cadillac 60 Special, DeVille, Eldorado, Eldorado Biarritz

Chevrolet Lumina Euro, Lumina LS, Monte Carlo LS, Venture

Chrysler Concorde, Concorde LX, Intrepid, Town & Country

Dodge Grand Caravan SE, Intrepid, Intrepid ES, Power Ram 50 Custom

Ford Thunderbird, Thunderbird LX, Windstar, Windstar 3.0L

GMC Jimmy SLT, Sonoma SL, Sonoma SLE, Sonoma SLS

Honda CR-V EX, CR-V LX, CR-V SE

Jaguar Vanden Plas, Vanden Plas Majestic, XJ, XJ12 Vanden Plas

Lincoln Continental Signature, Mark VIII, Town Car, Town Car Cartier

Oldsmobile Silhouette Premiere, Toronado, Toronado Trofeo, Silhouette GS

Plymouth Grand Voyager LE, Grand Voyager SE, Voyager, Voyager LE

Pontiac Bonneville LE, Grand Prix, Grand Prix LE, Grand Prix SE

Subaru Forester, Forester L, Legacy GT, Legacy GT Limited

Suzuki SJ413, Samurai, Samurai JA, Samurai JL

Toyota Sienna CE, Sienna LE
Tire Sizes Available
These particular Goodyear winter tires are manufactured in different sizes, ranging from 14" to 19". Below is the list of all tire models available in the size range.
14″ size
175/65R14 82T BLK

175/70R14 84T BLK

185/60R14 82T BLK

185/65R14 86T BLK

185/70R14 88T BLK

195/70R14 91T BLK
15″ size
185/60R15 84T BLK

185/65R15 88T BLK

195/55R15 85T BLK

195/60R15 88T BLK

195/65R15 91T BLK

205/60R15 91T BLK

205/65R15 94T BLK

205/70R15 96T BLK

215/60R15 94T BLK

215/70R15 98T BLK

235/75R15 105T BLK
16″ size
205/55R16 91T BLK

205/60R16 92T BLK

205/65R16 95T BLK

215/60R16 95T BLK

215/65R16 98T BLK

225/60R16 98T BLK

225/65R16 100T BLK

235/60R16 100T BLK

235/65R16 103T BLK
17″ size
215/55R17 94T BLK

215/65R17 99T BLK

225/50R17 94T BLK

225/55R17 97T BLK

225/60R17 99T BLK

225/65R17 102T BLK

235/55R17 99T BLK

235/65R17 104T BLK
18″ size
235/55R18 100T BLK

235/60R18 107T XL BLK
19″ size
Price Range
Goodyear Ultra Grip winter tire starts at $86. Occasional rebates, discount prices, coupons and special offers on this tire can be availed on different sites.
Warranty
The Ultra Grip Winter variant by Goodyear comes with a limited replacement warranty that covers free or prorated-price tire replacement.
Hence, users who experience vibrations, rough handling, or excessive noise with these tires may be able to claim the warranty.
So, if you are on the hunt for a safe and affordable winter tire built with Goodyear expertise and engineering, consider the Goodyear Ultra Grip Winter Tire. After all, your vehicle deserves the best this winter.