Goodyear Excellence ROF Run Flat Tire Review & Rating
The Excellence ROF Run Flat from Goodyear Tires is used mainly as original equipment on many of today's luxury sport coupes, sedans and trucks like those from BMW and Mercedes-Benz among others. Designed as a high performance summer tire, the Excellence provides added drivability in the event you experience a flat tire.
This model is engineered to be driven on flat surfaces for up to 50 miles, and at speeds of up to 55 mph. It adds an element of safety in being able to get to a service facility to get the tire repaired or replaced.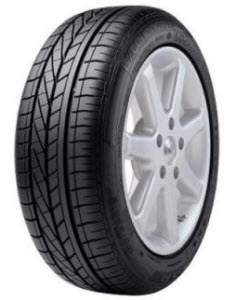 The high performance tread compound and asymmetric tread pattern combine to increase dry traction and braking, while also enhancing cornering performance. The tread block design increases steering response, which gives you better feel and driving confidence. Wider circumferential grooves are designed to expel water from under the tread and reduce the risk of hydroplaning.
Inside the tire you will find two steel belted construction that add strength and durability to the tire at higher speeds. They also promote more even tire wear and aid in ride comfort. Available in 16-20 inch sizes, the Excellence comes with Goodyear's limited tire warranty.
Pros
Dry traction and handling

Cornering performance is good

Ride is comfortable for a run flat tire
Cons
Wet traction

Many drivers have had bubbles show up in the sidewalls

No mileage warranty
Overall Thoughts
This Goodyear tire is like Jekyll and Hyde in a way. On the one hand you have a tire that provides good dry traction and all around handling. The ride is comfortable, something not often found on a run flat tire. But on the other hand you have a number of negative issues. Wet traction is a big problem, and don't even think about driving on this tire when the temps go below 40 degrees. Far too many drivers have reported bubbles in the sidewalls of this tire to be taken lightly. Review after review online state the same thing… this is the worst tire they have ever driven on. While that may be debatable, the bubble issue needs to be addressed.
Finally, there is no mileage guarantee on this model, and with all the problems behind this tire, we would like to see a better warranty. We believe Goodyear manufacturers some of the best tires on the market, but unfortunately we do not feel the Excellence ROF is one of them.
Click Here For Current Goodyear Coupons
What Vehicles Will The Goodyear Excellence Fit?
(This is not a complete list of ALL vehicles this tire will fit)
Aston Martin Rapide

BMW 550i, 535i, 750i, Z4, 760Li, X3 xDrive28i

Cadillac CTS

Ford Mustang GT

Honda CR-Z

Hyundai Tiburon, Equus

Infiniti M37, M56, EX35 Journey

Jaguar XJ

Lexus LS430, LS460 L

Mercedes-Benz S600, SLK55, CLK500, C32, CLK320, C350

Mini Cooper

Nissan Cube, Versa, Sentra

Porsche Boxter, 968, 928 GTS

Saab 9-5, 9-3 Linear

Scion Xb

Toyota Prius, Corolla

Volkswagen Impreza WRX, Golf, Jetta, Beetle, Passat

Volvo S80, C70
Tire Sizes
16″
195/55R-16 87H RF MC
195/55R-16 87V RF MC
17″
225/45R17 91W RF MBZ
245/40R17 91W RF MBZ
19″
245/45R19 98Y RF BMW
275/35R19 96Y RF BMW
275/40R19 101Y BMW B
20″
245/40R20 XL 99Y BMW
Price Range
Prices on the Goodyear Excellence range from approximately $259 and up. You may also find occasional rebates, discounts, coupons and special offers on this tire.
Click Here To Find The Current Price On All Goodyear Excellence RunOnFlat Sizes
Warranty
Goodyear provides a limited warranty on the Excellence ROF. Tire uniformity is guaranteed for the first 1/32 inch of wear. Materials and workmanship are warranted for 6-years and include free replacement during the first year or first 2/32 inch of wear. A prorated amount is given for the remaining time period or down to the final 2/32 inch of tread depth.
---