Goodyear Efficient Grip Tire Review & Rating
The Goodyear Efficient Grip is the company's latest summer high performance touring tire that is built for drivers of sport coupes and luxury sedans. The main feature of these tires is that they are made to deliver precise handling and a more comfortable ride quality.
Efficient Grip tires sport the latest in tire technology in the tread compound. Further, Goodyear has optimized the footprint to improve grip in both dry and wet traction. Unique WearControl technology reduces rolling resistance by 18 percent, which is among the best tires in this category. Another benefit to Goodyear's technology is that braking and acceleration is above average as well.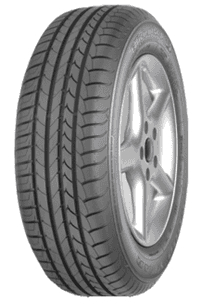 Wide circumferential grooves aid in evacuating water from under the tread when driving on wet road surfaces, and ActiveBraking technology increases the contact surface between the tire and the road that results in shorter braking distance. Goodyear has said that braking distances on dry pavement should be about 3% shorter, and 8% shorter on wet roads.
External noise information provided by Goodyear ranges from 66 to 70dB depending on the size of the tire. Noise coming to the cabin is moderate and not an issue to worry about.
In addition to the regular Efficient Grip, Goodyear has also created a run-flat version of the tire, the Efficient Grip ROF. It allows you to drive for up to 50 miles at speeds of 50 mph with a flat tire, which is enough to get you to the nearest service station. Sizes range from 16-20 inches, and comes with V, W and Y-speed ratings.
Pros
Dry traction/handling and cornering grip

Quiet and comfortable ride

Fuel efficiency
Cons
Overall Thoughts
Goodyear's Efficient Grip is a good choice of tires for drivers who tend to push their vehicles harder than most. The tire tracts very well on dry pavement, and handling/cornering response is excellent.
One of the downsides with this model is tread life. We've heard many drivers complain about a lower than expected tread life. To be fair, much is going to depend on how hard you are on the tires. Even so, we find that tread wear is an area that could be improved.
Overall, the Efficient Grip is a nice addition to the summer touring tire market. It gives you good performance at a price that won't break the bank.
Click Here For Current Goodyear Coupons
Tire Sizes
16″
205/55R16 91W BSW
18″
225/45R18 91Y BSW
225/45R18 91V BSW
225/45R18 91W BSW
255/40R18 95Y BSW
255/40R18 95V BSW
19″
235/45R19 95V BSW
255/40R19 100Y XL BSW
255/50R19 103Y BSW
20″
255/45R20 101Y BSW
285/40R20 104Y BSW
Price Range
Goodyear Efficient Grip prices range from approximately $142 and up. You may also find occasional rebates, discount prices, coupons and special offers on this tire.
Warranty
Goodyear provides a limited warranty on the Efficient Grip. Tire uniformity is guaranteed for the first 1/32 inch of wear.
Materials and workmanship are warranted for 6-years and include free replacement during the first year or first 2/32 inch of wear. A prorated amount is given for the remaining time period or down to the final 2/32 inch of tread depth.
---