Goodyear Eagle LS-2 Tire Review & Rating
The Goodyear Eagle LS-2 has been designed to provide all-season sport traction and handling to go along with a smoother and more comfortable ride. Used also as original equipment on several minivans, crossovers and sport utility vehicles, the LS2 will also fit many luxury sedans and other vehicles.
An all-season premium tread compound and symmetric triple tread block pattern give this tire increased handling performance on dry road surfaces. Independent tread blocks enhance cornering grip and add more responsive steering and control. Tire stability is very good on this tire.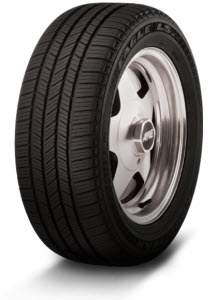 Handling performance on wet pavement is increased due in part to the tire's wider circumferential grooves that channel away water and reduce the risk of hydroplaning. Added sipes around the tread provide biting edges on light snow covered pavement. Goodyear's computer optimized tread blocks lower road noise and improve overall ride quality.
Inside the tire you will find two steel belts that are nylon reinforced for added strength and durability at higher speeds, while the polyester cord body increases ride comfort. Sizes are available from 15-20 inches, and the LS-2 comes with either an H or V-speed rating.
Pros
Good dry traction

Above average cornering grip

Responsive steering and tire stability
Cons
Wet and winter traction could be better

Would like to see improved treadlife

Bump up the ride comfort
Overall Thoughts
The LS-2, or Luxury Sport 2 as it's known as, has been around for a few years now and it may be starting to show its age. We applaud Goodyear in providing this tire with good handling and cornering grip on most road surfaces. You'll find the steering is responsive and the tire remains stable in all speed ranges. 
While those are the areas where this tire does ok, the areas that need improvement are numerous. Traction on wet pavement is a big area in which we would like to see much better performance. We've heard drivers mention the tire slides too easily on wet streets around corners, as well as hydroplaning issues. In addition, winter traction and handling is similar to that on the original LS… quite poor. Finally, treadlife is another area where many drivers have mentioned they have not gotten the life they expected.
Overall, we rate this model in the lower half of the touring all-season category. We feel there are much better models available such as the Cooper CS5 Ultra Touring or Pirelli Cinturato P7 All Season Plus to name just a couple.
Click Here For Current Goodyear Coupons
Click Here To Find Current Price
What Vehicles Will The Eagle LS-2 Fit?
(This is not a complete list of ALL vehicles this tire will fit)
Audi A4, A5, Q7

BMW X3

Chevrolet Malibu, Silverado, Impala, Suburban, Cobalt, Avalanche

Chrysler 200 S, Town and Country

Dodge Avenger, Ram, Neon

Ford Mustang, Escort, Five Hundred, Expedition

GMC Sierra, Yukon

Honda Element

Jeep Patriot

Kia Forte

Mitsubishi Outlander

Nissan Quest

Pontiac G6

Saturn Aura XR, Astra XE

Subaru B9 Tribeca

Toyota Corolla

Volkswagen Passat, Toureg, Eos 2.0T
Tire Sizes
15″
P195/65R15 89S VSB
16″
215/55R16 97H XL VSB
215/65R16 98H BLT
P225/65R16 99H VSB
P205/70R16 96T VSB
17″
P215/45R17 87H VSB
235/45R17 97H XL VSB
245/45R17 95H BLT
P215/50R17 90V VSB
225/50R17 94H BLT
P225/55R17 95T B01
225/55R17 97H BLT
18″
245/40R18 93H BLT
235/45R18 94V VSB
245/45R18 100H XL BLT
255/45R18 99H BLT
P225/50R18 94T B01
P235/50R18 97H VSB
P225/55R18 97H VSB
235/55R18 104H XL BLT
255/55R18 105H VSB
255/55R18 109H XL BLT
255/55R18 109V XL BLT
19″
255/40R19 100H XL BLT
285/40R19 103V BLT
255/45R19 100V BLT
255/45R19 104H XL BLT
265/50R19 110H XL BLT
265/50R19 110V XL BLT
235/55R19 101H BLT
20″
275/45R20 110H XL BLT
275/45R20 110V XL BLT
P275/55R20 111S B02
Price Range
Goodyear Eagle LS-2 prices range from approximately $107 and up. You may also find occasional rebates, discount prices, coupons and special offers on this tire.
Click Here To Find The Current Prices On All Goodyear Eagle LS-2 Sizes
Warranty
The LS 2 includes a limited tread warranty. Tire uniformity is warranted for one-year or the first 2/32 inch of wear. Materials and workmanship are guaranteed for 6-years and include free replacement during the first year or first 2/32 inch of wear. A prorated amount is given for the remaining time period or down to the final 2/32 inch of tread depth.
---