Gladiator QR900 MT Tire Review & Rating
The Gladiator QR900 MT tire is built for drivers looking for solid off-road performance, while still maintaining reasonable on-road manners, at a lower budget-friendly price. Designed for all types of light duty trucks, SUV's, jeeps and other 4×4's, the QR900 MT is really a hybrid that sits in between a true MT tire and a standard AT model.
Gladiator uses a tougher rubber tread compound that is made to be cut and chip resistant for rougher off-road terrain. The aggressive tread design sports a full 18/32 tread depth, which is deeper than many maximum traction tires. This extra depth adds to treadlife and is a real plus on this tire.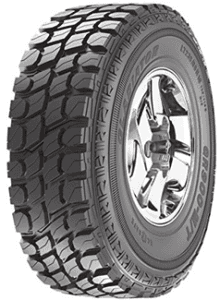 Larger tread voids help the tire clean itself out and deliver better traction in dirt, mud, sand and snow. The tread pattern works very well for this tire, making easy work of hills, sand bars, gravel roads and more.
On the highway you'll notice a little hum, but nothing excessive. We've heard other driver reviews mention this as well. Honestly, we expected there to be more noise. This tire tracks well and doesn't wander all over the pavement when the road surface is less than perfect.
Gladiator uses a 2-ply sidewall on the QR900 MT. We'd like to see it as a 3-ply, but it works well for the most part. You'll find a number of 15-20 inch sizes available in both LT and flotation models. Load ratings up to E are also available. Gladiator includes a limited tread warranty as well.
Pros
Performs very well in dirt, sand, gravel and other off-road terrain
Quiet and well-mannered on the highway
Grip in snow and slush
Excellent treadwear
Cons
Not the best for rock climbing
Traction on ice and hardpack is poor
Overall Thoughts
Although we like the Gladiator X-Comp MT for its more aggressive looks and serious off-road performance, the QR900 MT is an excellent tire as well. It's more of a mild-mannered version of the X-Comp so to speak.
Off-road traction is reliable and takes on the typical terrain that most drivers face with relative ease. That said, deeper thick muck and serious rock climbing is not really what this tire is built for. Sure, aired down they work pretty well, but the 2-ply sidewall won't hold up very well when faced with jagged rocks.
Traction on the highway and around town is surprisingly good. Road noise is minimal and the performance on snow and slush is very good. Unfortunately, this model does not feature the mountain/snowflake emblem and it shows on ice and hardpack.
Overall, Gladiator has created a pretty good model in the QR900 MT. While not a beast off the beaten path, it's performance is on par with the top second-tier MT tires. The best part may be the money you'll save on this tire.
What Vehicles Will The Gladiator QR900 MT Fit?
(This is not a complete list of ALL vehicles this tire will fit)
Chevrolet Silverado, C2500, Blazer, Tahoe
Dodge Ram, Nitro, Durango, Dakota
Ford F-150, Excursion, F-250, F-350
GMC Sierra, Yukon, Jimmy
Hummer H3
Isuzu Rodeo
Jeep Liberty, Grand Cherokee, Wrangler
Land Rover Defender
Nissan Titan, Xterra, Pathfinder, Frontier
Suzuki Equator
Toyota FJ Crusier, Tacoma, Tundra
Tire Sizes
15″
31/10.50R15 C 109Q BSW
33/12.50R15 C 114Q BSW
16″
LT235/85R16 E 120Q BSW
LT265/75R16 E 123Q BSW
LT285/75R16 E 126Q BSW
17″
LT265/70R17 E 121Q BSW
LT285/70R17 E 121Q BSW
18″
32/12.50R18 E 118Q BSW
35/12.50R18 E 123Q BSW
20″
35/12.50R20 E 121Q BSW
37/12/50R20 E 126Q BSW
Price Range
Gladiator QR900 MT prices range from approximately $165 and up. You may also find occasional rebates, discount prices, coupons and special offers on this tire.
Warranty
Gladiator provides a limited tread warranty on the QR900 MT.
---