General Grabber X3 Tire Review & Rating
After more than 3 years in development, the General Grabber X3 is set for release in September 2016. This extreme MT tire will replace the older and popular Grabber and is available in many more sizes that will appeal to a wider range of truck, jeep, SUV and other 4×4 vehicles.
General named this model the "X3" due to its extreme performance in dirt, mud and on rocks. With over 3 years spent in developing this new model and more than 2 million miles of testing, General has utilized the latest in tire technology in creating this extreme terrain tire.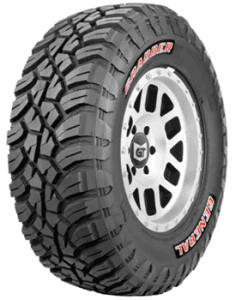 The X3 uses a tougher cut and chip resistant tread compound to go with a 3-ply construction, ultra-high strength steel belts and an aggressive open tread pattern that is designed to tackle the most difficult of terrain without issue. The durability and puncture resistance this tire provides is among the best in class.
For off-road performance, the General Grabber X3 uses an open tread pattern that is built to deliver exceptional traction on dirt, sand, gravel and mud. It efficiently and effectively cleans itself out very well due to its unique evacuation channels.
Stone bumpers in the tread grooves prevent rocks from building up and help to minimize stone drilling and damage to the tire. In addition, General Tire has arranged the tread pattern at different angles and added multiple shoulder scoops to increase traction and grip on all types of surfaces.
To aid in further protecting the sidewalls from punctures and other damage, General has added deflection ribs to avoid rocks from penetrating the sidewall. These ribs do their job well and we've heard this from other drivers in reviews as well.
On the street, the Grabber X3 features full-depth sipes around the tread for increased traction on wet or snow covered pavement. It's nice to see these sipes being full-depth to get the most performance out of the tread life.
One of the issues with such an aggressive high-void tread design is the added road noise it produces. General has done what they can in reducing much of the noise with their tread pitch design, but you can expect to hear a bit more noise than your standard AT tire.
The General Grabber X3 is currently available in a number of 15-20 inch sizes with many more coming in 2017. All LT models feature an E load range rating. Select sizes also include General' iconic red lettering, while all other sizes sport a black sidewall.
Pros
Excellent off-road performance that does not disappoint
3-ply construction provides added toughness
Well-mannered on the street
Treadlife
Value for the money and performance
Cons
Not the smoothest or quietest at highway speeds
Overall Thoughts
General pulled out all the stops in creating the new Grabber X3 and it shows. This extreme performance tire is ideally suited for serious enthusiasts who are seeking the best tire for handling rugged off-road conditions.
The 3-ply construction, stone bumpers and deflection ribs do their job as well as you'll find with any MT tire. Aired down to around 12-14 psi, the X3 makes rock climbing an easy task. It's something you really need to experience to get a better appreciation of this tire's abilities.
The one area where you might find issue with is the added noise. To be fair, this is not something that is unexpected from such an aggressive tread design. If noise is a major factor in getting a tire like this, you might want to look for a less aggressive all-terrain tire instead.
Overall, the X3 competes right up there with other top models like the BFGoodrich Mud-Terrain T/A KM2, Pro Comp Extreme MT2 or Firestone Destination MT among others. Highly recommended.
Click Here For Current General Coupons
Click Here To Find Current Prices
What Vehicles Will The General Grabber X3 Fit?
Fits these vehicles and many others:
Chevrolet Tahoe, Silverado, Suburban, Colorado, Trailblazer, S-10
Dodge Dakota, Ram
Ford F-150, F-250, F-350, Ranger
GMC Sierra, Canyon
Jeep Wrangler, Grand Cherokee, Liberty, Cherokee, Commander
Land Rover Discovery, LR3
Nissan Xterra, Pathfinder, Frontier, Titan
Toyota Tacoma, Tundra, Sequoia
Tire Sizes
15″
31X10.50R15LT 109Q C BSW
33X10.50R15LT 114Q C SRL
33X12.50R15LT 108Q C BSW
35X12.50R15LT 113Q C BSW
16″
LT265/75R16 112/109Q C SRL
LT265/75R16 123/120Q E BSW
LT285/75R16 126/123Q E BSW
LT315/75R16 127/124Q E BSW
17″
37X12.50R17LT 124Q D SRL
37X12.50R17LT 124Q D BSW
LT255/75R17 111/108Q C BSW
35X12.50R17LT 121Q E SRL
35X12.50R17LT 121Q E BSW
LT265/70R17 121/118Q E SRL
LT265/70R17 121/118Q E BSW
LT285/70R17 121/118Q E SRL
LT295/70R17 121/118Q E SRL
LT295/70R17 121/118Q E BSW
LT315/70R17 121/118Q E BSW
33X12.50R17LT 114Q D SRL
33X12.50R17LT 114Q D BSW
18″
37X12.50R18LT 128Q E SRL
LT265/70R18 124/121Q E BSW
LT275/70R18 125/122Q E SRL
LT275/70R18 125/122Q E BSW
LT295/70R18 129/126Q E BSW
35X12.50R18LT 123Q E SRL
35X12.50R18LT 123Q E BSW
LT275/65R18 123/120Q E BSW
33X12.50R18LT 118Q E SRL
33X12.50R18LT 118Q E BSW
20″
37X13.50R20LT 127Q E SRL
37X13.50R20LT 127Q E BSW
LT275/65R20 126/123Q E BSW
LT295/65R20 129/126Q E SRL
LT295/65R20 129/126Q E BSW
33X12.50R20LT 114Q E BSW
35X12.50R20LT 121Q E SRL
35X12.50R20LT 121Q E BSW
LT295/55R20 123/120Q E BSW
LT305/55R20 121/118Q E SRL
LT305/55R20 121/118Q E BSW
Price Range
General Grabber X3 prices range from approximately $199 and up. You may also find occasional rebates, discount prices, coupons and special offers on this tire.
Click Here To Find The Current Prices On All General Grabber X3 Sizes
Warranty
General provides a limited warranty on the Grabber X3. You will find a one-year or first 2/32 inch of wear on the tire's uniformity.
Materials and workmanship are guaranteed for 6-years and include free replacement during the first year or first 2/32 inch of wear. A prorated amount is given for the remaining time period or down to the final 2/32 inch of tread depth.
There is also a 30-day customer satisfaction trial whereby you can exchange the tire for another General brand if you are not completely satisfied.
---