General Altimax HP Tire Review & Rating
Developed as a performance touring all-season tire for drivers of sport coupes and sedans, the General Altimax HP offers year round traction and performance to go with a more comfortable ride.
The Twin Cushion Tread Compound utilizes a low-density compound on the bottom tread layer, with a silica enhanced compound on the top layer. The result is a tread compound that maximizes traction and provides a very comfortable ride quality.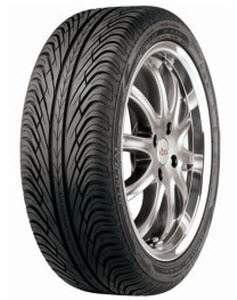 Wet grip and handling are increased through the directional tread pattern and angled sweeping tread grooves that assist in evacuating water and reducing the risk of hydroplaning. Another benefit of these sweeping grooves is the noise reduction. General has added sound wave suppression technology togive the HP a quiet ride.
Other features that have been added to this model include Visual Alignment Indicators which quickly allow you to see any uneven tread patterns. There is also a Replacement Tire Monitor branding along the center of the tire that turns into "Replace Tire" when the tread is worn out and the tire needs replacing.
Inside the tire you will find twin steel belts that are reinforced with spirally wrapped nylon to give the tire added strength and stability at higher speeds. A polyester cord body improves overall ride quality as well. General includes either a 55,000 or 40,000 mile tread warranty depending on the tires speed rating.
Click Here For Current General Tire Coupons
Pros
Excellent grip on dry or wet pavement

 

Steering response and control are among best in their class

 

Ride quality is very good

 
Cons
Treadwear could be a little better

Increase winter traction

Overall Thoughts
As a high performance all-season tire, this Altimax HP is performs quite well for the most part. Road manners and cornering performance are above average, which simply inspires confidence behind the wheel. The ride is smooth and comfortable, and it is a quiet tire as well.
Our only drawbacks are that treadlife may not be as long for more spirited drivers. That said, this should not be an issue for most drivers, but it needs mentioned. The other area is traction and braking on deep snow or ice.
Overall, the Altimax HP is a middle of the pack model. It features a lower price and provides solid value for the money.
What Vehicles Will The Altimax HP Fit?
(This is not a complete list of ALL vehicles this tire will fit)
Acura TL

 

Audi A4

 

Cadillac SRX

 

Chevrolet Malibu, Impala, Cruze

 

Ford Focus, Mustang, Taurus

 

Honda Accord

 

Hyundai Elantra

 

Kia Forte

 

Nissan Maxima, Quest, Altima

 

Pontiac Grand Am

 

Saturn Ion

 

Subaru Impreza

 

Toyota Yaris, Camry, Corolla

 

Volkswagen Touareg, Jetta, GTi

 

Volvo 960

 
Tire Sizes
14″
185/65R14 86H BSW
185/60R14 82H BSW
195/60R14 86H BSW
15″
175/65R15 84H BSW
185/65R15 88H BSW
195/65R15 91H BSW
205/65R15 94H BSW
185/60R15 88H XL BSW
195/60R15 88V BSW
195/60R15 88H BSW
205/60R15 91H BSW
215/60R15 94H BSW
16″
215/65R16 98H BSW
225/65R16 100H BSW
205/60R16 92V BSW
205/60R16 92H BSW
215/60R16 95V BSW
215/60R16 95H BSW
225/60R16 98V BSW
225/60R16 98H BSW
235/60R16 100H BSW
195/55R16 87H BSW
205/55R16 91H BSW
215/55R16 93H BSW
215/55R16 93V BSW
225/55R16 95H BSW
235/55R16 98H BSW
205/50R16 87H BSW
225/50R16 92H BSW
245/50R16 97H BSW
17″
235/65R17 104H BSW
215/60R17 96H BSW
255/60R17 106H BSW
225/55R17 97H BSW
235/55R17 99H BSW
205/50R17 93H XL BSW
215/50R17 91H BSW
225/50R17 94H BSW
215/45R17 87H BSW
225/45R17 91H BSW
235/45R17 94H BSW
245/45R17 95H BSW
205/40R17 80H BSW
215/40R17 83H BSW
18″
225/60R18 100H BSW
225/40R18 92H XL BSW
Price Range
Prices on the Altimax HP range from approximately $61 and up. You may also find occasional rebates, discounts, coupons and special offers on this tire.
Warranty
There are two different mileage warranties depending on the speed rating of the tire. For H-speed rated tires the warranty is for 6-years or 55,000 miles. For V-speed rated models the warranty is 6-years or 40,000 miles. A tire uniformity guarantee of 1-year or the first 2/32 inch of wear is also included.
Materials and workmanship are warranted for 6-years and come with a free tire replacement during the first year or first 2/32 inch of wear. General then prorates the amount for the remaining time period or down to the final 2/32 inch of tread depth.
Finally, there is also a 45-day satisfaction guarantee on this tire. If you are not 100% satisfied you can exchange the tire for another General Tire model.
---