Fuzion XTi Tire Review & Rating
The XTi is Fuzion's on and off-road tire that is built to provide unique styling, dependable year round performance and a lower price point than other tires in its class. Over the years this tire has been used as original equipment on a number of different pickups and SUV's, as well as being a replacement option.
A tougher tread compound that includes L.L. Carbon for added strength in resisting tears and punctures is matched with a symmetric tread pattern. Off-road performance is enhanced through the tire's over-the-shoulder and half pipe tread design, while on-road drivability is increased with independent tread blocks and a continuous center rib.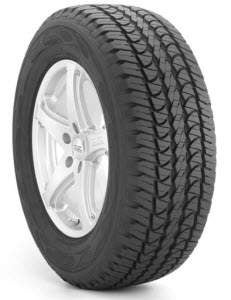 Performance on wet roads, and in winter weather conditions, is improved with circumferential and lateral grooves around the tread that channel away water from the tire's footprint. Added siping provides biting edges that give the tire more grip on snow and ice, something that other driver reviews and ratings have mentioned as a strong point.
Inside the tire you will find two steel belts that provide added strength and durability at all speeds, while the polyester cord body increases ride comfort and promotes more even treadwear. Fuzion offers two different styling options for the sidewall that you can choose from. One is a tribal band and the other a ring of flames.
Pros
On-road dry and wet traction is excellent

Off-road and winter performance is solid

Cornering grip is very good

Ride is comfortable and quiet for this type of tire
Cons
Treadlife could be better
Overall Thoughts
The Fuzion XTi offers surprisingly good performance from a tire you may not have heard much about. Both on and off-road traction and handling are very good. In fact, its traction is among the better tires in this class.
Ride comfort is equally as impressive, and you won't find a lot of the bothersome road noise from this tire as you can find from other off-road tires. The downside may be its treadlife. We've heard some drivers mention getting 25,000 miles out of the tread which is not that good. To be fair, we have heard others say they have gotten far better mileage.
Overall, the much lower price on the XTi combined with its solid performance, make this tire a very good choice for anyone looking to save some money on an on/off road tire.
What Vehicles Will The XTi Fit?
(This is not a complete list of ALL vehicles this tire will fit)
Chevrolet Trailblazer, Silverado, Tahoe

Chrysler Pacifica

Dodge Durango, Ram, Dakota

Ford F150, Expedition, Explorer, Escape

GMC Sierra, Yukon, Envoy

Honda Pilot

Isuzu Rodeo

Jeep Grand Cherokee, Liberty

Mercury Mountaineer

Mitsubishi Endeavor

Nissan Titan, Frontier

Toyota Tundra, 4Runner
Tire Sizes
16″
P225/70R16 101T BSW
P245/70R16 106S BSW
P255/70R16 109S BSW
P265/70R16 111S BSW
LT315/75R16 127R BSW
17″
P235/65R17 103T BSW
P245/65R17 105S BSW
P265/65R17 110S BSW
LT245/70R17 114S BSW
P265/70R17 113S BSW
LT315/70R17 121R BSW
18″
P275/65R18 114S BSW
285/60R18 120S BSW
LT325/60R18 E 124S BSW
LT325/65R18 E 127S BSW
20″
P275/55R20 111S BSW
P275/60R20 114S BSW
Price Range
Fuzion XTi prices range from approximately $240 and up. You may also find occasional rebates, discount prices, coupons and special offers on this tire.
Warranty
Fuzion provides a limited tread warranty on the XTi that includes a first 1/32 inch of wear guarantee on tire uniformity. Materials and workmanship are warranted for 5-years and allow free replacement during the first 3-years. A prorated amount is given for the remaining time period or down to the final 2/32 inch of tread depth.
You will also find a 30-day buy and try guarantee where you can refund or exchange the tires if you are not completely satisfied.
---