Firestone Destination M/T Tire Review & Rating
The Firestone Destination M/T is engineered to provide maximum off-road traction, to go along with excellent on-road performance. Designed for drivers of 2WD and 4WD pickups and SUV's, the M/T uses the latest in tire technology for enhanced traction in mud and other terrains, as well as a longer wearing treadlife.
A tough tread compound includes L.L.Carbon for increased performance on wet road surfaces, in addition to more even treadwear and resistance to cuts and tears. Firestone utilizes a unique 23-degree attack angle that provides the tread with greater pulling power in the mud, sand and other rough terrains. The lug design on this tire is built to claw at ruts and mud to prevent the tire from getting stuck. This is an area in which this tire excels in and one that is mentioned frequently in other tire owner reviews.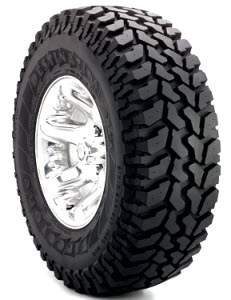 Snow traction on the M/T is among the best in this class due to the tread/lug design. The tire is also pinned to accept metal studs for those who need even greater winter weather traction. An added extra on this model is the Rim Guard Protector Ribs on the sidewall. These ribs are designed to prevent any debris from getting between the tire bead and rim area. It also helps in protecting the wheel from being damaged from curbs and other obstructions.
Inside the tire you will find exclusive Dura-Loc tread construction to go along with two high tensile steel belts that are nylon reinforced. The added Dura-Loc construction creates a 3-ply polyester cord body that is designed to resist punctures and damage from on or off-road hazards. It also promotes a better overall ride quality and increased stability throughout the speed range. Firestone has sizes available from 15-18 inches, and load ratings up to an E.
Pros
Outstanding traction in mud, dirt, sand, gravel and snow

Dry road handling is very good

Long lasting tread life
Cons
Overall Thoughts
The Destination M/T ranks among the upper half of this class along with the likes of the BFGoodrich T/A KM2, Pro Comp Xtreme MT2 Radial, Cooper Discoverer STT Pro and a few others. You can expect outstanding traction off-road on any type of terrain. They handle deep mud and snow as well as most any tire on the market. They also have excellent self-cleaning capabilities. Dry traction is equally as impressive. It's difficult at best to get them to spin under full acceleration.
Wet and snow handling performance is exceptional on the M/T. They inspire confidence in even the worst weather conditions. Ride comfort is good, although you can expect to hear some extra road noise. Yes, it happens on any MT tire, but we would say it's just a little higher than on other tires. Tread life on this model is long lasting and among the best in this class.
Overall, if you're looking for a mud-terrain tire, this Firestone model is right up there among the best you'll find available today. The higher performance and lower cost also help make it a good value for the money.

Click Here For Current Firestone Coupons
What Vehicles Will The Firestone M/T Fit?
(This is not a complete list of ALL vehicles this tire will fit)
Chevrolet Silverado, Suburban, Blazer, Avalanche, Trailblazer, K20

Dodge Dakota, Ram, Durango

Ford Bronco, F150, F250, F350, Ranger, Excursion, Expedition

GMC Sierra, K1500, Yukon, Sonoma, Jimmy, Canyon

Geo Tracker

Honda Passport

Hummer H3, H2

Jeep Grand Cherokee, Liberty, Wrangler, Cherokee, Comanche

Land Rover 4.6HSE, Discovery, Defender

Mercedes-Benz G500

Nissan Titan, Xterra, Pathfinder, Frontier

Toyota FJ Cruiser, Tacoma, Land Cruiser, Tundra, 4Runner
Tire Sizes
15″
30X9.50R15LT 104Q C OWL
31X10.50R15LT 109Q C OWL
33X12.50R15LT 108Q C OWL
LT235/75R15 104Q C OWL
16″
LT215/85R16 115Q E BL
LT225/75R16 115Q E BL
LT235/85R16 120Q E BL
LT245/75R16 120Q E BL
LT265/75R16 123QE OWL
LT285/75R16 126Q E OWL
LT305/70R16 124Q E OWL
LT315/75R16 127Q E OWL
17″
LT245/70R17 119Q E OWL
LT255/75R17 111Q C OWL
LT265/70R17 121Q E OWL
LT285/70R17 121Q E OWL
LT315/70R17 121Q E BL
18″
LT275/70R18 125Q E OWL
LT285/65R18 125Q E BL
LT325/65R18 127Q E BL
Price Range
Prices on the Firestone M/T range from approximately $164 and up. You may also find occasional rebates, discounts, coupons and special offers on this tire.
Warranty
Firestone provides a limited warranty on the M/T. Tire uniformity is guaranteed for the first 1/32 inch of wear. Materials and workmanship are warranted for 5-years and include free replacement during the first 3-years. A prorated amount is given for the remaining time period or down to the final 2/32 inch of tread depth.
You will also receive Firestone's 30-day buy and try guarantee. If you are not completely satisfied you can refund or exchange the tires.
---