Federal Couragia A/T Tire Review & Rating
Although the Federal Couragia A/T tire has been around since 2005, it remains one of the better selling value-priced off-road tires sold today. Built for drivers of all types of light trucks, SUV's, Jeeps and other 4×4's, the Couragia A/T is designed for rugged off-road use, while being mild-mannered enough for everyday driving on the street.
Federal uses a tougher silica tread compound and unique tread pattern that is created to deliver dependable off-road traction. Wider angled tread grooves and voids help with grip on dirt, sand, light mud and gravel, which is an area this tire does a solid job at. While arguably not a serious rock climber or mud bogger, it offers very good performance overall.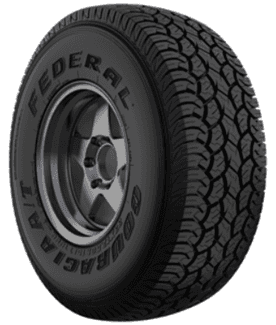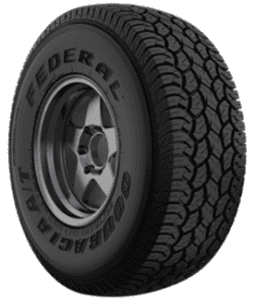 On the highway and other on-road surfaces, the Federal A/T features multi-angled zig-zag sipes around the tread that enhance grip on wet roads, as well as on snow and ice. Four circumferential grooves aid in channeling away water and reducing the risks of hydroplaning.
Federal has a range of 15-17 inch sizes in both LT and non-LT models. With a 480 A B UTQG rating this tire should give you 40-50K miles of use. More on that below in our overall thoughts. A limited tread warranty is also provided by Federal.
Pros
Good off-road performance
Dry and wet traction
Highway handling
Lower cost
Cons
A little extra road noise on the highway
Treadwear could be better
Overall Thoughts
When it comes to a cheap all-terrain tire, the Federal Couragia AT has been a popular choice for several years. Performance off-road is quite good with the exception of rock climbing and deep mud, but that's not what this tire was really designed for.
You may find a little more road noise at highway speeds than you do on some other bigger name brand models, but with its aggressive tread pattern you might expect it. Treadwear is likely the biggest area of concern. We've heard a few drivers speak to getting 30k miles out of the tires.
Overall, as a lower cost all-terrain offering, the Couragia A/T delivers average every day performance. Although it doesn't stand out from the crowd in any one particular area, we give it a rank in the middle of the value-priced class of AT tires.
What Vehicles Will The Federal Couragia A/T Fit?
(This is not a complete list of ALL vehicles this tire will fit)
Chevrolet Silverado, Avalanche, Tahoe, Colorado, Suburban
Dodge Ram, Durango, Dakota
Ford F-150, F-250, F-350, Expedition, Explorer, Ranger
GMC Canyon, Yukon, Sierra, Jimmy
Honda Ridgeline, Pilot
Hummer H3
Jeep Grand Cherokee, Wrangler
Land Rover Range Rover
Mercury Mountaineer
Mitsubishi Montero
Nissan Frontier, Pathfinder, Titan
Suzuki Equator
Toyota Sequoia, 4Runner, FJ Cruiser, Tundra, Land Cruiser, Tacoma
Tire Sizes
15″
195/80R15 96S BSW
P205/70R15 96T BSW
P235/75R15 105S OWL
LT215/75R15 100/97Q OWL
LT235/75R15 104/101Q OWL
16″
205/80R16 104S XL BSW
P215/70R16 100T OWL
P225/70R16 101S OWL
P235/70R16 106S OWL
P245/70R16 112S XL OWL
P255/70R16 111S OWL
P265/70R16 112S OWL
P265/75R16 116S OWL
LT225/75R16 115/112Q BSW
LT245/75R16 120/116Q OWL
LT265/75R16 123/120Q OWL
LT285/75R16 122/119Q OWL
LT215/85R16 115/112Q BSW
LT235/85R16 120/116Q BSW
17″
P265/70R17 115S OWL
LT225/70R17 116/114Q OWL
LT265/70R17 121/118Q OWL
Price Range
Federal Couragia A/T prices range from approximately $98 and up. You may also find occasional rebates, discount prices, coupons and special offers on this tire.
Warranty
Federal provides a limited tread warranty on the Couragia AT tire.
---