Falken WildPeak HT Tire Review & Rating
Built for light trucks, SUV's and crossovers, the Falken WildPeak H/T is a dedicated all-season highway tire that is designed to deliver solid traction and stability in year-round road conditions along with a smoother and more comfortable ride quality.
Falken uses a tougher all-season tread compound on the HT that is molded into an advanced symmetrical non-directional 5-rib tread pattern to give this tire excellent dry traction and handling. The tire's continuous center rib enhances stability and helps it deliver quicker braking performance.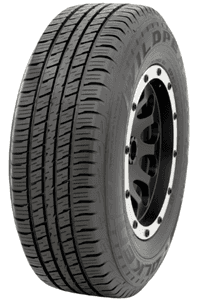 The M+S rated tread utilizes multi-wave lateral sipes and four circumferential grooves to give this tire the type of traction you look for when driving on wet road surfaces. It effectively channels away water and reduces the risk of hydroplaning throughout the speed range. The added sipes further increase traction in snow, slush and ice.
Road noise is reduced through Falken's variable pitch shoulder design while a high-tension casing ply increases overall ride comfort. The combination works well and we've heard many others mention how the level of comfort is equal to what you would find on tires like the Michelin LTX M/S.
In addition to its high-tension casing ply, Falken uses two wider steel belts inside the tread to add strength and durability to the tire. You'll find a wide range of 15-20 inch sizes available for the Wildpeak HT, and it comes backed with a 60,000 mile tread warranty.
Pros
Dry and wet traction is excellent

Good winter performance

Comfortable ride without all the noise

Treadlife
Cons
Increase braking on hard-packed snow/ice surfaces
Overall Thoughts
You might not be expecting the type of performance you'll find on this Wild Peak H/T. Falken has done a very good job with this model and it shows. Performance on dry and wet roads is as good as you will find from most any tire in this class. They provide a good feel for the road and the wet grip is especially impressive.
When it comes to winter weather, the H/T is more than capable. It will get you through an 6 inch snow without leaving you stranded. Again, it provides the type of confidence you'd find on other top tires. The only area we would like to see improved is braking on hard-packed snow or ice covered pavement. It's the one area that holds this model back in comparison to other top tires in this class.
The ride on the highway is comfortable and road noise is not an issue. As for treadlife, the tire holds up well and we've heard others saying the same thing.
Overall, this Falken model does a good job. It delivers solid year-round performance as an all-season highway tire, and the price is lower than several comparable tires in this category.
Click Here For Current Falken Coupons
Click Here To Find Current Prices
What Vehicles Will The WildPeak H/T Fit?
(This is not a complete list of ALL vehicles this tire will fit)
Cadillac Escalade

Chevrolet Silverado, Colorado, Avalanche, Suburban, Tahoe, T

railBlazer

Dodge Ram, Dakota

Ford F-150, Escape, Explorer, Expedition, Ranger

GMC Canyon, Sierra, Yukon

Honda Pilot, Ridgeline

Jeep Grand Cherokee, Wrangler

Land Rover Range Rover

Mercury Mountaineer

Mitsubishi Montero

Nissan Titan, Frontier, Armada, Pathfinder

Toyota FJ Cruiser, Highlander, 4Runner, Sequoia, Tundra, Tacoma,

and Cruiser
Tire Sizes
15″
LT30X9.5R15 C/6 104S OWL
LT31X10.5R15 C/6 109S OWL
225/75R15 102S OWL
235/75R15 XL 109S OWL
LT235/75R15 C/6 104/101S OWL
16″
215/70R16 100S BLK
225/70R16 103T BLK
235/70R16 106S BLK
245/70R16 107S OWL
255/70R16 111S BLK
265/70R16 112S BLK
225/75R16 XL 108S OWL
LT225/75R16 E/10 115/112S BLK
235/75R16 XL 112S BLK
245/75R16 111S OWL
LT245/75R16 C/6 108/104S BLK
LT245/75R16 E/10 120/116S BLK
265/75R16 116T BLK
LT265/75R16 E/10 123/120Q BLK
LT285/75R16 E/10 126/123S BLK
LT235/85R16 E/10 120/116Q BLK
17″
235/60R17 102H BLK
225/65R17 102H BLK
235/65R17 104T BLK
245/65R17 107S OWL
265/65R17 112S BLK
P235/70R17 XL 108T BLK
245/70R17 110S BLK
265/70R17 115S BLK
LT265/70R17 E/10 121/118S OWL
18″
235/60R18 XL 107H BLK
245/60R18 105H BLK
265/60R18 110H BLK
235/65R18 106H BLK
255/65R18 111H BLK
265/65R18 114H BLK
275/65R18 116H BLK
LT275/65R18 E/10 123/120S BLK
255/70R18 113H BLK
265/70R18 116T BLK
19″
255/60R19 109H BLK
20″
275/55R20 XL 117H BLK
275/60R20 115H BLK
LT275/65R20 E/10 126/123S BLK
Price Range
Falken WildPeak HT prices range from approximately $98 and up. You may also find occasional rebates, discount prices, coupons and special offers on this tire.
Click Here To Find Current Prices On All Falken WildPeak HT Tire Sizes
Warranty
Falken provides a 60,000 mile treadlife warranty on the WildPeak H/T. There is also a first 2/32 inch of wear guarantee on tire uniformity.
Materials and workmanship are warranted for 5 years and include free replacement during the first 2/32 inch of wear. The amount is then prorated for the remaining time period down to the final 2/32 inch of tread depth.
---