Dunlop Grandtrek ST30 Tire Review & Rating
The Dunlop Grandtrek ST30 all-season highway tire is specially designed as original equipment on vehicles like the Toyota RAV4, Highlander and several other light trucks and SUV's. Dunlop features this tire as being very versatile in a wide variety of weather and road conditions.
Dunlop uses an all-season tread compound and asymmetric tread pattern that is M+S rated to help in delivering enhanced control, comfort and safety whether on city streets or out on the highway.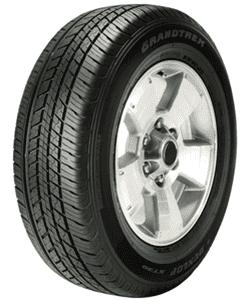 Four circumferential grooves aid in expelling water from the tread and increase grip on wet roads. Unfortunately, this is not a strength for this tire, which is what we've heard from several drivers in reviews. The asymmetric pattern creates better handling and performance on various types of terrain and in various types of weather with increased braking ability.
Multi-Pitch Tread Design Technology is used to reduce road noise and provide for a more comfortable ride, but again, this is not an area that this tire excels in.
Dunlop Grandtrek ST30 tires are available in 17-18 inch sizes and sport an H-speed rating. A limited tread warranty is included as well.
Pros
Dry and wet traction is very good on most surfaces
Solid handling on dry pavement
Comfortable ride
Cons
Not the best on wet roads
Winter performance is lacking
Road noise increases as tire wears
No mileage warranty
Overall Thoughts
The ST30 provides a mixed bag of results when it comes to performance, comfort and treadlife. On the plus side is this tire's dry handling and traction. You can expect quicker steering response and good on-center feel. The ride is comfortable with the exception of potholes and other rough surfaces, but that's the case with most basic all-season tires.
On the other hand, this tire has a number of areas that could be improved upon. The most glaring would be its poor traction and braking on wet, snow or ice pavement. It falls woefully short of other models like the Michelin Defender LTX M/S or Cooper HTP among others.
In addition, road noise becomes much more pronounced as the tire begins wearing. This is also a big issue for many drivers in their reviews on this tire as well.
Overall, the ST30 is best suited as O.E. and even then we feel you could do better. Based on its performance and higher cost over other top tires in this class, we can't recommend this model. As mentioned above, tires like the Michelin Defender LTX M/S, General Grabber HTS60, Cooper Discoverer HTP would make for a better option in our opinion.
Click Here To Find Current Lowest Price
What Vehicles Will The Dunlop ST30 Fit?
Fits these vehicles and many others:
Chevrolet Equinox
Dodge Grand Caravan, Journey
GMC Terrain
Honda CRV-V, Crosstour
Jeep Cherokee
Mazda CX-5, Tribute
Nissan Rogue
Subaru Outback
Toyota RAV4, Highlander
Volkswagen Routan
Tire Sizes
17″
225/65R17 102H VSB
P245/65R17 105S BSW
18″
225/60R18 100H BSW
Price Range
Dunlop Grandtrek ST30 prices range from approximately $220 and up. You may also find occasional rebates, discount prices, coupons and special offers on this tire.
Click Here To Find Current Lowest Prices On All Dunlop Grandtrek ST30 Tire Sizes
Warranty
Dunlop provides a limited tread warranty on the ST30. Tire uniformity is guaranteed for the first year or first 2/32 inch of wear. Materials and workmanship are warranted for 6-years and include free replacement during the first year or first 2/32 inch of wear. A prorated amount is given for the remaining time period or down to the final 2/32 inch of tread depth.
---