Dick Cepek Crusher Tire Review & Rating
Light truck and SUV drivers regularly have to venture off road and onto conditions that most vehicles and tires couldn't cope with. Dick Cepek Crusher tires have been created to address this issue and provide a high performance tire to suit all driving conditions throughout the season.
With its aggressive non-directional tread pattern and deeper shoulder lugs, the Crusher is designed to provide serious off-road traction. High-void tread lugs promote self-cleaning of mud and snow, while the extra wide footprint increases traction on all types of terrain, especially mud.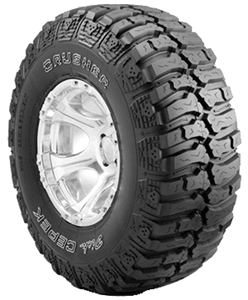 Dick Cepek's unique Skull & Cross Bone Sidebiters provide protection and durability and this is further enhanced by the twin steel belts that are reinforced by spirally wrapped nylon on top of the three-ply polyester sidewalls. If there is one thing that the Crusher tires do have in abundance it is protection.
They are M+S rated and can be found in 15 to 17 inch sizes and load range ratings up to an E.
Pros
True off-road and all-terrain tire

Great on board technology for maximum performance

Several layers of protection to increase durability
Cons
Overall Thoughts
If there's one word to describe Crusher tires it would be toughness. Dick Cepek has created one of the toughest off-road tires we've seen with this model. Not only are the tires built heavy-duty use, but the tread lasts a good long time as well.
Performance on mud, snow, gravel, loose dirt and other terrain is excellent. Ice traction is about the only area where this tire suffers a bit. Road noise is what you would expect with such an aggressive tread design, but it is not as loud on the highway as it is with some models.
Overall this is a very good tire. They deliver maximum performance for drivers that regularly have to head onto rugged terrain, poor road surfaces and downright bad conditions. A solid tire and one that is built for serious drivers of SUV's and light trucks.
Click Here For Current Dick Cepek Coupons
Tire Sizes
15″
31X10.50R15LT 109Q OWL C
33X12.50R15LT 108Q OWL C
35X12.50R15LT 113Q OWL C
16″
LT265/75R16 123Q OWL E
LT285/75R16 126Q OWL E
LT305/70R16 118Q OWL D
LT305/70R16 124Q OWL E
LT315/75R16 121Q OWL D
LT315/75R16 127Q OWL E
17″
LT265/70R17 121Q OWL E
LT285/70R17 121Q OWL E
LT305/65R17 121Q BLK E
LT315/70R17 121Q OWL D
Price Range
Dick Cepek Crusher prices range from approximately $183 and up. You may also find occasional rebates, discount prices, coupons and special offers on this tire.
Warranty
Dick Cepek provides a limited tread warranty on the Crusher. Tire uniformity is guaranteed for one-year or the first 2/32 inch of wear. Materials and workmanship are warranted for an unlimited time and include free replacement during the first year or first 2/32 inch of wear. A prorated amount is given for the remaining time or down to the final 3/32 inch of tread depth.
---