Cooper Zeon LTZ Tire Review & Rating
The Cooper Zeon LTZ features a groundbreaking hybrid design that combines all-terrain traction with the street performance of a sport truck tire. Built for drivers of trucks and SUV's this model sports an aggressively good looking tread design that immediately catches your attention and turns heads.
A tough tread compound sports a scalloped shoulder design that alternately scallops the lugs and offsets them for increased traction on sand, mud and soft gravel. The tire's ridged tie bars enhance lug stability by locking the lugs in the tire's channel area for added steering response and greater traction on all types of terrain.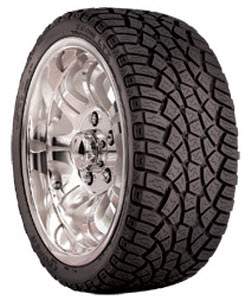 Circumferential grooves and added transverse grooves work together in evacuating water from under the tire and reducing the risk of hydroplaning. Driver reviews confirm the same thing, this tire performs extremely well on wet surfaces. Added full-depth sipes around the tread provide biting edges for even greater traction off-road, as well as going through deep snow and ice on road.
An area that may provide a surprise is the comfort quality that this tire provides. A variable pitch tread sequence that Cooper utilizes helps reduce road noise throughout the speed zone. It also promotes more even treadwear that results in a longer lifespan.
Inside the tire you will find twin steel belts that are reinforced with spirally wrapped nylon for added strength and durability. The Zeon LTZ is available with an optional E load range for heavy-duty use.
Outstanding traction on or off road on a variety of terrains

Ride comfort and smoothness are among best in class

Long lasting tread life

Exceptional value and performance for the money
Cons
Overall Thoughts
These LTZ's took us by surprise. We had heard rave reviews about them and were happy to get a chance to review them ourselves. Glad we did because this tire simply rocks if a more sporty type of AT tire is what you're after. You'll find outstanding traction on any type of terrain you want to drive on, as well as on the street. Steering response is equally as impressive on this tire.
One of the areas that this model surprised us in was handling. The grip it provides is excellent for the most part. You feel like you are on a set of summer performance tires as you drive around town or on the highway. Riding on the LTZ is comfortable for an AT tire as well. Very smooth. The biggest downside we can find is its performance on hard-packed snow or on ice.
One of the ways you can know how good a tire is, is not by seeing the number of positive reviews, but by noticing the lack of negative reviews. That's the case with this Cooper LTZ. Overall, if an on and off-road sporty all-terrain tire is what you are looking for, this is solid choice that doesn't disappoint.
Click Here For Current Cooper Coupons
What Vehicles Will The Zeon LTZ Fit?
(This is not a complete list of ALL vehicles this tire will fit)
Chevrolet Silverado, Tahoe, Suburban

Dodge Ram

Ford F-150, F-250, F-350, Excursion

GMC Sierra, Yukon

Infiniti QX56

Lexus LX570

Lincoln Navigator

Nissan Titan, Armada

Toyota Tacoma, Tundra, FJ Cruiser
Tire Sizes
16″
LT265/75R16/E 123R OWL
17″
LT265/70R17/E 121R OWL
LT285/70R17/E 121S BLK
18″
LT275/70R18/E 125S OWL
20″
275/55R20 117S XL B
275/60R20 119S XL B
LT275/65R20/E 126S BLK
285/50R20 116S XL B
LT305/55R20/E2 121S
Price Range
Prices on the Cooper LTZ range from approximately $204 and up. You may also find occasional rebates, discounts, coupons and special offers on this tire.
Click Here To Find The Lowest Prices On All Cooper Zeon LTZ Sizes
Warranty
Cooper includes a limited warranty on the Zeon LTZ. Tire uniformity is guaranteed for the first 2/32 inch of wear. Materials and workmanship are covered for 5 years and include free tire replacement during the first 2/32 inch of wear. Cooper then prorates out the amount for the remaining time period or down to the final 2/32 inch of wear.
---