Cooper Evolution H/T Tire Review & Rating
Introduced in April 2017, the Cooper Evolution H/T is the company's latest pickup, SUV and crossover all-season tire. The Evolution HT will be replacing the older Discoverer H/T that has been around for several years.
An all-season tread compound and unique tread pattern is matched up with Cooper's StabilEdge technology that delivers increased traction and handling on dry or wet road surfaces. This new technology further enhances cornering grip and stability while providing for more even tread wear.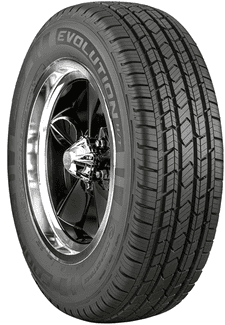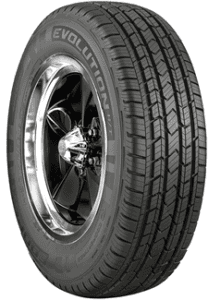 Cooper has added 3D Micro-Gauge sipes around the tread to go with the tires' wider circumferential grooves. The result is increased traction on wet pavement and a reduced likelihood of hydroplaning in heavy rainstorms. The sipes further improve grip on snow covered streets, but since this model has only recently been introduced, we can't speak to winter performance yet.
The Evolution HT is currently available in a range of 16-20 inch sizes, and with T or H-speed ratings. A 60K mile tread warranty is included on all sizes.
Pros
Dry and wet traction is among better tires in this class
Smooth comfortable ride
Cornering stability
Cons
Too soon to know about winter traction (We will update in future)
Overall Thoughts
The new Cooper Evolution H/T continues in their line of good quality all-season tires. While the original H/T was a good model itself, this newer version manages to up the performance considerably.
Traction on dry or wet pavement is very good. The steering is precise and the ride is smoother and more comfortable than expected. While perhaps not as comfortable as a Michelin Premier LTX, it remains better than average. In addition, treadlife has shown to be good at this early stage. We can't speak to winter performance, but being an all-season tire you pretty much know what to expect.
Overall, Cooper has engineered a quality all-season tire that delivers the kind of performance you look for in a new tire, with a fair price that is designed to fit most any budget.
Click Here For Current Cooper Coupons
Click Here To Find Current Prices
What Vehicles Will The Fit?
(This is not a complete list of ALL vehicles this tire will fit)
Chevrolet Tahoe, Trailblazer, Suburban, Avalanche, Silverado
Dodge Durango, Ram, Dakota
Ford Expedition, Explorer, F-150, Ranger
GMC Yukon, Sierra, Acadia, Envoy
Honda Ridgeline, CR-V
Jeep Grand Cherokee
Mercury Mountaineer
Mitsubishi Outlander
Nissan Pathfinder, Titan, Frontier
Toyota 4Runner, Highlander, Sequoia, Tundra, Rav4, Tacoma
Tire Sizes
16″
215/70R16 100H OWL
225/70R16 103T OWL
225/75R16 104T OWL
235/70R16 106T OWL
245/70R16 107T OWL
245/75R16 111T OWL
255/70R16 111T OWL
265/70R16 112T OWL
265/75R16 116T OWL
17″
235/65R17 104T OWL
245/65R17 107T OWL
245/70R17 110T OWL
265/65R17 112T OWL
265/70R17 115T OWL
18″
235/65R18 106H BLK
245/60R18 105H BLK
255/55R18XL 109H BLK
255/65R18 111T BLK
255/70R18 113T BLK
265/60R18 110T OWL
265/70R18 116T OWL
275/65R18 116T OWL
19″
245/55R19 103H BLK
255/60R19 109H BLK
20″
245/50R20 102H BLK
265/50R20 107T BLK
275/55R20XL 117H BLK
275/60R20 115T BLK
Price Range
Cooper Evolution H/T prices range from approximately $130 and up. You may also find occasional rebates, discount prices, coupons and special offers on this tire.
Click Here To Find The Lowest Prices On All Cooper Evolution H/T Sizes
Warranty
Cooper provides a 60,000 mile treadlife warranty on the Evolution H/T. There is also a first 2/32 inch tire uniformity guarantee.
Materials and workmanship are covered for 5 years and include free tire replacement during the first 2/32 inch of wear. Cooper then prorates out the amount for the remaining time period or down to the final 2/32 inch of tread depth.
You'll also find Cooper's exclusive 45-day road test guarantee on this tire as well.
---