Cooper Discoverer ATP Tire Review & Rating
Built to deliver a balance of aggressive off-road performance with smooth on-road drivability, the Discoverer ATP from Cooper Tires provides light sport truck and SUV drivers an all-terrain tire that features the latest in tire technology and performance.
A silica-enhanced tread compound combined with an aggressive 5-rib tread pattern and large lugs increase both on and off road traction and grip on all types of road surfaces. The outside shoulders are scalloped for added traction in sand, mud and snow.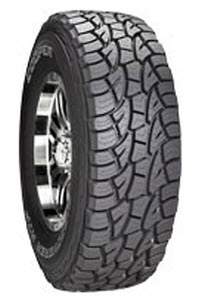 When the terrain turns extreme, the linked tread blocks are designed to provide added stability to get you where you want to go. Serpentine sipes further increase handling and also prevent small stones from gathering in the tread grooves.
One thing you will notice when driving on the highway, or around town for that matter, is how quiet this model is. Road noise is reduced through Cooper's multi-pitch tread block design, and this is an area we've heard many positive reviews come in from other drivers.
Inside the tire you'll find twin steel belts with nylon reinforcement for added strength and durability. They also increase tread life, which Cooper stands behind with a 55,000 mile tread guarantee. The ATP is available in a variety of 16-20 inch sizes.
Pros
Excellent off-road traction in sand, soft dirt, gravel, snow, mud and other terrain

Steering response is impressive

Tires are quiet on-road and provide a smooth comfortable ride

Long treadlife and a 55,000 mile warranty
Cons
Can be hard to find available
Overall Thoughts
For the most part, it seems like the Cooper ATP tire flies under the radar so to speak. You hear so much more about other bigger name models. That's somewhat unfortunate because more truck and 4×4 owners should hear about how well this tire performs.
This model is very similar to the Discoverer AT3, which won an award for best AT tire of 2011. Off-road traction is excellent on all types of terrain, whether it's rocks, sand, mud, etc. It simply goes through anything.
Equally impressive is this tire's on-road manners. It is a quiet tire for an all-terrain model. Traction on dry or wet pavement is very good, and grip on snow and ice is on par with the better tires in this class. Finally, the tread holds up well, and Cooper backs it with a 55K mile guarantee.
Overall, there's several very good AT tires on the market today, from the BFG T/A KO2 to the Michelin AT2 among many others, but this Copper ATP takes a backseat to no one. It's an excellent tire that ranks very high in this class.
Click Here For Current Cooper Coupons
Click Here To Find Current Prices
What Vehicles Will The Cooper ATP Fit?
(This is not a complete list of ALL vehicles this tire will fit)
Chevrolet Tahoe, Silverado, K-Blazer, Trailblazer, Suburban

Dodge Durango, Dakota, Ram

Ford F-Series, Expedition, Ranger

GMC Sierra, Envoy, Yukon

Jeep Wrangler, Grand Cherokee, Commander, Liberty

Nissan Titan, Frontier

Toyota 4-Runner, Sequoia, Tundra, Tacoma, Highlander

Volkswagen Touareg
Tire Sizes
15″
31 /10.50R15 109R C OWL
16″
225/75 R16 104T OWL
245/70 R16 107T OWL
LT245/75 R16 120R E OWL
245/75 R16 111T OWL
255/70 R16 111T OWL
265/70 R16 112T OWL
LT265/75 R16 123R E OWL
265/75 R16 116T OWL
LT285/75 R16 126R E OWL
17″
245/65 R17 107T OWL
245/70 R17 110T OWL
LT245/75 R17 121S E OWL
LT265/70 R17 121S E OWL
265/70 R17 115T OWL
LT285/70 R17 121S E OWL
18″
265/60 R18 110T OWL
265/65 R18 114T OWL
265/70 R18 116T OWL
275/65 R18 116T OWL
LT285/65 R18 125S E OWL
20″
LT265/60 R20 121R E BSW
275/55 R20 117T XL BSW
275/60 R20 115T BSW
LT275/65 R20 126S E BSW
285/50 R20 116T XL BSW
Price Range
Prices on the Cooper ATP range from approximately $122 and up. You may also find occasional rebates, discounts, coupons and special offers on this tire.
Click Here To Find Lowest Prices On All Cooper Discoverer ATP Sizes
Warranty
Cooper includes a 55,000 mile treadlife warranty on the Discoverer ATP. There is also a first 2/32 inch tire uniformity guarantee as well.
Materials and workmanship are covered for 5-years and include free tire replacement during the first 2/32 inch of wear. Cooper then prorates out the amount for the remaining time period or down to the final 2/32 inch of tread depth.
---