Continental TerrainContact A/T Tire Review & Rating
Released in the Fall of 2016, the Continental TerrainContact A/T is the company's first venture into the all-terrain tire marketplace. Of course, Continental also owns General Tire which has the Grabber AT2 and new X3, but this is the first AT tire under the Continental nameplate.
It's worth noting that Continental spent 3 years, 12,000 hours of machine testing and over 2 million miles of on and off-road driving in getting the new TerrainContact AT ready for its release.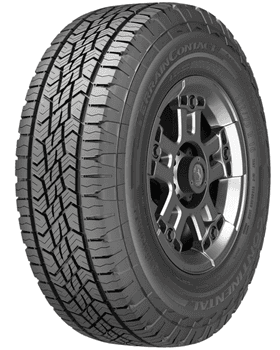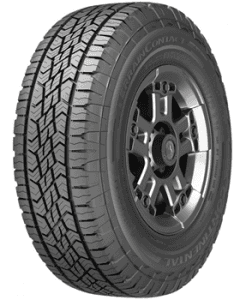 Continental uses a unique tread compound that features +Silane technology for added wet traction, to go with their TractionPlus technology that gives this tire its open tread pattern with larger and more stable tread blocks for enhanced on or off-road driving.
In addition to its ComfortRide technology, the distinctive tread pattern shifting and addition of noise blockers in the tread design reduce noise and create a more comfortable ride quality, which is a strong point on this model.
Traction grooves and full-depth sipes around the tread surface are designed to provide gripping teeth for added traction on wet, snow and ice covered road surfaces. The Terrain Contact A/T is M+S rated, however it does not sport the Three Peak Mountain Snowflake emblem that designates it as severe snow service rated.
Continental offers a range of 16-22 inch sizes in both LT and non-LT versions. A 60k mile tread warranty and 3-year flat protection is included as part of the package.
Pros
Dry and wet traction
Quiet and comfortable ride
Treadlife
Cons
Overall Thoughts
There's no question that Continental has spent a considerable amount of time and testing on TerrainContact A/T, and to that end it has paid off well in most areas. This is one of the quieter riding all-terrain tires you'll find on the market today. For on-road driving, truck, SUV and crossover owners will enjoy the performance this tire delivers.
Dry and wet traction is excellent. The steering is responsive and offers good feedback on all types of pavement. Since this tire was just released before winter, we have no way of knowing how well it will handle snow and ice. However, since this model does not carry the severe snow service designation, you may find traction to be lacking in deep snow and thicker ice or hard-pack. We will update as we find out more.
The biggest area where you may take issue with the TerrainContact AT would be in off-road driving performance. It's obvious this tire is not a BFG T/A KO2 or other more hard-core off road tire that is designed for driving on punishing terrains. Deeper mud, soft sand and other loose material is not a strong suit for this model. It's simply not built for it. It's more of a mild-mannered AT tire that is ideally suited for use on pavement, dirt, grass and gravel, which is really what the vast majority of drivers spend their time doing anyway.
Overall, unless you're looking for a serious tough as nails off-road tire, the Terrain Contact A/T is a winner. For every day around town driving and those weekend trips to the lake or hunting grounds, this tire ranks right up there with the better models in its class.
Click Here For Current Continental Coupons
Click Here To Find Current Prices
What Vehicles Will The Continental TerrainContact AT Fit?
(This is not a complete list of ALL vehicles this tire will fit)
Chevrolet Silverado, Tahoe, Avalanche, S10, Suburban, K2500, Colorado, Blazer
Dodge Ram, Durango, Dakota
Ford Expedition, Escape, Ranger, Bronco, F-150, Explorer
GMC Yukon, Sierra, Canyon
Honda Element, CR-V, Ridgeline
Isuzu Trooper
Jeep Wrangler, Grand Cherokee, Liberty
Mazda B4000
Mercury Mountaineer
Mitsubishi Montero
Nissan Titan, Xterra, Frontier
Toyota Tacoma, Tundra, FJ Cruiser, Sequoia, 4Runner, Land Cruiser, Highlander
Tire Sizes
16″
LT245/75R16 120/116S E OWL
LT265/75R16 123/120S E OWL
265/75R16 116T SL OWL
LT285/75R16 126/123S E OWL
265/70R16 112T SL OWL
17″
LT235/80R17 120/117S E BSW
LT245/75R17 121/118S E OWL
255/75R17 115S SL OWL
LT245/70R17 119/116S E OWL
245/70R17 110T SL OWL
LT265/70R17 121/118S E OWL
265/70R17 115S SL OWL
LT285/70R17 121/118S E BSW
LT315/70R17 121/118S E BSW
245/65R17 107T SL OWL
255/65R17 110S SL OWL
225/60R17 99H SL BSW
18″
255/70R18 113T SL OWL
LT265/70R18 124/121S E OWL
265/70R18 116S SL OWL
LT275/70R18 125/122S E OWL
265/65R18 114T SL BSW
LT275/65R18 123/120S E OWL
275/65R18 116T SL OWL
245/60R18 105H SL BSW
265/60R18 110T SL BSW
255/55R18 109V XL BSW
19″
255/55R19 111V XL BSW
20″
LT275/65R20 126/123S E BSW
LT265/60R20 121/118S E BSW
275/60R20 115S SL BSW
LT285/60R20 125/122S E BSW
275/55R20 113T SL BSW
265/50R20 107T SL BSW
22″
285/45R22 114H XL BSW
Price Range
Continental TerrainContact A/T prices range from approximately $160 and up. You may also find occasional rebates, discount prices, coupons and special offers on this tire.
Click Here To Find The Lowest Prices On All Continental TerrainContact A/T Sizes
Warranty
Continental provides a 6-year or 60,000 mile tread life warranty on the TerrainContact A/T. There is also a one-year or first 2/32 inch of wear on tire uniformity.
Materials and workmanship are covered for 6-years and call for first year or first 2/32 inch of wear free replacement. Continental then prorates out the amount for the remainder of the warranty period.
You also get a one-year or first 2/32 inch of wear road hazard warranty. Finally, there is a 3-year flat changing warranty and a 60-day customer satisfaction guarantee whereby you can exchange the tires for another Continental model if you are not 100% satisfied.
---