Choosing The Best Tractor Tires: A Complete Guide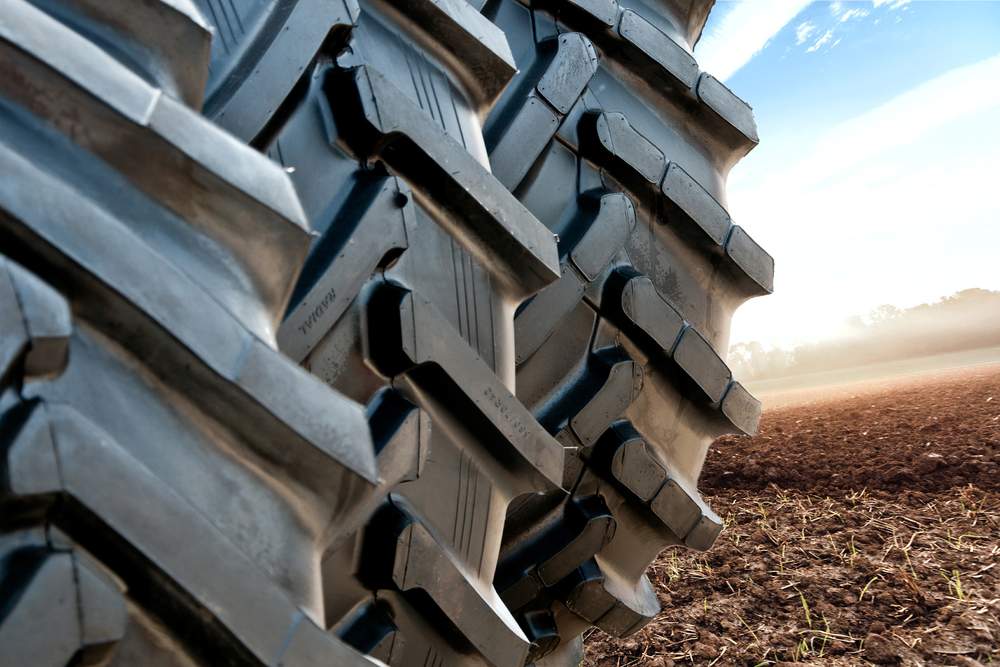 How do you select the best tractor tires?
With so many choices these days, shopping for tires can be tough as they are required to do some heavy-duty work – and they also come with a heavy price tag.
In this article, we will help you select the right tire for your tractor by laying out some of the best choices available in the market right now.
And remember, the answer to the above question is solely dependent on the type of tractor you use and the type of work you use it for. A proper selection can save you a lot of money and help you carry out various tasks with ease.
First, let's take a quick look at popular tire classifications today:
R1 Tires
These are your usual farm tractor tires; the most common type used in agriculture. Excellent for everyday farm chores, they perform efficiently in muddy fields and dirt.
The only downside is that they are not as capable on-road or hard surfaces, especially not on snow. Another thing to consider is that they are not fit to be used on turf, as they will destroy your perfect grassy lawn.
R-1W Tires
This is a more aggressive variant of the original R1; the W (wet) in the name signifies its ability to perform tasks on deep mud or clay.
This ability comes from a 25 percent deeper cleat compared to the usual tire. This tire is a perfect fit if you spend a lot of time working in muddy or greasy clay areas, but it's not for every farm or ranch.
R-1HA Tires
This variant is especially used for row cropping as its tall and slim design makes it easier to fit between the rows of plants.
The R-1 HA (High Angle) name refers to its higher tread angle of 45 degrees, instead of the traditional 23 degrees in R-1. Overall, this is a specialized tire and has limited to no use on regular farms.
R-2 Tires
R-2 is yet another variant of the R-1, but with more tread depth which makes it unusable for almost 99 percent of farmers. As such, it only shines in paddy fields and that's about it.
R-3 Tires
Also referred to as lawn tractor tires, these grass friendly tires are used in compact and lawn tractors. But many big farms and golf courses with huge areas of grass also use them on large scale tractors as well.
The tread depth on the R-3 is much shallower compared to the previous types and this helps to give a smoother ride on pavement. Although it's good for your everyday tasks in the field, it is terrible on mud and other such surfaces.
R-4 Tires
R-4 tractor tires are a blend of R-1 and R-3 in terms of tread depth; their commercial tread is neither deep as R-1, nor is it as shallow as R-3. This makes them a very suitable option as they perform well in many applications.
The tread allows some floatation, which is vital if you don't want your tractor to sink in the mud and it also drives well on roads and other hard surfaces. These are also better on grass then the R-1, but are known to tear up the turf, so use them carefully.
HF Series Tires
These special-purpose tires are designed for commercial field farming and forest use.
The HF implies high floatation, meaning that these tires allow tractors to remain afloat on many types of surfaces – they also come in a range of tread depths from HF-1 to HF-4. These are generally used in applications where soil compaction is a concern.
F-1 Series Tires
These classic tires are now a thing of the past as most modern tractors are now four-wheel-drive, unlike their predecessors.
They were generally equipped on non-powered front axles that didn't require any forward motion, but were used for steering side to side only. F-1's design featured a prominent center rib structure that allowed for higher steering capabilities by digging deep into the earth.
F-2 Series Tires
F-2 is the second generation of F-1 tires with a sharper center rib design, with the exception of a decreased number of ribs on both sides. This is similar to the F-1 in terms of design, but offers better control on hard surfaces.
F-2M Tires
F-2M series are the best available tractor tires for legacy tractors that are still plowing the fields today. They feature a sturdy four-rib design to provide a standard grip on fields and road surfaces.
F-3 Style
F-3 tractor tires are designed for high performance on hard surfaces and can endure heavy use on construction sites.
They are essentially used for industrial purposes and equipped on two-wheel backhoe tractors, but not for use in farm applications.
Some Things You Should Consider Before Buying A Tire
Now that we have learned about all the available options, let's dig in further and look at some things to consider before buying a new set of tractor tires.
One thing to take into consideration when selecting a tractor tire is its intended application; is it meant to be used for pulling, plowing, tilling or something else?
Answering these questions can help you shortlist the tires that are right for you. For example, if you need to work on a grassy field, you need R-3 tires as they are gentle on your turf.
As we know, different types of tractor tires perform well under different conditions. So you need to carefully consider what types of terrains your tractor will encounter.
For instance, R-1 standard tires with their narrow spaced lugs are mostly good on dry land, whereas tires rated R-1W are good for slippery and wet surfaces as they provide traction due to their aggressive tread. Also, the lugs are broadly spaced which results in less mud accumulation between them, making them suitable for use on mud-covered fields.
Anticipated Ownership Time
Why buy a new tire when you know you are selling off your tractor in the near future.
As tractor tires are very costly, it will definitely not be a good investment if you need them for a limited amount of time. Instead, you can easily find used tractor tires that will do the job, while not burning a hole in your pocket.
In all tractor tires, there are two modes of construction – bias or radial. The former is cheaper and chosen by many for their utility while the latter is favored for their durability and improved overall performance.
If you know your hours of use per year, you can easily select the best option according to your needs.
Consider if you require a tire for agricultural tillage involving soil cutting, pulverization and turning or you need to travel some distance on the road every day – the overall use determines which tire will be more suitable.
For instance, if you have a set of R-2 tires and frequently travel on the road, you cannot reap their full benefit as they will wear out very fast. So if you anticipate frequent trips on road or gravel, be sure to buy general-purpose tires to get a good return on your money.
Bead is the edge of the tire that sits on the wheel; a durable bead means a sturdy tire.
Many tire manufacturers reinforce their beads to keep the tire performing better under tough circumstances.
A good practice before buying tires is to have complete knowledge about their maintenance requirements. The details can be obtained at the point of buying or by reading the manual.
For example, their load index lets you know the actual weight capacity; hence, if a tire is marked with a load index of 83, it can carry up to 1074 pounds safely.
Also, keeping proper PSI is crucial as over-inflation results in higher treadwear while under-inflation causes bruising on your rims.
Most importantly, it all boils down to the money you want to invest in tires – remember, if new tires are out of your budget, you can easily find used options on half the price.
But it's important to only buy tires with the correct load index, as this can have a serious effect on the maximum tractor load and overall tire life.
Some Popular Farm Tractor Tire
With sound knowledge of different types of tractor tires and their uses, let's look at some of the best tire manufacturing brands and their top tires.
Firestone All Traction Field And Road G-1
Firestone is a renowned manufacturer of farm tractor tires; the founder (Harvey Firestone) was himself a fourth-generation farmer and as such, he wanted to transform farming truck tires with the latest technology.
Firestone farm tires are popular for their durability and long tread life, and the G-1 is no exception to this. It features a tread design with a 23-degree bar angle that results in excellent traction and improved floatation.
A bigger footprint means lower soil compaction and a wide tread allows for easy navigation on soft or tilled soil.
Pros
Excellently navigates on soft soil

Increased flotation
Cons
The solid surface grip is ordinary
Carlisle Turf Saver Lawn & Garden Tire – 18X9.50-8
As one of the best lawn tractor tires, these are designed to balance out performance with lawn protection. While some tires use aggressive patterns that harm your turf, others offer too little traction.
As the name implies, this has a tread design that saves your lawn while giving you excellent traction.
Pros
Can be used on multiple types of equipment including lawnmowers, golf carts and other utility vehicles

Excellent traction on grass
Cons
Duro AG Bar Lug R1 4 Ply 18-9.50-8 HF255 Bar Lug & Trencher Tire
If you require a durable high-performance tire with capabilities of driving on muddy and murky areas, this tire a good option for you.
It is built to give you exceptional traction with its aggressive R-1 design while the tread is known for digging deeper in wet and loose soil to give you enhanced grip.
Pros
R-1 aggressive tread pattern

Excellent traction

8" diameter
Cons
Titan ND LCM E/L-3 TL Earthmover Tire
The third-largest off-road tire manufacturer in North America, Titan offers some of the most exclusive tractor tires. In fact, they acquired Goodyear tractor tire business in 2005 and still manufacture tires under Goodyear's name.
Titan tractor tires are known for their excellent overall performance and the ND LCM is no different. It's a highly durable 20 Ply product with a non- directional tread design for outstanding all-around traction and stability.
Pros
Highly resistant to damage

Long tread life

Excellent all-around traction
Cons
Carlisle Farm Specialist Tractor Tire 7-14
As the name suggests, it's not a general-purpose tire fit for multiple applications.
This R-1 features a long bar that provides an excellent grip without an extra bulky design. These tall and slim tires leave a very narrow print, making them suitable for tillage while the 6-ply design gives them ultimate strength and durability.
Pros
Good on multiple types of soil

Tubeless
Cons
Kubota Wheel & Tire Assemblies
If you think a pneumatic tire is more suited to your needs and require a quick replacement, then consider Kubota tractor tires. These are a great option since they offer a complete set of ready to install tires with wheels.
These durable wheels come with 4-ply construction that makes them flexible for extra shock absorption on extreme terrains – as an added advantage, they are also resistant to punctures due to extra thickness.
Pros
Highly durable and flexible

Puncture resistant

Instant installation
Cons
Comparatively higher priced
Conclusion
Selecting the right tire for your tractor can be a daunting task, especially with so many options to choose from – but the points discussed in this guide will help you to pick the right tire according to your needs.