Capitol All Terrain Tire Review & Rating
Created as a value-priced tire, the Capitol All Terrain has some of the features that are often found on bigger brand models. This all-terrain tire combines light off-road performance with a longer lasting treadlife for drivers of all types of pickups, SUV's and other 4×4's.
Capitol, which is made by Nexen Tire, uses a tougher tread compound that is designed to be cut and chip resistant for increased durability. The rugged tread pattern utilizes stone ejector ribs that further help in reducing potential damage from rocks and other debris. It's a tread design that is ideally suited for daily use on gravel roads, sand, light mud and other light terrain.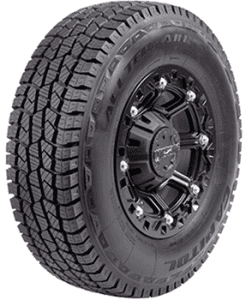 Although built for those times you want to go off-road, this tire also provides respectable around town drivability as well. The added sipes around the tread and the circumferential grooves aid in improving wet traction and helping to reduce the risk of hydroplaning. The tread on the Capitol All Terrain was designed to lower outside noise, but this is not a major strength for this tire.
Capitol offers a range of 15-18 LT and non-LT sizes, and all LT sizes feature an E load range rating. A 50K mile tread warranty is also included, which is somewhat of a nice surprise for a second-tier AT tire.
Pros
Solid performance in light off-road conditions
Dry/wet traction on the street
Treadlife
Value for the money
Cons
Winter traction may be an issue
Road noise is still there at higher speeds
Overall Thoughts
For the lower price, the Capitol All Terrain delivers pretty good performance overall. Sure, it's not in the same league as the BFGoodrich T/A KO2 or Michelin LTX A/T2 among several other top models, but they cost much more than this Capitol tire.
Traction off-road should suit the needs of most every weekend warrior who is going to the lake or campsite. It takes a good amount of punishment and holds up well. That said, it's not a tire for serious rock crawlers or taking through 2 feet of mud.
Around town or on the highway this tire provides good dry/wet traction and handling, and the ride is not as rough as you might expect from looking at the more aggressive design. There's a little extra noise on some road surfaces at higher speeds, but perhaps the biggest issue you might have is its traction in deep snow and on ice. This model does not have the 3-peak mountain emblem and is not rated for severe winter weather use.
Overall, the Capitol All Terrain offers good value for the cost and performance for budget-minded drivers.
What Vehicles Will The Capitol All Terrain Fit?
(This is not a complete list of ALL vehicles this tire will fit)
Chevrolet Silverado, S10, Tahoe, Suburban, Avalanche
Dodge Ram, Dakota
Ford F-150, Ranger, Excursion, Expedition
GMC Sierra, Canyon, Sonoma, Suburban, Yukon
Isuzu Amigo, Rodeo, Hombre
Jeep Wrangler
Mazda B-Series
Mercury Mountaineer
Mitsubishi Montero
Nissan Frontier, Pathfinder, Armada, Titan
Suzuki Equator
Toyota Tacoma, Tundra, Sequoia
Tire Sizes
15″
31×10.5R15 109Q C BW
LT235/75R15 101Q C BW
16″
LT215/85R16 112Q E BW
LT235/85R16 116Q E BW
LT245/75R16 116Q E BW
17″
285/70R17 117S BW
LT295/70R17 121/118Q E BW
18″
LT275/65R18 123/120Q E BW
Price Range
Capitol All Terrain prices range from approximately $87 and up. You may also find occasional rebates, discount prices, coupons and special offers on this tire.
Warranty
Capitol provides a 50,000 mile tread warranty on the All Terrain tire. Tire uniformity is guaranteed for the first 1/32 inch. Materials and workmanship are warranted for life and include free replacement during the first 50% of tread wear. A prorated amount is given for the remaining time period or down to the final 2/32 inch tread depth.
---