Bridgestone Turanza EL400-02 Tire Review & Rating
The Turanza EL400-02 from Bridgestone is engineered to provide all-season handling and a comfortable ride for drivers of coupes, sedans and minivans. Used as original equipment on many of today's new vehicles, the EL400-02 features much of the latest in Bridgestone tire technology.
An all-season silica tread compound uses L.L. Carbon to increase the strength of the rubber and enhance tread wear. You can read our thoughts on treadlife below. The tire's computer-optimized symmetric tread design method and UNI-T Technology that Bridgestone uses, combines the design, casing and manufacturing process together in order to create a better overall tire.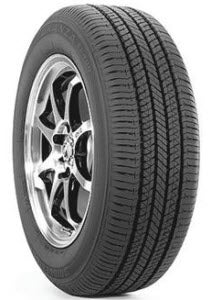 Circumferential grooves around the tread assist in adding dry surface traction, as well as wet road handling and reduced resistance to hydroplaning. Bridgestone's 5 Degree Noise Reduction creates unique noise-cancelling sound waves that are engineered to help eliminate outside tire noise on all types of road surfaces.
Inside the tire you will find two steel belts and a polyester cord body that provide added strength and durability to the tire. They also increase stability at higher speeds and add to ride comfort. Bridgestone includes a limited warranty, and has 15-19 inch sizes available.
Pros
Good dry traction

Steering is responsive
Cons
Winter handling is poor

Wet traction
Ride comfort

Treadlife issues
Overall Thoughts
The Turanza EL400-02 is one of those tires you really want to like, but its performance makes that pretty much impossible. It has some of the latest tire technology, yet it just doesn't seem to all come together with this design.
Dry traction is adequate on this model, and the steering is responsive on most road surfaces. Cornering is not bad for everyday around town driving.
A major issue for this model is the poor traction you'll find on snow and ice. In short, we wouldn't advise driving on this tire in winter road conditions. Beyond that, wet grip could use a big boost as well. We've heard this from far too many other drivers on this tire. Treadlife is also much shorter than it should be, regardless of rotations and driving habits. Finally, ride comfort and road noise are other areas you'll find to be below average on the EL400-02.
Overall, we rank this tire in the bottom half of the all-season tire class. We'd recommend other models like the Michelin Defender T+H, General Altimax RT43 or the Continental TrueContact among many others ahead of the EL400-02.
Click Here For Current Bridgestone Coupons
Click Here To Find Current Prices
Buy Used for 40 – 50% Less than Retail
What Vehicles Will The Bridgestone EL400-02 Fit?
(This is not a complete list of ALL vehicles this tire will fit)
Acura RL, TL, CSX

Chevrolet Cobalt, Cavalier

Chrysler Town and Country, Sebring, LeBaron

Dodge Grand Caravan, Caliber, Avenger

Ford Five Hundred

Honda Civic

Lexus ES350

Mazda 3, RX-7, 626

Nissan Altima, Sentra, Leaf

Pontiac G5, Sunfire, Grand Am

Scion xB, tC

Subaru Legacy

Toyota Camry, Corolla, Avalon, Matrix, Prius, Solara

Volkswagen Jetta, Routan, Corrado, Beetle

Volvo S60, V70
Tire Sizes
15″
175/65R15 84H
205/60R15 90H
205/60R15 90H
16″
175/60R16 82H
195/50R16 83V
195/55R16 86V
195/60R16 89H
205/55R16 89H
205/55R16 89H
205/55R16 89H
205/55R16 89H
205/55R16 89H
205/55R16 89H
205/55R16 91H
205/55R16 89H
205/60R16 91V
205/60R16 91H
205/60R16 91V
205/60R16 91V
215/60R16 94V
225/65R16 99T
17″
215/45R17 87V
215/45ZR17
215/50R17 90V
215/50R17 90V
215/55R17 93V
215/55R17 93V
215/55R17 93V
215/55R17 93V
215/60R17 95T
225/50R17 93V
225/50R17 93V
225/65R17 100T
235/60R17 102T
245/50R17 98V
18″
215/55R18 94T
225/40R18 88W
225/45R18 91V
235/45R18 94H
245/50R18 99H
255/40R18 95W
19″
235/40R19 96V
Price Range
Prices on the EL400-02 range from approximately $101 and up. You may also find occasional rebates, discounts, coupons and special offers on this tire.
Click Here To Find Lowest Prices On All Bridgestone Turanza EL400-02 Sizes
Warranty
Bridgestone includes a limited warranty on the EL400-02. Tire uniformity is guaranteed for the first 1/32 inch of wear. Materials and workmanship are warranted for 5-years and provide for free replacement during the first 3 years. A prorated amount is given for the remaining time period or down to the final 2/32 inch of tread depth.
You will also get a 30-day buy it and try it guarantee whereby if you are not satisfied you can refund or exchange the tires for another Bridgestone model.
---