Bridgestone Firestone FD711: Review & Rating
The Firestone Tire & Rubber Company, a subsidiary of Bridgestone Tire Company is based in Nashville, Tennessee and is known for making exceptionally well street and off-road tires for different applications. Among their latest releases for 2019 is their new commercial truck tire, the Firestone FD711 Drive.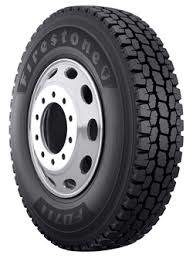 Available in two sizes, the most notable features of this tire are its four belt construction and an open shoulder design. These features provide extra rigidity for long and regional hauls. The tire provides excellent grip and features a load balancing architecture. This helps keep the vehicle's weight proportional with superior handling and braking characteristics.
The FD711 is a true radial tire, which, as the company claims, is recommended for high speed and high scrub long haul applications. The tire shines in moderate on and off highway service, and stop and go pickup or delivery service. It is constructed with stronger materials than its predecessors, to subsequently cope up with the additional stresses in stop and go hauls. Each single tire can handle loads of up to 6175 lbs. with ease and can remain in service for long periods of time. The main gripe of truck owners is to save costs on premature tire replacements, and the Firestone FD711 is stated to remain in service for a pretty long time with minimal tread ware.
FEATURES
Designed and produced in America, with local hauling conditions in mind, these tires are built for toughness. Weighing in at 125 lbs. the outer core of the tire is made up of an open shoulder design which helps provide exceptional traction and grip. Further improvement in traction are aggressive tread blocks in the tire tread, which provide the extra bite needed for such applications with massive loads and heavy usual stresses. Improved braking and excellent cornering ability will be noticed as soon as you install these tires, making them pretty safe for long hauls and regional sprints.
Longer tread life is ensured by a staggered tread block design that ensures superior wear and abrasion resistance for a longer service life. Tough tread compounds long term usability of the tire in max load usage.
Tires used on load carrying vehicles are prone to much more abuse and wear as compared to other passenger vehicles. Hence, stronger more rigid materials and compounds are used in the construction of the shells of these tires. These compounds make the tire firmer than conventional tires. The harder compoundensures the tread stays intact for a loner time, and the sidewalls stay resistant to abrasions and damage.
To maximize protection and longer life, the FD711 also features a slow wearing cap compound with a cool running base which protects the tire's casing from damage causing heat. As a rule of thumb, harder tires generate more heat, also because the increased amount of weight that they have to carry. Heat causes internal fractures and weakening in the tire's ribs. The slow wearing compound makes the tires run cooler, thus providing protection from the extra heat generated.
On the inside, the FD711 is layered with a four belt construction to help combat casing penetration for improved durability and retread capability. Under certain conditions, the tire can be re-tread for extracting more service life out of them. Re-treading is pretty common in the trucking business and more and more manufacturers are now developing re-treadable tires. This saves service costs and makes the tire last longer. The four belt construction also shields the tire from longer sharp objects on the road which can penetrate inside the tire rendering it useless and stranding the vehicle during haul.
SIZE AND SPECIFICATIONS
The FD711 Drive comes in two sizes, i.e. 11R22.5 and the bigger 11R24.5. The tire's load rating is G with a ply rating of 14. They can safely go up to 75 miles per hour at full load. The ideal rim width for this tire is 10.7 inches and it rotates at 473 revolutions per mile.
PROS
Great build quality.
Heavy duty construction for a longer service life.
Re-treadable design.
Strong Construction and Firestone's four layer compound construction.
Maximizes fuel efficiency.
Longer service life.
Reduced braking distance and high maneuvering capabilities.
Tough build construction can balance load well.
90 day money back guarantee.
Ideal for high speed, high scrub applications.
Excellent value for money.
CONS
Overall width is kind of less for a big diameter truck tire.
WARRANTY
The FD711 has a 90 day buy and try guarantee. They also come with a re-treading warranty. Firestone will give you a full refund of the invoice price if the tire is found to be un-serviceable due to an adjustable condition within the first 2/32" of tread ware, used in the service it was designed for. To claim this, the dealer will require proof or purchase for applying this warranty.
CONCLUSION
The FD711 is ideal for moderate sized truck operators looking for a trusted, and economical tire solution for their fleet. Backed by a money back guarantee, and made with some of the toughest rubber compounds in the industry, these tires promise a longer service life, and protection against cracking, chipping and road damages. Service them according to the user manual and they promise a long service life. These tires are bound to save you money against frequent tire changes. An added bonus is their great handling and braking properties which makes them extremely safe on the road.