Bridgestone Expedia S-01 Tire Review & Rating
The Bridgestone Expedia S-01 is built to deliver high performance traction and handling in both wet and dry summer conditions. Designed for sports cars, coupes and sedans, they have also been used as original equipment on vehicles from Mercedes-Benz, Ferrari among others.
They come with a summer tread design that ensures good grip and traction in both rain and shine. In fact the hydro evacuation surface dispels water quickly and efficiently for driving on wet roads while increase traction at the same time and this is complimented with silica tread compound.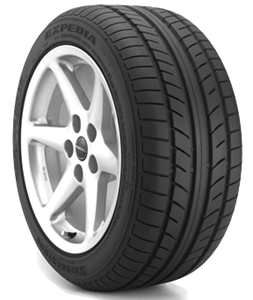 You can get the Bridgestone Expedia S-01 tires in 17to 18 inch sizes, and they are available with a Y-speed rating.
Pros
Excellent cornering grip and stability

Effective tread design for wet and dry conditions

Quick steering response
Cons
Overall Thoughts
While most of the attention is on the Potenza line from Bridgestone, this Expedia S-01 delivers excellent performance as well. Traction on dry and wet road surfaces is very good and doesn't disappoint. The steering is quick and we were impressed with overall stability.
Another strong point for this model is its cornering grip. Once you get this tire warmed up it grips the corners like glue. Naturally, all this added grip comes at the expense of treadlife, but that's always a give and take with high performance tires.
Overall, the S-01 ranks high in its class and is highly recommended.
Click Here For Current Bridgestone Coupons
What Vehicles Will The Bridgestone Expedia S-01 Fit?
(This is not a complete list of ALL vehicles this tire will fit)
BMW 330i, 530i, Z4

Chrysler Crossfire

Honda S2000, Civic

Infiniti G35, M45, G37

Lexus IS350, IS250

Mazda 3, MX-5 Miata, Mazda 6

Mercedes-Benz CL55, S430

Mitsubishi Eclipse GT

Porsche Boxster, 928, 911

Subaru Legacy

Toyota Camry, Tacoma, Matrix

Volkswagen Jetta, GTi
Tire Sizes
17″
215/50ZR17 BLK
255/45ZR17 (Y) BLK
285/40ZR17 (Y) BLK
18″
225/40ZR18 BLK
245/40ZR18 BLK
265/40ZR18 BLK
Price Range
Bridgestone Expedia S-01 prices range from approximately $251 and up. You may also find occasional rebates, discount prices, coupons and special offers on this tire.
Warranty
Bridgestone provides a limited tread warranty on the Expedia S-01. Tire uniformity is guaranteed for the first 1/32 inch of wear. Materials and workmanship are warranted for 5-years and include free replacement during the first 3-years. A prorated amount is given for the remaining time period or down to the final 2/32 inch of tread depth.
There is also a 30-day buy and try guarantee that allows you to refund or exchange the tires in the event you are not completely satisfied.
---