Bridgestone Ecopia EP20 Tire Review & Rating
The Ecopia EP20 from Bridgestone is used not only as original equipment on the next generation Toyota Prius, but has also gained popularity as a replacement tire on many vehicles that use a P195/65R-15 fitment.
An all-season low rolling resistance tread compound provides dependable traction and handling year-round on both dry or wet road surfaces, while also giving the tire enhanced fuel efficiency. Numerous driver reviews and ratings mention getting better gas mileage once they start driving on the EP20.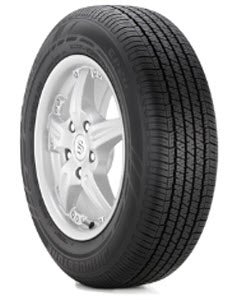 Steering response is crisp and provides good feel on most road surfaces. Expect good overall stability throughout the speed range. Tread life is increased through the use of L.L. Carbon in the tread compound that resists cracking and chipping. The tire's O-bead construction further increases ride comfort and improves tire uniformity.
Inside the tire you will find steel belted construction that combines with Bridgestone's computer-optimized component system that is designed to maximize tire construction and performance. It also creates a better overall ride quality without all the excessive road noise.
Pros
Dry and wet traction are very good

Tire stability

Comfortable ride with little road noise

Increased fuel efficiency
Cons
Winter handling could be better

Treadlife
Overall Thoughts
The EP20 is a relatively new Bridgestone tire that has received mixed results on the market. On one hand, it received poor results on a Civic tested by Consumer Reports, while other drivers have reported great performance. We have to say that we stand with other drivers in saying that this is a tire that could perform much better than it does.
Dry and wet traction are good on this tire, and it maintains very good stability for the most part unless you're very aggressive with your driving. Expect a smooth and pretty quiet ride as well.
Where the EP20 falters a bit is certainly in the area of winter traction and handling. Simply put… it's not good. Braking, acceleration and just driving in general on snow and ice is well below average. This has been the case with the overwhelming majority of drivers on this model. Treadwear is another problem with many drivers.
Improvements in fuel mileage is a big plus for this tire if that is a major point of emphasis in selecting a new tire. Most all driver reviews have reported increases in fuel efficiency.
Overall, we feel this Bridgestone tire ranks in the lower half of this category. However, if winter driving is not a concern and you're only looking for dependable dry/wet traction and better fuel efficiency, then this is not a bad choice.
Click Here For Current Bridgestone Coupons
What Vehicles Will The Bridgestone EP20 Fit?
(This is not a complete list of ALL vehicles this tire will fit)
Buick Century, Regal, Skyhawk, Skylark

Chevrolet Cobalt, Cavalier, Beretta, Corsica

Dodge Stratus

Honda Civic, Accord

Mazda 626, Mazda3

Mitsubishi Galant

Oldsmobile Cutlass Ciera, Firenza

Plymouth Reliant, Sundance

Pontiac Grand Am, Sunfire

Toyota Prius, Corolla
Tire Sizes
15″
P195/65R15 89S BL
Price Range
Bridgestone Ecopia EP20 prices range from approximately $95 and up. You may also find occasional rebates, discount prices, coupons and special offers on this tire.
Click Here To Find The Lowest Prices On All Bridgestone Ecopia EP20 Sizes
Warranty
Bridgestone provides a limited tread warranty on the EP20. Tire uniformity is guaranteed for the first 1/32 inch of wear. Materials and workmanship are warranted for 5-years and include free replacement during the first 3 years. A prorated amount is given for the remaining time period or down to the final 2/32 inch of tread depth.
You also receive Bridgestone's 30-day buy and try guarantee the allows you to exchange or refund the tires in the event you are not completely satisfied.
---