Bridgestone Dueler H/T 685 Tire Review & Rating
The new for 2017 Bridgestone Dueler H/T 685 is the company's latest addition to their all-season lineup. This heavy-duty all-season light truck tire is built to provide increased wet traction and much improved performance on snow and ice. Bridgestone will be replacing the 684 II, 687, 689, 840 and 470 models with this newer HT 685.
Bridgestone uses a tougher all-season tread compound with a 2-ply construction and 2 robust steel belts that provides the traction and heavy duty performance light truck and SUV owners look for in a standard all-season tire.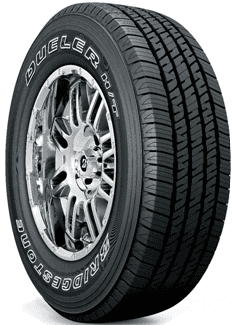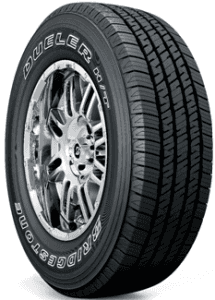 A larger contact patch and unique tread design deliver added traction, grip and handling when driving on dry or wet pavement. It also gives the tire more even treadwear and a longer treadlife.
Four wide circumferential grooves and added sipes around the tire increase traction on wet road surfaces, while also reducing the risk of hydroplaning. These deeper sipes further enhance grip on snow, slush and icy pavement as well.
Twin steel belts and a two-ply polyester cord casing provide increased strength when used for hauling heavier loads or pulling trailers. Bridgestone offers a range of 16-20 inch LT sizes, and all sizes feature an E load rating. A 50K mile tread warranty is included as well.
Pros
Dry and wet traction and handling is much improved
Durable and strong for pulling trailers
Treadwear has shown to be good at this early stage
Cons
Overall Thoughts
The Bridgestone Dueler H/T 685 tire is a welcome addition to the company's family of heavy-duty, all-season tires. Introduced to the market in March, 2017, it is still a little early to know just how good this model wear, but the initial signs are positive.
Bridgestone has focused on engineering a tire that is durable and strong enough to carry and tow heavy loads, while providing the grip and handling required by today's light truck and SUV owners in summer and winter conditions. In the process of manufacturing the Dueler H/T 685, Bridgestone has also added a number of advanced features that has resulted in a more durable tire that wears evenly.
Our only area of concern would be with traction on ice or hardpack. However, being an all-season tire, it can be expected.
Overall, the Bridgestone Dueler H/T 685 is a solid, sturdy highway tire that takes many of the positive features of their previous models and combines them into a longer lasting, and higher performing tire.
Click Here For Current Bridgestone Coupons
Click Here To Find Current Prices
What Vehicles Will The Bridgestone HT 685 Fit?
Fits these vehicles and many others:
Chevrolet Tahoe, Trailblazer, Suburban, Avalanche, Silverado
Dodge Durango, Ram, Dakota
Ford Expedition, Explorer, F-150, Ranger
GMC Yukon, Sierra, Acadia, Envoy
Honda Ridgeline
Jeep Grand Cherokee
Mitsubishi Outlander
Nissan Pathfinder, Titan, Frontier
Toyota 4Runner, Highlander, Sequoia, Tundra, Rav4, Tacoma
Tire Sizes
16″
LT215/85R16 115R E BW
LT225/75R16 115R E BW
LT235/85R16 120R E BW
LT245/75R16 120R E BW
LT265/75R16 123R E OWL
LT285/75R16 126R E OWL
17″
LT235/80R17 120R E BW
LT245/70R17 119R E OWL
LT245/75R17 121R E OWL
LT265/70R17 121R E OWL
LT285/70R17 121S E OWL
18″
LT265/70R18 124R E OWL
LT275/65R18 123S E OWL
LT275/70R18 125R E OWL
20″
LT265/60R20 121R E BW
LT275/65R20 126R E OWL
LT285/60R20 125R E BW
Price Range
Bridgestone Dueler HT 685 prices range from approximately $150 and up. You may also find occasional rebates, discount prices, coupons and special offers on this tire.
Click Here To Find The Current Prices On All Bridgestone Dueler H/T 685 Sizes
Warranty
Bridgestone provides a 50,000 mile tread warranty on the Dueler H/T 685. There is a first 1/32 inch of wear guarantee on tire uniformity.
Materials and workmanship are warranted for 5-years and include free replacement during the first 3 years. A prorated amount is given for the remaining time period or down to the final 2/32 inch of wear.
You will also receive a 30-day buy and try guarantee that allows you to refund or exchange the tires if you are not completely satisfied.
---