Bridgestone Dueler H/T 684 Tire Review & Rating
The Dueler H/T 684 highway all-season tire from Bridgestone is designed to provide dependable year-round traction and handling. Engineered for drivers of sport utility vehicles and crossovers, the HT 684 has been used as original equipment on vehicles from Chevy, Toyota, Hyundai and others.
An all-season tread compound features L.L. Carbon black that is designed to increase tire wear and performance on wet road surfaces. Bridgestone utilizes a unique Comprehensive Tire Design Method to enhance traction on both dry and wet pavement through an improved casing shape, design, materials and construction.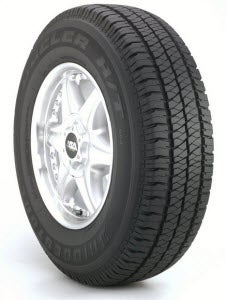 Larger outside shoulder blocks increase dry traction and cornering stability, while also enhancing steering response and feel, which is an area that many have mentioned as a positive in reviews and ratings. 5 Degree Noise Reduction technology provides noise-cancelling sound waves that work to reduce outside road noise on all types of road surfaces.
Inside the tire you will find two steel belts that are spirally wrapped for added strength and stability at higher speeds, while Bridgestone's UNI-T technology further adds to driving performance and comfort. Sizes range from 15-18 inches, and the tire comes with a 60,000 mile tread guarantee.
Pros
Excellent dry traction

Handling and cornering are good

Smooth and comfortable ride
Cons
A little extra road noise

Tread life has been an issue for some
Overall Thoughts
We give the Bridgestone 684 mixed reviews for its overall performance. The tire does provide very good dry traction and cornering stability, and the ride is smooth and comfortable for the most part.
On the other side you can expect to hear a little added road noise on the highway than you will with many other tires in this class. Beyond that, this is a highway all-season tire, so traction off-road is minimal. That is just not what this tire was designed for. Tread life is another area that has disappointed many drivers. That said, Bridgestone does include a 60K warranty.
Overall, we rank the H/T 684 in the lower half of the class. The Bridgestone Dueler H/L 422 offers much higher performance than this tire and makes a better choice in our opinion. Other models in this category that you may want to consider include the Michelin Defender LTX M/S and Yokohama YK-HTX and General Grabber HTS60 among others.
Click Here For Current Bridgestone Coupons
Click Here To Find Current Prices
What Vehicles Will The Dueler H/T 684 Fit?
(This is not a complete list of ALL vehicles this tire will fit)
Chevrolet Silverado, Suburban, Avalanche, Tahoe

Dodge Ram, Durango

Ford F-150, Explorer

GMC Sierra, Yukon

Honda Element

Hyundai Santa Fe

Infiniti QX56

Kia Sorento

Nissan Armada, Titan, Xterra

Pontiac Torrent

Saturn Vue

Suzuki XL7

Toyota Tacoma, Tundra, 4-Runner, Sequoia
Tire Sizes
15″
P235/75R-15 105S OWL
16″
P215/70R16 99S BLK
P235/6516 101S BLK
P235/70R16 104T BLK
P245/70R-16 106S OWL
P265/70R-16 111S OWL
17″
P265/6517 110S BLK
P2657017 113S OWL
P265/70R17 113S BLK
18″
P235/6018 102H BLK
P255/70R18 112T BLK
P265/65R-18 112S BLK
P275/6518 114T BLK
Price Range
Bridgestone Dueler H/T 684 prices range from approximately $124 and up. You may also find occasional rebates, discount prices, coupons and special offers on this tire.
Click Here To Find The Lowest Prices On All Bridgestone Dueler H/T 684 Sizes
Warranty
Goodyear provides a 6-year or 60,000 mile tread life warranty on the HT 684. Tire uniformity is guaranteed for the first 2/32 inch of wear.
Materials and workmanship are warranted for 6-yearsand include free tire replacement during the first year or first 2/32 inch of wear. A prorated amount is given for the remaining time period or down to the final 2/32 inch of tread depth.
---