Bridgestone Dueler A/T Revo 3: Review & Rating
The Dueler A/T Revo 3 is the newest generation of light to medium duty, all-season truck tire from Bridgestone Corporation. It features some of the company's most advanced tire technologies such as Traction Claw for a longer durable tread ware.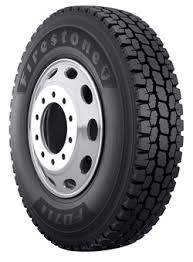 These tires are made for drivers of crossovers, SUV, CUV, and light to medium duty pickup trucks in the market for a tire that provides excellent off road traction when needed with added on road comfort. The tires tend to provide a quiet and comfortable highway ride and tenacious grip on rough off road terrain. They offer excellent performance in all seasons, including confident performance in dry, wet, winter and mild icy conditions.
The sidewalls come in two versions; all black and white lettered. We like the latter as it looks better than the plain all black. Of course, this would depend on the kind of vehicle that you put these on in the first place.
The compound of these tires features a chip and tear resistant material, modeled into a well-balanced tread pattern which allowsfor a uniform contact patch making for an even wear pattern. The strong shoulders of the Revo 3 provides stellar highway tracking. Talking about advanced technologies used in this tire, groove stepping used in the design stabilizes the Revo 3's tread blocks to assist in better handling in corners and upon hard braking. This technology also minimizes loss of traction on loose surfaces.
Key features of this tire includes:
Versatile performance both on road and off road
Comfortable and a quiet ride thanks to usage of superior materials
Maximum traction on both wet and dry surfaces alike
Balance of durability and a longer tread life
This tire is available from 16" all the way to 20", with starting prices of around $181.
CONSTRUCTION
The Revo 3's molded shoulders feature staggered shoulder legs that provide that extra biting grip on soft and irregular surfaces. This means killer grip on mud and loose surfaces like gravel, sand, loose mud, etc. This tire can really go places where most modern commuting off road tires cannot go.
Comparing the new tire to its predecessor; the Revo 2, the newer Revo 3 comes with a new, more aggressive tread pattern with additional traction claws. These take care of traction on wet and slippery surfaces like wet or snowy terrain. These traction claws are what contribute to this tire's ability to outshine other similar tires in winter and snowy conditions, making this a true all season champ.
The groove stepping, which we also talked about earlier, is a technology that is being used by Bridgestone on their newer higher tier off road tires. This technology reinforces the grooves from the shoulder to the center of the contact patch, then again from the center of the contact patch to the opposing shoulder of the tire. This reinforcement allows for an enhanced tread ware while providing maximum traction.
While we're talking about the tire's shoulder design, it also features open shoulder slots and 3D steps to make the tire perform outstanding in water and wet conditions. These cuts help evacuate water faster through them,while adding traction to the shoulder. This would help in situations where you have to take a sharp turn on wet tarmac which could trigger hydroplaning.
These tires will never lose breath in such sketchy road conditions because of all the technology going into them. To further enhance biting grip, in-block sipesare designed into the tread along with Bridgestone's Traction Claw Technology to provide the biting edges necessary for grip on slippery or snowy surfaces, while also helping churn through knee deep snow or mud.
The strong construction of the Revo 3 features a two-ply, polyester casing under two wide and high-strength steel belts which support and stabilize tire tread. Additional nylon reinforced ply assists in vehicle handling response while maximizing durability and providing high-speed stability.
PROS
• Great 60,000 mile tread ware warranty
• Strong Construction and Bridgestone's latest tire technologies
• Good traction on-road and off road
• Great performance in both dry and wet conditions
• Noticeably quiet and comfortable on road
• Longer service life
• Comes in all black and white lettered schemes
• Excellent ability to absorb surface irregularities
• Good value for money
CONS
• Styling is pretty common
• Snow performance is average
WARRANTY
The Bridgestone Revo 3 comes with a limited 60,000 mile tread ware warranty on all models excluding LT sizes. They also come with a 30 day satisfaction warranty where you can replace a tire within 30 days of purchase if you are not satisfied with the workmanship or materials used.
The Revo 3 is also covered by a third warranty, the platinum pact warranty. This warranty states that a customer can get their tire replaced from an authorized dealership within 3 years of the purchase date if a fault is found. The dealer will require proof or purchase in order to apply the warranty. Of course, some conditions would apply to this case, for e.g. the tire should not be worn more than 1.6mm to the depth of the built in wear indicators if you're bringing in your tire for a claim.
CONCLUSION
If you're in the market for an excellent all season off road tire with a perfect balance of road comfort, a quiet ride, longer service life and durability, The Bridgestone Dueler A/T Revo 3 is the absolute choice for your ride. With advanced construction technologies, this tire is way ahead of its time. We reckon this tire will last you 60,000+ miles with ease of you maintain tire pressure and do regular basic check-ups.