BFGoodrich g-Force T/A KDWS Tire Review & Rating
The g-Force T/A KDWS from BFGoodrich is engineered to deliver high performance traction and handling in all-season weather conditions. Designed for drivers of sport coupes, sedans and smaller sport trucks, the KDWS has been used as original equipment on some of the hottest sports cars like the Ford Mustang GT, Pontiac GTO and many others.
A sporty all-season tread compound and asymmetric tread pattern increases dry and wet traction. Larger shoulder tread blocks and the tire's continuous center rib provides enhanced steering response, as well as excellent cornering grip, which is a strong area on this model. G-Control sidewall inserts further increase steering and corning performance as well.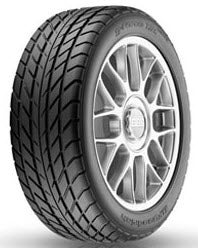 Wet surface handling and braking are improved through the inner independent tread blocks. Along with the unique tread pattern, they combine to expel water from under the tread and reduce the risk of hydroplaning. An increased interior groove offset is designed to created added snow traction and make for more confident winter driving, although this is certainly not a winter tire.
Inside the tire you will find two steel belts that are nylon reinforced to go with BFG's Equal Tension Containment System for added strength and durability, as well as enhanced ride comfort. The T/A KDWS comes with a W-speed rating.
Pros
Dry and wet traction is very good

Steering response

Outstanding cornering performance

Excellent ride comfort
Cons
Treadwear could be better

Winter traction and handling
Overall Thoughts
The KDWS delivers excellent traction and handling on dry or wet surfaces. Steering is responsive and gives you the feeling of being in control in most all situations. Cornering grip is outstanding on this tire, which is an area that more spirited drivers will really enjoy.
Winter handling is not so good on this model as you might expect due to it being a high performance tire. If you live in an area that sees quite a bit of snow and ice, you might want to think about changing over to a winter tire. Tread wear on this Goodrich tire is another area we would like to see improvement in, although for the price it is not all that bad.
Overall, we rank this in the middle half of its class. You might want to go with the BFG Comp-2 A/S instead as it has far more performance than this model.
Click Here For Current BFGoodrich Coupons
Click Here To Find Current Prices
What Vehicles Will The BFGoodrich KDWS Fit?
(This is not a complete list of ALL vehicles this tire will fit)
Acura Legend, TL

BMW X3

Chevrolet Impala, Colorado, Monte Carlo SS, Camaro

Chrysler 300C

Dodge Charger, Magnum, Neon ACR

Ford Mustang Shelby GT500, Mustang, Crown Victoria

Honda Accord

Hyundai Tucson

Jaguar XJR, XJ8L

Lexus LS460, LS430

Mercury Marauder

Nissan 350Z

Pontiac GTO, Bonneville GXP, G6, Trans Am, Grand Am

Subaru Impreza 2.5RS

Toyota Camry
Tire Sizes
16″
205/40R16 83W BSW
205/45R16 87W BSW
205/50R16 87W BSW
205/55ZR16 89Y BSW
225/45R16 89W BSW
225/50ZR16 92Y BSW
225/55ZR16 95Y BSW
17″
205/40R17 84Y BSW
205/45R17 88Y BSW
205/50R17 87Y BSW
215/40R17 87Y BLK
215/45R17 91Y BSW
215/50R17 91Y BSW
225/45R17 90Y BSW
225/50ZR17 94Y BSW
235/40R17 94Y BSW
235/45ZR17 94Y BSW
235/50ZR17 96Y BSW
235/55ZR17 99Y BSW
245/40R17 91Y BSW
245/45ZR17 95Y BSW
255/40R17 94Y BSW
275/40ZR17 98Y BSW
18″
215/35R18 84Y BSW
215/40R18 85Y BSW
225/35R18 87Y BSW
225/40R18 92Y BSW
225/45R18 91Y BSW
235/35R18 90Y BSW
235/40R18 95Y BSW
235/50R18 97Y BSW
245/35R18 88Y BSW
245/40R18 93Y BSW
245/45R18 96Y BSW
255/35R18 94Y BSW
255/40R18 95Y BSW
255/45R18 99Y BSW
265/35R18 93Y BSW
275/35R18 95Y BSW
275/40ZR18 99Y BSW
285/30R18 97Y BSW
19″
215/35R19 85Y BSW
225/35R19 88Y BSW
235/35R19 91Y BSW
245/35R19 93Y BSW
245/40R19 98Y BSW
255/35R19 96Y BSW
265/30R19 93Y BSW
275/35R19 96Y BSW
285/35R19 99Y BSW
295/35R19 100Y BSW
20″
225/30R20 85W BSW
225/35ZR20 90Y BSW
245/30R20 90W BSW
245/35R20 95W BSW
255/30R20 92Y BSW
255/35R20 97W BSW
265/30R20 94W BSW
265/35R20 99W BSW
265/50R20 111V BSW
285/30R20 99Y BSW
295/45R20 114V BSW
22″
285/35R22 106W BSW
305/40R22 114W BSW
24″
305/35R24 112W BSW
Price Range
Prices on the T/A KDWS range from approximately $119 and up. You may also find occasional rebates, discounts, coupons and special offers on this tire.
Click Here To Find Current Prices On All BFGoodrich g-Force T/A KDWS Tire Sizes
Warranty
BF Goodrich provides a limited tread warranty on the KDWS. Tire uniformity is guaranteed for the first year or first 2/32 inch of wear. Materials and workmanship are warranted for 6-years and include free replacement during the first year or first 2/32 inch of wear. A prorated amount is given for the remaining time period or down to the final 2/32 inch of tread depth.
---