BFGoodrich G-Force Sport Tire Review & Rating
The g-Force Sport from BFGoodrich is one of the company's high performance summer driving tires that is engineered to provide handling power at an affordable cost. Developed for sport coupes, sedans and other types of compacts, this tire sports an attractive tread design and BFGoodrich's Black Tech race track inspired tread compound technology.
This same tread compound technology is the same type that has set records for dry handling. They have molded this compound into a directional tread pattern and added larger shoulder blocks and continuous center ribs to improve stability and steering response, as well as overall handling and braking power.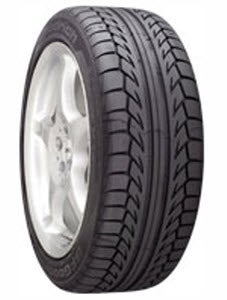 Wet surface traction is enhanced through g-hook tread elements and wider circumferential grooves that evacuate water away from the tire and reduce the risk of hydroplaning.
Inside the tire you will find twin steel belts that are spirally nylon wrapped and strengthened with BFG's Equal Tension Containment. The result is better stability and durability at higher speeds. The g-Force Sport also features g-control sidewall inserts that add more strength to the sidewall to resist deflection and increase cornering power.
Pros
Excellent dry traction and cornering ability

Grip on wet roads is very good

Ride is smoother than you might expect

Good value for the money
Cons
Tires can be a bit noisy, but they are high performance tires
Overall Thoughts
A middle of the pack performer in the summer high performance tire market. The g-Force Sport provides really nice cornering power, and you can expect excellent traction on dry pavement. Other drivers have mentioned noise being an issue at times, but when you drive on high performance tires you can expect a little extra road noise. Overall, we like this tire, but models like the BFG Sport Comp 2 and Bridgestone RE760 Sport have a little extra performance.
Click Here For Current BFGoodrich Coupons
Click Here To Find Current Prices
What Vehicles Will The g-Force Sport Fit?
(This is not a complete list of ALL vehicles this tire will fit)
Acura RSX

BMW 528i, 325CI

Chevrolet Cobalt

Ford Focus, Mustang

Honda Accord, S2000, Prelude

Mazda Miata, RX-8

Mitsubishi Galant, Lancer, Eclipse

Pontiac Firebird

Porsche 944, 911

Scion xB, tC

Toyota Celica

Volkswagen Golf
Tire Sizes
16″
215/40ZR16XL 86W RBL
215/55ZR-16 93W RBL
225/55ZR-16 95 RBL
245/50ZR-16 97W RBL
255/50ZR-16 99W RBL
17″
205/40ZR-17 80 RBL
205/45ZR17XL 88W RBL
205/50ZR-17 89W RBL
215/45ZR-17 87 RBL
225/45ZR-17 91 RBL
225/50ZR-17 94W RBL
225/55ZR-17 97W RBL
235/40ZR-17 90W RBL
235/45ZR-17 93W RRBL
245/40ZR-17 91W RBL
245/45ZR-17 95 RBL
255/40ZR-17 94W RBL
255/45ZR-17 98W RBL
275/40ZR-17 98W RBL
18″
215/40ZR18XL 89W RBL
225/35ZR18XL 87W RBL
225/45ZR-18 XL 95W B
235/40ZR-18 91W RBL
245/40ZR-18 93W RBL
255/35ZR-18 90W RBL
265/35ZR-18 93W RBL
275/35ZR-18 95W RBL
275/40ZR-18 99W B
20″
245/35ZR-20 XL 95W B
255/35ZR-20 XL 97W B
Price Range
Prices on the BFG g-Force Sport range from approximately $111 and up. You may also find occasional rebates, discounts, coupons and special offers on this tire.
Click Here To Find Current Prices On All BFGoodrich G-Force Sport Tire Sizes
Warranty
BFGoodrich provides a limited tread warranty on the g-Force Sport. There is a 1-year or the first 2/32 inch of wear guarantee on tire uniformity.
Materials and workmanship have a 6-year guarantee and include free tire replacement during the first year or first 25% of wear. Goodrich prorates the amount for the remaining time period or down to the final 2/32 inch of tread left on the tire.
---