BFGoodrich g-Force Comp-2 A/S Tire Review & Rating
The new BFGoodrich g-Force Comp-2 A/S is designed as a replacement to the older g-Force Super Sport A/S, which has proven to be a good performer of its own over the years. Comp-2 A/S tires are built to fit a wide array of sport coupes, high-performance sedans and other muscle cars.
BFG has created a new high silica cold weather all-season tread compound that offers increased traction, shorter braking and faster acceleration over the older Super Sport A/S.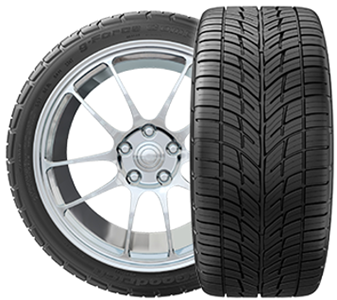 This new compound is molded into a directional tread pattern that features squared shoulders, an enhanced contact patch and Goodrich's Performance Racing Core system that delivers better overall balance for improved handling, increased cornering grip and enhanced stability, which is an area this tire excels in. Cornering and handling are further increased with g-Control sidewall inserts.
Wet traction is another area that BFG spent a lot of time on in designing the Comp-2 AS. Using V-shape angled lateral and longitudinal grooves, the tire channels away water for added wet grip and a reduced risk of hydroplaning.
Dynamic Suspension System technology adds to ride comfort by reinforcing the internal structure. While this tire is geared towards high-performance driving, it still provides a very good level of overall comfort.
BFGoodrich has incorporated their unique ETEC System of two steel belts that are spirally wrapped with nylon for added performance, strength and durability. Comp-2 AS tires are available with a W-speed rating and come in 16-20 inch sizes. A 45K mile tread warranty is also part of the package.
Pros
Excellent dry and wet grip

Handling and cornering is among best in class
Cons
Overall Thoughts
The BFG Comp-2 AS is a welcome addition to the high-performance all-season tire class. It's a tire that loves to be driven hard on either dry or wet pavement. Cornering grip is on par with what you find on tires like the Michelin Pilot Sport AS 3+, Pirelli P Zero All Season Plus and others. For more spirited drivers, the added cornering performance is definitely an area that you'll enjoy as you drive on this tire.
Ride comfort is something that may surprise some. While BFG has focused on providing a good deal of traction and cornering performance, they have not neglected those of us who have to ride on the tires for hours at a time. Although we have to say that snow performance is much better than we anticipated on a high-performance tire like this, braking/acceleration on icy road surfaces will be a bit more of an issue. Naturally, this tire does not pretend to be a winter tire by any means.
Overall, BFG has done an outstanding job in engineering this model. It easily rates as one of the better UHP all-season tires available today and is highly recommended.
Click Here For Current BFGoodrich Coupons
Click Here To Find Current Prices
What Vehicles Will The BFG Comp-2 A/S Fit?
(This is not a complete list of ALL vehicles this tire will fit)
Audi A8L, S5, Allroad, A3, A4

BMW 325i, 530i, 335i, 328i, 525

Chevrolet Camaro, HHR, Impala, Malibu, Cruze, Volt

Dodge Journey, Grand Caravan, Charger, Stratus

Ford Thunderbird, Fusion, Escape, Taurus, Mustang, Focus

Honda Accord, Civic, Odyssey, Fit, CR-V

Hyundai Elantra, Tucson, Sonata, Genesis

Infiniti G35, M35, EX35, G37

Mazda 3, Protege, 5, CX-5, 6

Mercedes-Benz C280, S320, CLK320, E-class

Nissan Altima, Juke, Maxima, Sentra, Rogue

Subaru Outback, Impreza, Legacy

Toyota Camry, Avalon, Matrix, Prius, Sienna, Corolla

Volkswagen Jetta, Golf, Passat, CC Sport, GTi
Tire Sizes
16″
205/45ZR16/XL 87W BSW
205/50ZR16 87W BSW
225/50ZR16 92W BSW
245/50ZR16 97W BSW
205/55ZR16 91W BSW
225/55ZR16 95W BSW
17″
245/40ZR17 91W BSW
255/40ZR17 94W BSW
275/40ZR17 98W BSW
205/45ZR17/XL 88W BSW
215/45ZR17/XL 91W BSW
225/45ZR17/XL 94W BSW
235/45ZR17/XL 97W BSW
245/45ZR17/XL 99W BSW
205/50ZR17/XL 93W BSW
215/50ZR17/XL 95W BSW
225/50ZR17 94W BSW
235/50ZR17 96W BSW
215/55ZR17 94W BSW
225/55ZR17 97W BSW
235/55ZR17 99W BSW
18″
265/35ZR18/XL 97W BSW
275/35ZR18 95W BSW
225/40ZR18/XL 92W BSW
235/40ZR18/XL 95W BSW
245/40ZR18/XL 97W BSW
255/40ZR18/XL 99W BSW
275/40ZR18 99W BSW
215/45ZR18/XL 93W BSW
225/45ZR18/XL 95W BSW
235/45ZR18/XL 98W BSW
245/45ZR18 96W BSW
255/45ZR18 99W BSW
225/50ZR18 95W BSW
235/50ZR18 97W BSW
19″
245/35ZR19/XL 93W BSW
275/35ZR19 96W BSW
285/35ZR19/XL 103W BSW
225/40ZR19/XL 93W BSW
245/40ZR19 94W BSW
255/40ZR19/XL 100W BSW
275/40ZR19 101W BSW
225/45ZR19 92W BSW
245/45ZR19 98W BSW
245/50ZR19/XL 105W BSW
20″
245/35ZR20/XL 95W BSW
255/35ZR20/XL 97W BSW
285/35ZR20 100W BSW
305/35ZR20 104W BSW
245/40ZR20/XL 99W BSW
275/40ZR20/XL 106W BSW
245/45ZR20/XL 103W BSW
255/45ZR20 101W BSW
Click Here To Find Current Prices On All BFGoodrich g-Force Comp-2 A/S Tire Sizes
Warranty
BF Goodrich provides a 6-year or 45,000 mile tread warranty on the Comp-2 AS. Mileage warranty is reduced by half if different sizes are used in rear than in front. Tire uniformity is guaranteed for one-year or the first 2/32 inch of wear.
Materials and workmanship are warranted for 6-years and include free replacement during the first year or first 2/32 inch of wear. A prorated amount is given for the remaining time period or down to the final 2/32 inch of tread depth.
---