Best Cheap Mud Tires For The Best Bang For Your Buck
Whether you are an off-road enthusiast or have to drive through mud, slush, gravel, rocks, bumps, and other similar conditions now and then; it would be best if you bought Mud-terrain tires, to ensure that your car can seamlessly power through different rugged surfaces, without getting stuck or damaging the rims and tires.
But you are dreading making the shift as terrain tires don't come cheap!
Well, we have some good news for you — no need to break the bank when buying new mud tires, there are some useful options out there with exceptional on and off-road traction, braking power, and reasonable treadlife.
These tires perform as well as some of the more expensive options, and the best part is that they are twice as cheap!
Read on to narrow down to the best cheap mud tires for your car, truck, SUV, or crossover.
Mud Tires In A Nutshell
Mud tires AKA Mud-Terrain tires play a very tough role — they have to get the car in and out of rough patches.
They feature a sturdy tread to maintain composure in off-road and dry conditions, plus additional nylon reinforcements and steel belts are added to sidewalls and tread patterns to safeguard from cuts and punctures caused by pebbles, rocks, and other hurdles.
X Best Cheap Mud Tires
Here are some of the best cheap mud tires on the market that perform remarkably well:
1 – Federal Couragia M/T All-Season Radial Tire
If budget constraints make you feel like you won't be getting a quality tire, you haven't come across the Federal Couragia as yet. Like its other tires, Federal has done a marvelous job in creating these mud tires; the traction and gripping seen from them is beyond impressive.
To ensure exceptional performance on and off-road, the tread compound used is potent with a high ply rating to handle all obstacles up-ahead, plus there is a three-ply sidewall.
However, the tires tend to be a bit louder as opposed to other all-terrain tires, but that is expected when driving through muddy and rugged plains.
The Federal Couragia has also proven to have a good treadlife and an even treadwear, and they can be easily mounted to a variety of cars – especially jeeps and SUVS, with a four to six-inch lift as they come in various sizes ranging between 15 to 20 inches.
Furthermore, the braking and steering control is always on-point, so even if it's raining heavily or fog is distorting vision, not to worry, these tires will get your car to stop instantly.
In summary – although a cheap tire, the quality and features received are similar to what expensive tires offer. Additionally, the tire offers self-cleaning capabilities, large shoulder lugs, is resistant to cuts, and a lot more!
Pros
Large, aggressive shoulder lugs
Good treadlife
Short braking distance
Dirt cleaning technology
Resistant to cuts
Cons
Buy Now On Amazon
2 – BFGoodrich Mud-Terrain T/A KM2
Coming in second are Mud Terrain tires by BFGoodrich, and the parent brand itself is a testament to how good the tire will be. BFGoodrich is a famous brand even non-car enthusiasts are aware of, and over the years, it has brought forward some of the most excellent tires. The Mud Terrain KM2 tire further reinforces its strong standing in the tire industry.
The tires offer outstanding off-road performance – drive through rocks, gravel, mud, and much more – and the tires will seamlessly get you in and out time after time.
But not just off-road performance, the BFGoodrich Mud-Terrain T/A KM2 also offers exceptional on-road performance, even during wet and winter-like conditions.
Overall, the steering control, traction, gripping, cornering, and braking are exceptional in all types of terrains, even when the ground below is loose or slippery.
To add to that — the treadwear is slow and uniform, the sidewalls protect against all adversities. The twin steel belts and nylon reinforcements enhance performance and protection, and it also features self-cleaning capabilities.
Pros
Brilliant performance — on and off-road
Responsive steering
Cost-effective
Self-cleaning capabilities
Longer treadlife
Cons
Not the best on wet surfaces
Buy Now On Tire Rack
3 – Milestar Patagonia M/T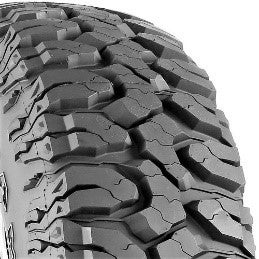 If you don't want to go for an expensive mud terrain tire, but seek agility from a cheap, yet worthy tire that performs well on and off-road, check out the Milestar Patagonia M/T.
As per our tests, the traction was reliable in all conditions — it kept the car grounded throughout, and the steering response was almost instant. We tested it on the streets and gravel-ridden muddy surfaces, and undoubtedly there were no ifs and buts.
And this was all made possible courtesy of how the Milestar Patagonia M/T is built. It features an aggressive tread pattern, robust 3-ply sidewalls to resist impacts, and has stone ejectors which ensure that no gets stuck in the tire.
Overall, the tire has an extended treadlife; it has small biting edges to ensure traction in all places and also does sipng to enhance performance on wet surfaces.
Pros
Sleek and stylish
Exceptional performance on all terrains
Does not make a lot of noise, something uncommon for Mud Terrain tires
Cons
Treadwear is not as good as other M/T tires
Buy Now On Amazon
4 – Falken Wildpeak AT3W
Another popular tire known and loved by off-road enthusiasts is the Falken Wildpeak AT3W. First off, they are made by a renowned brand that has a reputation for offering durable, performance-focused tires.
Also, the brilliant pricing and all-terrain prowess of these tires make them a hot favorite for many — every inch of the Wildpeak AT3W has been tailored to maximize performance.
Even if you are riding with a fair amount of load and in hot weather conditions, the tire remains protected against extreme treadwear courtesy of the featured heat diffuser technology.
Additionally, the 3D Canyon sipe design further reinforces the tread compound while the aggressive sidewalls and shoulder blocks keep the rim safe from wear and tear.
So whether you drive a truck, SUV, or any large vehicle, this tire is perfect for year-round performance and won't let you down on any terrain.
Steering control and handling are excellent thanks to the shoulder blocks. Traction on wet roads is unmatched courtesy of siping edges, and braking, gripping, and traction on mud is at par with expensive tires because of the built-in grooves.
The AT3W tries are also designed to power through severe winter conditions.
Pros
Many innovative features
Many positive reviews and praises
Great for all terrains
Rated for severe winter conditions
Value for money
Cons
Some users thought that these tires might be too aggressive for the usual road conditions
Buy Now On Tire Rack
Conclusion
All in all, if you are driving in an out of muddy and other rugged surfaces with standard tires, you probably are not aware of how damaging it is for your tires and car. Plus, you have been quite lucky that your vehicle hasn't ended up stuck in soft soil yet.
It's time to upgrade to Mud Terrain tires, and despite popular belief, they won't cost you an arm and a leg. So order new tires now!