Atturo Trail Blade X/T Tire Review & Rating
The Atturo Trail Blade X/T is another hybrid design that sits in between an AT and MT tire. Built for drivers of pickups, SUV's, crossovers and other 4×4's, Atturo has crafted the Trail Blade XT with a cutting-edge design that features unique "knife blade" sidewall elements.
A cut and chip resistant tread compound is matched up with a unique tread pattern that features larger shoulder blocks and higher voids over those found on an AT tire, while sporting much tighter center tread elements than those on an MT tire. The results are a tire that delivers increased traction off-road, and improved performance on the street/highway.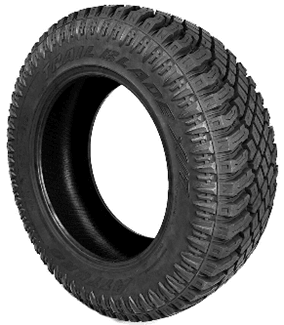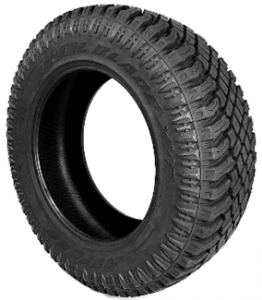 The aggressive looking "knife blade" sidewall is modeled after Quartermaster Knives QTR-3 knife blade and handle design. However, looks are not the only thing that Atturo was after in engineering the Trail Blade X/T. The knife blade sidewall is designed to add traction when driving on rock, sand, dirt and other debris. A stronger 3-ply sidewall, on LT sizes, provides better protection against chips, cuts, tears and other damage.
Atturo has added multiple sipes over the tread to aid traction and handling in rain, snow and slush. In addition, the smaller center tread elements not only help with handling performance, but also enhance ride quality, especially on the 2-ply models.
A built-in rim protector is included to protect against damage caused by curbs and other obstacles. Atturo offers a wide number of LT and non-LT 17-24 inch sizes. All sizes come with a limited tread warranty.
Pros
Aggressive good-looking tread design
Off-road performance
On-road traction and handling
Treadlife
Lower cost for tighter budgets
Cons
Road noise is similar to an MT tire
May be hard to balance
Overall Thoughts
While there are currently a number of solid performing hybrid AT/MT tires on the market like the Nitto Ridge Grappler, Cooper ST Maxx and others, the Trail Blade X/T fits right in with them in terms of looks and performance.
With a tread design that looks similar to its MT model, the XT delivers excellent traction off the beaten path. Unless you're a hard-core off roader, you can't help but be impressed with its overall abilities.
The addition of sipes dramatically improves grip on wet pavement, as well as snow and slush, and the tighter center pattern certainly helps with handling and road noise. That said, there is more noise than you might expect, which also tends to get louder as the tire wears. In addition, we've heard several drivers mention how difficult they are to balance out.
Overall, Atturo has engineered a good tire in the Trail Blade X/T for drivers on a tight budget. However, if you can extend your budget I would suggest going to a BFG or Nitto model.
Click Here To Find Current Prices
What Vehicles Will The Atturo Trail Blade XT Fit?
(This is not a complete list of ALL vehicles this tire will fit)
Chevrolet Silverado, C2500, Blazer, Traverse
Dodge Ram, Dakota, Nitro, Durango
Ford F-150, Excursion, F-250, F-350, Explorer, Ranger
GMC Sierra, Yukon, Jimmy
Hummer H3
Isuzu Rodeo
Jeep Liberty, Grand Cherokee, Wrangler
Kia Borrego
Land Rover Defender
Mazda B-Series
Nissan Titan, Xterra, Pathfinder, Frontier
Suzuki Equator
Toyota FJ Crusier
Atturo Trail Blade X/T Tire Sizes
17″
235/65R17 108H XL BLK
LT285/70R17 121Q BLK
35×12.5R17 121Q BLK
18″
235/60R18 107H XL BLK
LT275/70R18 125/122Q BLK
285/60R18 120H XL BLK
LT285/65R18 125/122Q BLK
33×12.5RLT 118Q BLK
LT295/70R18 129/126Q BLK
35×12.5R18LT 123Q BLK
20″
275/45R20 110H XL BLK
275/55R20 117S XL BLK
LT275/65R20 126/123Q BLK
LT285/55R20 122/119Q BLK
33×12.5R2OLT 114Q
LT295/60R20 126/123R BLK
35×12.5R2OLT 121Q
LT305/55R20 121/113Q BLK
22″
275/45R22 112H XL BLK
305/45R22 118H XL BLK
LT325/50R22 122S BLK
24″
285/40R24 112H XL BLK
LT325/45R24 120S BLK
LT345/50R24 125Q BLK
Price Range
Atturo Trail Blade X/T prices range from approximately $183 and up. You may also find occasional rebates, discount prices, coupons and special offers on this tire.
Warranty
Atturo provides a limited tread warranty on the Trail Blade X/T.
---