American Outlaw Hollywood Wheels
While being stylish and quietly aggressive at the same time, the American Outlaw Hollywood rim is also one of the best in their lineup. The 5-spoke design is unlike what you find on other wheels, and the matte black finish completely sets it all off. This is a wheel that simply looks great on any truck or SUV.
American Outlaw wheels are quality built and use a one-piece aluminum construction. They are available in 17-22 inch diameters and have bolt patterns and offsets to for most any fitment. All wheels come with the unique center cap as well.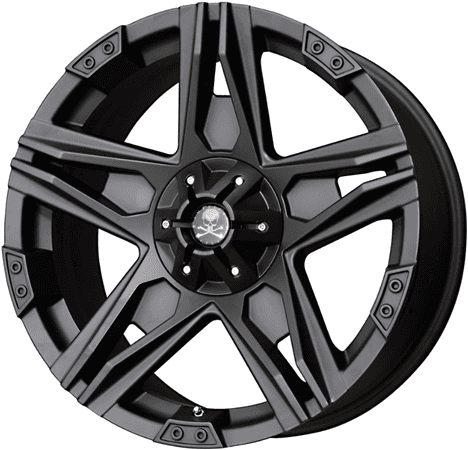 American Outlaw Wheels Hollywood Specs
17″
17 X8.5 5-114.30 15 BKMTXX
17 X8.5 5-127.00 -10 BKMTXX
17 X8.5 5-127.00 15 BKMTXX
17 X8.5 5-139.70 15 BKMTXX
17 X8.5 6-114.30 15 BKMTXX
17 X8.5 6-135.00 -10 BKMTXX
17 X8.5 6-135.00 15 BKMTXX
17 X8.5 6-139.70 -10 BKMTXX
17 X8.5 6-139.70 15 BKMTXX
18″
18 X8.5 5-114.30 15 BKMTXX
18 X8.5 5-127.00 15 BKMTXX
18 X8.5 5-135.00 15 BKMTXX
18 X8.5 5-139.70 15 BKMTXX
18 X8.5 5-150.00 15 BKMTXX
18 X8.5 6-114.30 15 BKMTXX
18 X8.5 6-135.00 15 BKMTXX
18 X8.5 6-139.70 15 BKMTXX
20″
20 X9 5-127.00 -10 BKMTXX
20 X9 5-127.00 15 BKMTXX
20 X9 5-135.00 15 BKMTXX
20 X9 5-139.70 15 BKMTXX
20 X9 5-150.00 15 BKMTXX
20 X9 6-114.30 15 BKMTXX
20 X9 6-135.00 -10 BKMTXX
20 X9 6-135.00 15 BKMTXX
20 X9 6-139.70 -10 BKMTXX
20 X9 6-139.70 15 BKMTXX
20 X9 8-165.10 15 BKMTXX
20 X9 8-180.00 15 BKMTXX
22″
22 X9.5 5-139.70 25 BKMTXX
22 X9.5 5-150.00 25 BKMTXX
22 X9.5 6-135.00 25 BKMTXX
22 X9.5 6-139.70 25 BKMTXX
22 X9.5 8-165.10 25 BKMTXX
22 X9.5 8-170.00 25 BKMTXX
22 X9.5 8-180.00 25 BKMTXX
---