Yokohama AVID Ascend Tire Review & Rating
Yokohama utilizes the latest in tire technology, including the use of Orange Oil, on the AVID Ascend touring all-season tire. Designed for a variety of coupes, sedans, minivans and crossovers, the Ascend is engineered to provide all-season traction, a longer treadlife, and a lower rolling resistance for better fuel mileage.
Orange oil technology is a new technology that uses oil extracted from orangepeels. The basic principle behind the technology is that it improves the bond between the different types of rubber in the tire to enhance treadlife, traction and fuel efficiency. We have found many drivers stating that this new technology has indeed made this an excellent overall tire.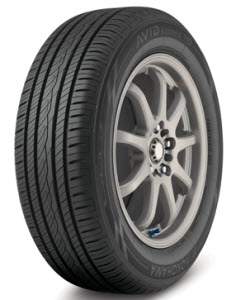 Dry road surface traction and cornering are increased through the larger treadblocks on the outside shoulders and the Interlocking Tapered Center Rib. They combine to add responsive steering and greater stability throughout the speed range. Tread Block Bridges not only add to the tire's stability, but they also help in reducing tread noise. The multi-pitch tread design further eliminates noise and makes for a very quiet ride.
On wet or snow covered surfaces, the tire's four deep cross & circumferential grooves along with adaptive 3-D siping around the tread enhance traction and increase overall performance. The sipes biting edges provide more grip on snow and ice, while the circumferential grooves evacuate more water from under the tread and reduce the risk of hydroplaning. The result is more confidence driving in any type of rough weather.
Inside the tire you will find two steel belts that are spirally wrapped with nylon for added reinforcement and improved durability. Yokohama includes up to an 85,000 mile tread guarantee depending on the tire's speed rating.
Pros
Dry, wet and snow traction and handling are excellent

One of the quietest touring tires you'll find anywhere

Lower rolling resistance increases fuel mileage

Outstanding treadlife and an 85,000 mile warranty
Cons
Softer sidewall on T speed rated models
Overall Thoughts
Yokohama produces some very good tires throughout their lineup, but this new Ascend is one of their best yet. It provides the performance that the company advertises. Traction and handling on dry, wet or snow covered roads is excellent. The tire (especially in H & V speed rated sizes) provides responsive feedback that leaves you feeling in complete control.
Outside tire noise is virtually non-existent on this model. The ride is smooth, and cornering performance is very good for a touring tire. We did find other drivers mentioning the T-speed rated tires have a softer sidewall, so if you like a little more spirited driving performance you may want to consider getting the stiffer H and V speed rated tires. The tread features a lower rolling resistance and many drivers have commented on improvements in fuel mileage. Finally, the treadlife is long on this tire, and Yokohama provides a first-class warranty. Overall, an outstanding choice in touring all-season tires.
Click Here To Find Lowest Price
What Vehicles Will The Yokohama Ascend Fit?
Fits these vehicles and many others:
Acura TSX

Audi A4, TT

BMW 3 Series, 5 Series

Chevrolet Cobalt, Cruze, Malibu, Impala

Dodge Caliber, Grand Caravan, Nitro

Fiat 500

Ford Focus, Flex, Fusion

Honda Accord, Civic Odyssey, Fit, CRV

Hyundai Elantra, Sonata, Genesis

Jeep Compass, Patriot

Kia Forte, Optima

Mazda 2, 3, 5, 6

Mercedes C, ML Class

Nissan Altima, Quest

Scion xA, xB, xD

Subaru Forester, Impreza, Legacy

Toyota Camry, Corolla, Prius, RAV4

VW Golf, Jetta, Passat

Volvo C30, S40, S60
Tire Sizes
15″
175/65R15 84T BW
P185/60R15 84T BW
P185/65R15 86T BW
195/60R15 88H BW
P195/60R15 87T BW
195/65R15 91H BW
P195/65R15 89T BW
P205/65R15 92H BW
P205/65R15 92T BW
P205/70R15 95T BW
P215/70R15 98T BW
16″
185/55R16 83H BW
P195/60R16 89H BW
205/55R16 91H BW
P205/55R16 89T BW
P205/60R16 91H BW
P205/60R16 91T BW
215/55R16XL 97H BW
P215/60R16 94V BW
P215/60R16 94T BW
215/65R16 98H BW
225/60R16 98H BW
225/60R16 98T BW
225/65R16 XL100H BW
P235/60R16 99T BW
235/65R16 103H BW
17″
205/50R17 XL 93V BW
P215/50R17 XL 93V BW
P215/55R17 93V BW
P215/60R17 95T BW
P215/65R17 98T BW
225/45R17 91V BW
225/50R17 94V BW
P225/55R17 95T BW
225/65R17 102H BW
235/45R17 XL 97V BW
P235/60R17XL 103H BW
235/65R17 104H BW
18″
P215/55R18 94H BW
P225/50R18 94T BW
P225/55R18 97H BW
P225/60R18 99H BW
235/55R18 100H BW
Price Range
Prices on the Ascend range from approximately $89 and up. You may also find occasional rebates, discounts, coupons and special offers on this tire.
Click Here To Find The Current Lowest Prices On All Yokohama AVID Ascend Tire Sizes
Warranty
The Ascend comes with a 5-year or 85,000 mile tread warranty on T speed rated models, 5-years or 75,000 miles on H speed rated tires, 5-years or 65,000 miles on V speed rated tires. All models have a tire uniformity guarantee for the first 2/32 inch of wear.
Materials and workmanship are warranted for 5-years and include free tire replacement during the first year or first 2/32 inch of wear. The amount is prorated for the remaining time period or down to the final 2/32 inch of tread depth.
Yokohama also gives a 30-day test drive in which you can refund or exchange the tires if you are not completely satisfied.
---
Share this review