Fuzion UHP Tire Review & Rating
The Fuzion UHP is built to deliver high performance all-season traction along with aggressive handling for drivers of various sport coupes and compacts.
A high performance all-season tread compound combines with a directional tread pattern to give this tire increased traction on dry pavement. Larger and deeply grooved shoulder blocks enhance cornering grip and provide added steering response.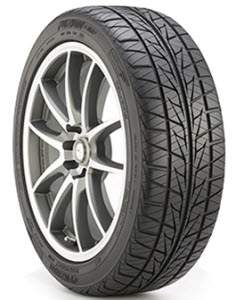 Three circumferential grooves and angled intermediate grooves increase wet surface handling and help reduce the risk of hydroplaning by evacuating water away from the tire. Multiple sipes around the tread provide biting edges that deliver traction in light snow.
Inside the tire you will find two steel belts that are nylon reinforced for added strength and durability throughout the speed range. A polyester cord body further increases ride quality, while also enhancing tread wear. The UHP includes a built-in rim guard that protects your wheels from curb damage. Fuzion offers 17-18 tire sizes that come with a W-speed rating.
Pros
Dry traction and handling is excellent

 

Cornering grip and stability

 

Responsive steering

 

Good ride quality

 
Cons
Shorter treadlife

 

Wet handling could be better

 
Overall Thoughts
The UHP is like many low-cost high performance all-season tires… it does some things very well, but it also has its issues in other important areas. Dry traction and cornering performance is one of the areas this tire excels in. It offers good handling and stability, with the steering providing better than average feel. On the flipside, wet handling could be better. You could slide the rear end out if you're not paying attention to your speed when cornering.
Ride quality is better than you might expect on this type of tire, and road noise is not excessive. We would like to see a little better treadlife from this tire, but for the price it's to be expected. Overall, there are better tires in this class, but if you are on a smaller budget this is a good option.
What Vehicles Will The UHP Fit?
Fits these vehicles and many others:
Acura TL

 

BMW 530i, 328i

 

Chevrolet Cobalt

 

Chrysler PT Cruiser

 

Dodge Caliber, Charger

 

Ford Focus, Mustang

 

Honda Accord, Civic

 

Hyundai Tiburon

 

Mazda 6, 3

 

Mercedes-Benz CLK320

 

Nissan Sentra, Altima

 

Toyota Camry, Corolla

 

Volkswagen Golf

 
Tire Sizes
17″
215/45R17 91W BL
225/45R17 94W BL
225/50R17 98W BL
235/45R17 97W BL
235/55R17 103W BL
245/45R17 99W BL
18″
225/40R18 92W BL
245/40R18 97W BL
245/45R18 100W BL
Price Range
Prices on the UHP range from approximately $67 and up. You may also find occasional rebates, discounts, coupons and special offers on this tire.
Click Here To Find The Current Lowest Price On All Fuzion UHP Sizes
Warranty
Fuzion provides a limited tread warranty on the UHP. Tire uniformity is warranted for the first 1/32 inch of wear. Materials and workmanship are guaranteed for 5-years and are prorated down to the final 2/32 inch of tread depth.
---