Hankook iPike RSV
Overview
Founded in 1941, Hankook is Korea's 1st and the world's 7th largest tire manufacturer. In their seven decades-long manufacturing history, Hankook has produced some of the best prolific touring, racing, winter and all-season tires. They are certainly renowned for their continual investment in research and development to make tires that are of superior build quality.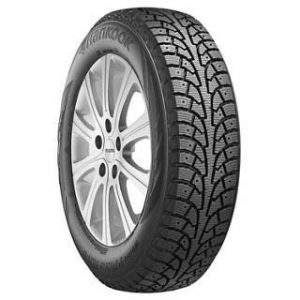 Their latest variant, the Hankook iPike RSV, is built for passenger vehicles and offers excellent road grip on tough wintery surfaces. The RSV is designed with the latest technology to contest with more expensive winter tires with its durability and quality.
This tire features many improvements compared to its predecessors in key aspects, from its 3D sipe design to stud-hole technology, and much more.
The 3D sipes help provide better traction through inclement weather as they can take in water in small amounts and evacuate it from under the tire. This results in better tire to road contact which in turn provides increased traction on ice, snow and slush.
The strategically placed stud-holes also contribute to its traction – and the best part is that this tire can be studded for improved performance on ice.
The RSV features a symmetric tread pattern for enhanced durability and reduced rolling resistance in addition to better tread wear and fuel consumption.
Its aggressive tread block design performs equally well on both snow and ice to provide better adhesiveness to the road. The directional pattern allows faster evacuation of water; this helps ensure stability and high resistance to hydroplaning during the winter season.
Also, the silica treated tread compound provides for better braking and improved handling on frozen surfaces.
The Hankook iPike RSV is also rated high on comfort although, like other winter tires, it is known to generate some noise on dry surfaces. The speed rating of this variant is marked at T (190 km/h) and it is available in sizes from 14" to 17".
The Pros
Excellent grip on snow and ice

Enhanced traction on ice and slush

Reduced treadwear

Affordability
The Cons
Overall Thoughts
Overall, the Hankook iPike RSV features a cutting-edge design that increases the overall grip on snow, ice and slush while reducing rolling resistance.
From its 3D sipe design to strategic stud-hole placement, it is built keeping in view the high traction needs of winter drivers. Additionally, its symmetric pattern with aggressive tread block design provides higher resistance to aquaplaning and efficient tire to road contact.
Considering the above, the iPike RSV is a consistent winter performer and an affordable option for those searching for a reasonably priced tire. That said, it's handling on dry roads is still not up to par – but this does not take away anything from its many positive features.
What Vehicles Hankook iPike RSV Tires Fit?
The Hankook iPike RSV is a studdable winter tire designed to provide superior traction on ice, snow and slush.
Below is a list of some popular vehicles that this tire is compatible with:
BMW 335i

BMW M3

BMW Z4

BMW 325i

BMW 525i

Cadillac CTS

Chevrolet Camaro

Chevrolet Corvette

Chevrolet Cobalt

Chevrolet Cruze

Chevrolet Malibu

Dodge Charger

Ford Mustang

Ford Taurus

Honda Civic

Honda S2000

Honda Accord

Hyundai Accent

Infiniti G35

Infiniti M45

Lexus IS350

Mini Cooper

Jaguar XF

Jaguar XK

Pontiac Vibe

Pontiac Firebird

Porsche 911

Subaru Impreza WRX

Toyota Camry

Toyota Corolla

Volkswagen Jetta
Tire Sizes Available
The RSV is designed for passenger cars and is available in the following sizes:
14″
195/70R14 91T BSW

P195/75 R14 92T BSW

P205/75 R14 95T BSW
15″
185/65R15 92T XL BSW

195/65R15 95T XL BSW

205/60R15 91T BSW

P215/70R15 97T BSW

P215/75R15 100T BSW
16″
195/55R16 91T XL BSW

205/65R16 95T BSW

215/60R16 99T XL BSW

215/65R16 98T BSW

225/60R16 102T XL BSW
17″
215/45R17 91T XL BSW

215/50R17 95T XL BSW

225/45R17 94T XL BSW

225/50R17 98T XL BSW
Price Range
Hankook iPike RSV is available for as low as $80 per tire on some online stores. You can get additional deals, discounts, coupons and special offers when you buy a set of four.
Warranty Offered
The manufacturer provides a limited treadwear warranty on the iPike RSV for the first 1.6mm of wear or 1-year uniformity warranty.
For workmanship & materials, the tire is warranted for free of cost replacement in the first year or first 1.6 mm of wear. Afterwards, Hankook provides a prorated amount until the remaining 1.6 mm of tread depth.