Hankook Dynapro AT2 (RF11)
Overview
The all-new Hankook Dynapro AT2 is a successor to the previous Hankook variant, the Dynapro AT-M, but with massive improvements designed to give drivers of jeeps, light trucks and SUVs the ultimate on-and-off-road experience. 
Classified as an all-terrain tire, this model excels on dry and wet surfaces while performing equally well on light snowy and icy conditions.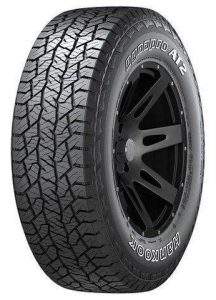 In addition, the Hankook Dynapro uses a unique tread compound designed to provide better fuel mileage, and improved cutting and chipping resistance on rugged surfaces. 
Its symmetric tread pattern contains additional biting edges for extra grip on thin snow and dirt. The specially designed shoulder lugs are kept open with broader grooves to dispense water from the tire's contact patch to maximize aquaplaning resistance. 
Also, the higher silica content in the tread compound improves traction on wet and slippery surfaces, and the sipes and grooves are arranged multi-directionally to get maximum traction from any direction.
Its wider footprint ensures better dispersal of pressure throughout the tire; this increases its tread life and causes even wear. The strength of this variant comes from two steel belts fortified with nylon cap plies for enhanced durability and control in high-speeds. 
Hankook Dynapro AT2 is equipped with rigid tie bars that act as stabilizers for the tread blocks, thus enhancing comfort and handling.The blocked edges are designed to emit lower noise from the symmetric tread.
This model comes in sizes ranging from 15" to 22" and a speed rating of T (190 km/h).
All Hankook tires come with a limited warranty; one interesting aspect of this variant is that it comes with a 30-day free trial.
The Pros
Massive footprint

60,000 miles tread warranty

M+S and 3 Peak Mountain Snowflake rated 

Increased ride comfort with decreased noise

Even wear and durability
The Cons
High rolling resistance due to larger footprint
Overall Thoughts
Considering features like rigid tie bars, multi-directional sipes and grooves, fortified nylon cap plies, etc., make it an excellent choice for both on-and-off road driving. Hankook Dynapro AT2 is clearly better than its predecessor and comes with better all-terrain performance.
With an M+S rating and 3PMSF (three-peak mountain snowflake), it's clear that you can drive these tires pretty much anywhere. They are designed to withstand tough conditions with a reinforced ply casting that helps avoid punctures and cuts to the tire. Due to a wider contact patch, the wearability is evened out and the grip is increased.
To sum up our Hankook tires review for the Dynapro AT2, we can say that this is an excellent choice if you want a satisfactory all-season and all-terrain performance tire. 
Although it is not essentially a winter tire and not suited to be driven in adverse winter conditions, it comes with major improvements compared to previous variants. These include: increased ride comfort, on-off road-handling and dry and ice traction. 
What Vehicles Would Hankook Dynapro AT2 Tires Fit?
These are all-terrain tires built for jeeps, minivans, pickup trucks and SUVs. Below are some vehicles that these tires can fit.
Honda Ridgeline 2WD

Ford F150 4WD 

Ford F350 4WD 

Cadillac Escalade

Chevrolet Silverado

Chevrolet Tahoe

Chevrolet Suburban

Dodge Ram

Dodge Dakota

Dodge Durango

Ford Ranger

Ford Explorer

GMC Yukon

GMC Denali

GMC Sierra

Honda Element

Honda, Pilot

Jeep Grand Cherokee

Jeep Liberty

Jeep Wrangler

Nissan Titan

Nissan Armada

Toyota 4Runner

Toyota Tacoma

Toyota Tundra

Toyota Sequoia
Tire Sizes Available
Hankook Dynapro AT2 is available in even more sizes compared to its predecessor. The range of tire sizes available for sedans and SUVs include:
15″
235/75R15      104/101S

235/75R15      109T

30X9.5R15LT   104S

31X10.5R15LT 109S
16″
LT215/85R16115/112S
225/70R16103T
LT225/75R16115/112S
225/75R16108T
235/70R16109T
235/75R16112T
LT235/85R16120/116S
245/70R16111T
245/75R16111T
LT245/75R16120/116S
255/65R16109T
255/70R16111T
265/70R16112T
LT265/70R16117/114S
265/75R16116T
LT265/75R16123/120S
LT285/75R16126/123S
LT305/70R16124/121S
315/75R16121/118S
17″
LT225/75R17116/113S
235/65R17104T
235/75R17109T
LT235/80R17120/117S
245/65R17111T
245/70R17110T
LT245/70R17119/116S
LT245/75R17121/118S
245/75R17112T
255/65R17110T
255/70R17112T
255/75R17115T
265/65R17112T
265/70R17115T
LT265/70R17121/118S
LT275/70R17121/118S
LT285/70R17121/118S
LT295/70R17121/118S
315/70R17121/118S
35X12.5R17LT121S
18″
235/60R18103T
255/60R18108T
255/70R18113T
265/60R18114T
265/65R18114T
265/70R18116T
LT265/70R18124/121S
LT275/65R18123/120S
275/65R18116T
LT275/70R18125/122S
LT285/65R18125/122S
LT325/60R18124/121S
LT325/65R18127/124S
35X12.5R18LT123S
20″
LT265/60R20121/118S

275/55R20113T

LT275/55R20115/112S

275/55R20113T

275/60R20115T

LT275/60R20119/116S

LT275/65R20126/123S

LT285/55R20122/119S

LT285/65R20127/124S

LT295/60R20126/123S

305/50R20120T

LT305/55R20121/118S

LT325/60R20126/123S

35X12.5R20LT121S
22″
285/45R22110T

305/45R22118T

LT325/50R22122S
Price Range
The Hankook Dynapro price starts from $137.99 from certain dealers; you can also get more discounts and deals from certain online stores.  
Additionally, some dealers offer great discounts if you buy a set of four tires (of the same model).
Warranty Offered
This variant comes with a 30-day free trial and a tread life warranty of 6 years or 60,000 miles (half mileage if front and rear are of different sizes). The uniformity warranty is of 1 year or 2/32" of wear.
Workmanship and Material warranty is valid until:
Remaining tread depth reaches 2/32" or less

6 years from the date of purchase with a free replacement in the first year

Prorated until 2/32" of remaining depth
The Hankook Dynapro also comes with a road hazard warranty for the first year or 2/32" of wear.