Goodyear G614 RST
Overview
The Goodyear G614 is a sturdy, all season trailer tire designed for drivers of light trucks, trailers and RVs who are looking for a smooth ride in various driving conditions. Goodyear trailer tires are exemplary in their durability and this tire is no exception due to its endurance under heavy loads.
Similarly, the tread pattern is shallow which provides even wear throughout the tire and minimizes the running temperature while substantially increasing casing toughness and decreasing fuel consumption.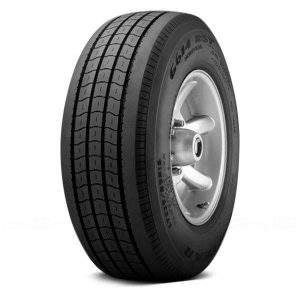 Its rib edge sipes deliver better traction on the road while the lateral grooves at each side of the tire provide traction on wet surfaces – as a result, the vehicle is less prone to skidding on slippery roads with increased hydroplaning resistance.
Also, the rib stability is enhanced by the use of rounded shoulders that are sturdy and promote even wear throughout along with maximum retreadability.
RV tires require increased stability and high performance – and Goodyear G614 delivers on this by ensuring top-notch build quality.
This variant can be bought from online stores and certified dealers under a limited warranty.
The Pros
Built for heavy loads

Strong build quality and material

Low running temperature

Even wear

Retreadability
The Cons
Overall Thoughts
If you are looking for reliable and durable trailer tires, then Goodyear G614 RST is a good choice with features like lower casing temperature, even wear and retreadability.
Designed using heavy-duty materials, one of the most promising aspects of this tire is that it's built to deliver ultimate performance in challenging highway and road applications. Also, its build quality is top-most with the latest innovative features to provide improved road handling capabilities and longtime usability.
For instance, the tire is designed with a shallow tread with enhanced rib stability; these qualities give it a lower running temperature and even wear throughout. The rib edge sipes and lateral grooves also provide traction and control on dry and slippery surfaces.
One point to consider before buying Goodyear G614 RST is that it is pricey – but despite this, if you want a strong, high-performance tire capable of withstanding heavy loads under demanding applications, then this variant does not disappoint.
In fact, users have reported that these are highly dependable tires perfect for highway use on trailers.
What Vehicles Would Goodyear G614 RST Tires Fit?
Built for several trailer and RV applications, some of the vehicles that these tires can fit are as follows:
Buick Terraza

Chevrolet Greenbrier

Chevrolet Venture/Pontiac Trans Sport Montana/ Oldsmobile Silhouette

Chevrolet Uplander/Buick Terraza/Pontiac SV6

Chrysler Pacifica

Dodge Sprinter

Dodge Caravan

Ford E-Series

GMC Safari

GMC Savana
Tire Sizes Available
Goodyear G614 is available in the following sizes:
Price Range
The Goodyear G614 tires can be bought from certain dealers for as low as $291.97. However, you can find better deals, discounts and rebates from some dealers and online stores.
Warranty Offered
All Goodyear truck tires come with a free tire replacement warranty during the first year or 2/32" of treadwear and a prorated replacement warranty beyond the first 2/32" treadwear if they become unserviceable due to a condition covered by the warranty.