Hercules Tour 4.0 Plus Tire Review & Rating
As one of their best-selling tires in their lineup, the Hercules Tour 4.0 Plus is built for touring all-season use. Designed for coupes, sedans, minivans and crossovers, the Tour 4 Plus has a number of features that are created to enhance traction, handling, comfort and treadlife, while coming in at a lower price than many bigger brand name tires.
A silica-enhanced tread compound that is M+S rated is matched up to an asymmetric tread pattern that gives this model solid traction on dry or wet pavement. The continuous center rib assists in providing better stability at highway speeds. Larger shoulder blocks increase cornering grip, something that is a plus for this tire.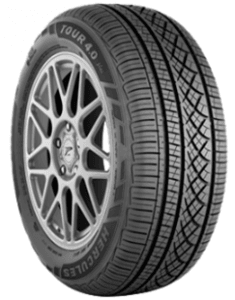 Hercules has added cross-block siping around the tread that is designed to increase handling on wet streets. The added sipes and unique tread pattern help with grip on snow covered road surfaces, which this tire does well for the most part.
Inside the tire are twin steel belts with a nylon overwrap that promote ride stability and add to the tires uniformity. Hercules offers a wide range of 13-19 inch sizes, and all tires come with either a T, H or V-speed rating. A 55K mile tread warranty is also part of the package.
Pros
Dry traction and handling
Traction in light winter conditions
Smooth ride with very good stability
Cons
Treadlife could be better
Wet traction as tire wears down
Overall Thoughts
Although the Hercules Tour 4 Plus has been out since around 2011, it remains a solid performing tire in the low-cost category. Traction on dry pavement is excellent, and handling, cornering and all-around stability is very good as well. It provides good on-center stability and feel, which is a step above many tires in this price range.
All of that said, this tire is far from perfect. The biggest issues are the lack of traction on wet streets as the tire wears. We've heard this mentioned in several driver reviews as being a problem. The other area is that treadlife has been a problem for some drivers, although we've heard others say nothing but positive things about treadwear.
Overall, the Hercules Tour 4 is a middle of the pack model that does a lot of good things on the road despite a few setbacks. In addition, the lower cost is certainly appealing to budget-minded drivers who need new tires, but can't spend an arm and leg on them.
What Vehicles Will The Hercules Tour 4.0 Plus Fit?
(This is not a complete list of ALL vehicles this tire will fit)
Buick Lucerne, Terraza, Century
Cadillac DTS
Chevrolet Cobalt, Uplander, Colorado, Cavalier
Chrysler 300C
Ford Taurus, Fusion
Honda CR-V, Odyssey, Accord
Hyundai Elantra, Accent
Jaguar S Type
Lincoln LS, Towncar
Mercury Sable
Nissan Altima, Sentra
Pontiac Booneville, G5, Montana, G6, Torrent, Aztek
Saturn SL1
Toyota Camry, Celica, Sienna, Corolla
Tire Sizes
13″
175/70R13 82T BSW
14″
175/65R14 82H BSW
185/65R14 86H BSW
185/70R14 88H BSW
195/70R14 91T BSW
195/75R14 92T BSW
205/75R14 95T BSW
15″
185/65R15 88H BSW
185/60R15 84H BSW
195/60R15 88H BSW
195/65R15 91H BSW
205/60R15 91H BSW
205/65R15 94H BSW
205/70R15 96H BSW
205/75R15 97T BSW
215/75R15 100T BSW
215/70R15 98H BSW
215/60R15 94H BSW
215/65R15 96H BSW
235/75R15 105T BSW
16″
205/55R16 91H BSW
205/60R16 92T BSW
215/65R16 98T BSW
215/70R16 100T BSW
215/60R16 95H BSW
225/60R16 98H BSW
235/65R16 103H BSW
17″
215/50R17 XL 95V BSW
215/55R17 94H BSW
225/55R17 97V BSW
225/60R17 99H BSW
225/50R17 94V BSW
235/65R17 104T BSW
235/55R17 99H BSW
18″
225/60R18 100H BSW
235/50R18 97V BSW
235/55R18 100H BSW
19″
255/45R19 100V BSW
Price Range
Hercules Tour 4.0 Plus prices range from approximately $56 and up. You may also find occasional rebates, discount prices, coupons and special offers on this tire.
Warranty
Hercules provides a 55,000 mile tread warranty on the Tour 4.0 Plus. There is a first 1/32 inch of wear guarantee on tire uniformity. Materials and workmanship are warranted for 6-years.
---