Hankook Ventus S1 Noble2 H452 Tire Review & Rating
The Hankook Ventus S1 Noble2 H452 is the company's latest entry in their ultra-high performance all-season tire lineup. Built for drivers of all types of sport coupes and sedans, the Noble 2 is engineered to provide year-round traction and cornering performance on dry, wet and even snow covered road surfaces.
A high-performance hybrid silica tread compound provides increased wet traction, while also giving this model a lower rolling resistance for added fuel efficiency. Of course, fuel efficiency isn't what is always on the minds of drivers of this tire. That said, the notched shoulders and tread design provide impressive dry traction and cornering grip. The tire's center rib further enhances steering response, something that is very good on this model and spoken highly of from other driver reviews.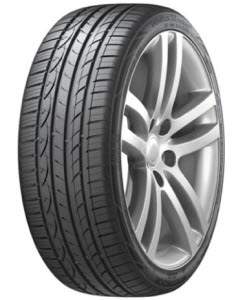 Four circumferential grooves and Hankook's Aqua Hydro Block technology increase wet traction and braking performance, while also reducing the risk of hydroplaning by channeling away water from under the tire. Winter handling is addressed through the use of 3D sipes and unique edge grooves that provide biting edges on snow and ice.
Hankook uses special 3D vibration analysis technology on the Noble2. It creates a more advanced profile for the mold, which results in a footprint that optimizes treadwear and provides increased brake performance. Inside the tire you will find two steel belts that are nylon reinforced for added strength and durability at higher speeds.
A polyester cord body increases ride comfort, and hardened bead fillers in the sidewall create added handling capabilities. Hankook offers sizes ranging from 16-20 inches, and all sizes carry a H, V or W-speed rating. A 50K mile tread warranty is also part of the package.
Pros
Dry and wet traction are very good

Tire stability and steering response is above average 

Comfortable ride for a high-performance tire
Cons
Winter performance

Treadlife could be a bit better 
Overall Thoughts
The new Noble2 from Hankook is a nice addition to Hankook's high-performance tire lineup. Dry and wet pavement traction is very good on this model. The steering is responsive and the tire is stable throughout the speed range. Cornering grip is another area where this tire excels. It holds dry pavement well at higher speeds.
Winter handling is pretty much what you would expect from your average high performance AS tire… not so good. This is the case especially on deep snow and ice. We've heard numerous complaints in this regard from other drivers. The other area you may have an issue with is treadwear. Depending on how spirited your driving is, you might see a shorter treadlife than expected.
Overall, we do like this tire despite the lack of winter traction and shorter treadlife. It features a price that is lower than many other comparable models in its class and it offers well-rounded performance on dry/wet road surfaces.
Click Here For Current Hankook Coupons
Click Here To Find Current Lowest Price
What Vehicles Will The Hankook Noble2 Fit?
Fits these vehicles and many others:
Acura TSX, TL

BMW M Coupe, 325i, 328Xi

Cadillac STS

Chevrolet Camaro, Corvette, Monte Carlo

Dodge Stratus R/T, Charger

Ford Mustang, Fusion

Honda S2000, Civic, Accord

Lexus LS430, IS300, SC430

Lincoln MKZ

Mazda 6, Mazda 3

Mini Cooper S

Nissan Sentra, Maxima

Pontiac Vibe, GTO

Porsche 911 Carrera

Toyota Avalon

Volkswagen Jetta, Golf

Volvo S70 T5
Tire Sizes
16″
195/55R16 87V BSW
205/55ZR16 91W BSW
215/55ZR16 97W BSW
225/50ZR16 92W BSW
225/55ZR16 95W BSW
17″
205/45ZR17 88W BSW
205/50ZR17 93W BSW
215/45ZR17 91W BSW
215/50ZR17 95W BSW
215/55ZR17 94W BSW
225/45ZR17 91W BSW
225/50ZR17 94W BSW
225/55R17 101H BSW
225/55R17 97H BSW
225/55ZR17 97W BSW
235/45ZR17 94W BSW
235/50ZR17 96W BSW
235/55R17 99H BSW
235/55ZR17 99W BSW
245/40ZR17 91W BSW
245/45ZR17 99W BSW
18″
225/40R18 88W BSW
225/40R18 92H BSW
225/40ZR18 92W BSW
225/45ZR18 95W BSW
225/50ZR18 95W BSW
235/40ZR18 95W BSW
235/45R18 94V BSW
235/45ZR18 98W BSW
235/50ZR18 97W BSW
245/40ZR18 97W BSW
245/45ZR18 100W BSW
245/50ZR18 100W BSW
255/35ZR18 94W BSW
255/40ZR18 95W BSW
255/45ZR18 99W BSW
265/35ZR18 97W BSW
275/35ZR18 95W BSW
285/35ZR18 101W BSW
19″
245/45ZR19 102W BSW
245/55R19 103V BSW
255/35ZR19 96W BSW
255/40ZR19 100W BSW
255/45ZR19 104W BSW
275/40ZR19 105W BSW
20″
245/40ZR20 99W BSW
245/50R20 102V BSW
255/35ZR20 97W BSW
255/50R20 105H BSW
275/35ZR20 102W BSW
Price Range
Hankook Ventus S1 Noble2 prices range from approximately $90 and up. You may also find occasional rebates, discount prices, coupons and special offers on this tire.
Click Here To Find The Current Lowest Prices On All Hankook Ventus S1 Noble2 Tire Sizes
Warranty
Hankook provides a 5-year or 50,000 mile tread warranty on the Noble2 H452. Tire uniformity is guaranteed for the first year of first 2/32 inch of wear. Materials and workmanship are warranted for 5-years and includes free replacement during the first year or first 2/32 inch of wear. A prorated amount is given for the remaining time period or down to the final 2/32 inch of tread depth.
---