Yokohama YK580 Tire Review & Rating
The Yokohama YK580 utilizes some of the most advanced tire technology in producing a tire that is made to deliver strong all-season performance and dependable handling. In fact, it is one of Yokohama's top selling models, yet we have found that many drivers have never heard about it until just recently.
The aggressive tread design sports an asymmetrical tread pattern and unique tread block bridges that provide added support and give the tire a more quiet ride. To that end, Yokohama has delivered on this feature because road noise on this tire is nearly non-existent.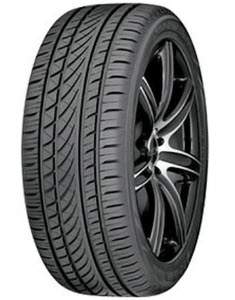 Performance on wet road surfaces is enhanced through sweeping rain channels and cross traction sipes. Together they work to "sweep" water away from the tread and add more biting edges in the snow.
Dry pavement grip and handling are enhanced due to the optimized groove ratio which increases the tread area by 9%. Yokohama's Uni-Bloc Shoulder design adds stiffness and more support to the outside shoulders and sidewall of the tire, which makes for increased cornering grip and stability.
Two steel belts that are nylon wrapped add more strength and durability to the tire, while also providing more even tread wear and a longer lifespan. Yokohama also includes either a 45,000 or 60,000 mile tread warranty on the YK580 depending on the tire's speed rating. Sizes range from 15-20 inches and come with either an H, V or W-speed rating.
Click Here To Find The Current Price On All Yokohama YK580 Tire Sizes
Pros
Grip in the corners is superb for all-season touring tires

Wet road handling is far above average

Road noise is virtually non-existent on this tire

60,000 mile tread warranty is excellent
Cons
Tire can be hard to find at times
Overall Thoughts
Simply stated the YK580 is one of the best high-performance all-season tires sold today. It provides excellent performance on either dry or wet pavement, and Yokohama has virtually eliminated all road noise with its tread design and new tire technology, which is an area often mentioned in driver reviews and ratings on this model.
The tire maintains excellent stability throughout the speed range, while the steering is responsive and provides good feel for the road. Winter handling performance is more than adequate, although we would like to see just a little more grip on deeper snow and ice. That said, this is by no means a snow tire.
Treadlife has proven itself to be very good, and Yokohama backs it with up to a 60K mile warranty.
Overall, this model firmly holds its place on the list of the top 10 high-performance all-season tires on the market today. Highly recommended.

Click Here For Current Yokohama Coupons
Click Here To Find Current Price
What Vehicles Will The YK580 Fit?
(This is not a complete list of ALL vehicles this tire will fit)
Acura TL

Audi A4, A8, S6

BMW 3-Series, 5-Series, X5

Buick Rendezvous, Lucerne

Cadillac CTS, STS

Chevrolet Cruze, Cobalt, Malibu, Impala, Camaro

Dodge Charger, Grand Caravan, Journey

Ford Fusion, Focus, Taurus, Flex, Edge, Mustang

Honda Accord, Civic, Odyssey, CR-V, Ridgeline

Lexus IS250

Hyundai Santa Fe, Sonata, Tuscon

Mazda 3, 6, CX-7, CX-9

Mercedes-Benz C-Class, E-Class

Nissan Altima, Maxima, Quest

Pontiac G6, Grand Am

Saturn L200

Scion tC

Subaru Forester, Outback

Toyota Camry, Corolla, Sienna, RAV4

Volkswagen Golf, Jetta, Passat

Volvo S60, S70
Tire Sizes
15″
195/55R15 85H BW
195/60R15 88H BW
195/65R15 91H BW
205/60R15 91H BW
205/65R15 94H BW
16″
195/55R16 87V BW
205/50R16 87V BW
205/55R16 91H BW
205/60R16 92H BW
205/65R16 95H XL BW
215/55R16 97H XL BW
215/60R16 95V BW
215/65R16 98H BW
215/70R16 100H BW
225/50R16 92V BW
225/55R16 99V XL BW
225/60R16 98H BW
225/70R16 103H BW
235/60R16 100H XL BW
235/65R16 103H BW
235/70R16 106T BW
17″
205/50R17 93V XL BW
215/45R17 87W BW
215/50R17 95V XL BW
215/55R17 94V BW
225/45R17 94W XL BW
225/50R17 94V BW
225/55R17 97V BW
225/60R17 99H BW
225/65R17 102H XL BW
235/45R17 97W XL BW
235/50R17 96V BW
235/55R17 99H BW
235/60R17 102H BW
235/65R17 108H XL BW
245/40R17 95W XL BW
245/45R17 99W XL BW
18″
215/45R18 93W BW
225/40R18 92W XL BW
225/45R18 95W XL BW
225/50R18 95W BW
225/55R18 98V BW
225/60R18 100H BW
235/40R18 95W XL BW
235/45R18 94W BW
235/50R18 97W BW
235/55R18 100V BW
235/60R18 107H XL BW
235/65R18 106H BW
245/40R18 97W XL BW
245/45R18 96W BW
245/60R18 105H BW
255/35R18 94W BW
255/40R18 95W BW
255/45R18 103W XL BW
255/55R18 109V XL BW
255/65R18 111H XL BW
265/60R18 110V BW
19″
225/45R19 96W XL BW
225/55R19 99V BW
235/50R19 99V BW
235/55R19 101V BW
245/40R19 94W BW
245/45R19 98W BW
245/55R19 103H BW
255/40R19 100V XL BW
255/50R19 107V XL BW
20″
235/55R20 102H BW
245/45R20 99W BW
245/50R20 102V BW
255/50R20 109V XL BW
255/55R20 110H XL BW
265/50R20 107V BW
Price Range
Prices on the YK580 range from approximately $99 and up. You may also find occasional rebates, discounts, coupons and special offers on this tire.
Click Here To Find The Current Price On All Yokohama YK580 Tire Sizes
Warranty
Yokohama YK580 tires are warranted for 5-years or 60,000 miles on H & V-speed rated sizes. W-speed rated tires are guaranteed for 5-years or 45,000 miles. Tire uniformity is covered during the first 2/32 inch of wear.
Materials and workmanship are backed for 5-years and include free tire replacement for the first 2/32 inch of wear. Yokohama prorates out the amount for the remaining time period down to the last 2/32 inch of tread depth.
---