Yokohama Parada Spec-X Tire Review & Rating
The Parada Spec-X is Yokohama's all-season street/sport tire that is designed for high performance trucks, SUV's and some of today's bigger muscle cars. It's also designed as an inch-up fitment as you will find sizes available from 17-30 inches, meaning there is virtually no limit to the fitments of this particular model.
An all-season tread compound and aggressive directional tread pattern not only provide an attractive looking design, but further increase acceleration and braking abilities on dry or wet pavement. Reinforced shoulder blocks and two continuous center ribs increase steering response and add stability and grip for enhanced cornering performance.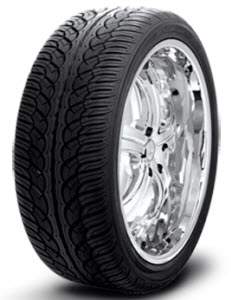 When the roads become wet, a wider and deeper circumferential groove and the tire's lateral grooves combine to evacuate water from under the tire and provide added wet surface traction. This also reduces the risk of hydroplaning, which is an area that many tires struggle with on heavier SUV's.
Yokohama has added variable tread pitch technology to this tire to reduce tread pattern noise for a more comfortable ride quality. Inside the tire you will find two steel belts that are reinforced with nylon for added strength and durability. A polyester cord body provides additional ride comfort. A built-in rim protector guards your wheels against accidental damage from curbs and other obstructions. Tires are available in H and V-speed ratings.
Pros
Excellent dry and wet traction

Cornering performance is very good among tires in this class

Steering is crisp and responsive

Smooth and comfortable ride for a low profile tire
Cons
Winter handling is not the best
Overall Thoughts
It would be easy to overlook this tire and go for a street tire from Continental, Goodyear or some other manufacturer, but that could be a big mistake. This Yokohama Spec-X quietly provides some of the best dry surface traction and cornering performance of any other tire in this class, and it does it for a lower price than many competitor tires.
Although originally designed for use on sport trucks and SUV's, we've heard from a lot of Dodge Charger, Magnum and Chrysler 300 drivers who run this tire and swear by its higher performance.
The steering is quick and responsive, and the ride is pretty comfortable for this type of tire. Use a little extra caution and common sense when driving in winter weather conditions because this is not a snow tire. That said, if you are seeking a good looking high performance all-season tire for your muscle car, truck or SUV, this tire makes for a good choice.
Click Here For Current Yokohama Coupons
Click Here To Find Current Prices
What Vehicles Will The Parada Spec-X Fit?
(This is not a complete list of ALL vehicles this tire will fit)
Audi Q5, Q7

BMW X3

Cadillac Escalade, SRX

Chevrolet Tahoe, Trailblazer, Camaro SS, Silverado, Avalanche, Suburban

Chrysler Town and Country, 300

Dodge Durango, Grand Caravan, Magnum, Ram, Journey

Ford Escape, Freestyle, Flex, Taurus

GMC Yukon, Terrain

Honda CR-V, Odyssey, Pilot

Hyundai Santa Fe

Jeep Grand Cherokee, Liberty

Lexus RX350, RX400

Lincoln MKX

Mazda CX-7, CX-5

Nissan Armada

Suzuki Grand Vitara

Toyota Sequoia, RAV4, Highlander

Volkswagen Routan
Tire Sizes
17″
225/65R-17 102H B
18″
225/60R-18 100H B
235/55R-18 100V RPB
235/60R-18 103V RPB
235/65R18 106H BW
245/60R-18 105V B
19″
235/55R-19 101V RPB
20″
235/55R-20 102V B
245/45R-20 99V B
245/50R-20 102V B
255/40R-20 XL 101V B
255/45R-20 XL 105V B
255/50R-20 XL 109V B
265/50R-20 XL 111V B
275/40R-20 XL 106V B
275/45R-20 XL 110V B
275/55R-20 XL 117V B
285/50R-20 112V B
295/45R-20 XL 114V B
305/50R-20 XL 120V B
22″
255/30R-22 XL 95V B
255/35R-22 XL 99V B
265/30R-22 XL 97V B
265/35R-22 XL 102V B
265/40R-22 XL 106V B
285/30R-22 XL 101V B
285/35R-22 XL 106V B
285/40R-22 XL 110V B
285/45R-22 XL 114V B
305/40R-22 XL 114V B
305/45R-22 XL 118V B
325/50R-22 XL 116V B
24″
285/40R-24 XL 112V B
295/35R-24 XL 110V B
305/35R-24 XL 112V B
315/35R-24 XL 114V B
325/45R-24 XL 116V B
26″
315/40R-26 XL 120V B
28″
325/35R-28 XL 120V B
30″
315/35R-30 116V B
Price Range
Prices on the Yokohama Spec-X range from approximately $106 and up. You may also find occasional rebates, discounts, coupons and special offers on this tire.
Click Here To Find The Current Prices On All Yokohama Parada Spec-X Sizes
Warranty
Yokohama includes a limited tread warranty on the Spec-X. Tire uniformity is guaranteed for the first 2/32 inch of wear. Materials and workmanship are warranted for 5-years and include free replacement during the first year or first 2/32 inch of wear. A prorated amount is given for the remaining time period or down to the final 2/32 inch of tread depth.
---