Yokohama Geolandar H/T G056 Tire Review & Rating
Built to replace the aging HT-S, the new Yokohama Geolandar H/T G056 is a completely new design that features orange oil tread technology, enhanced ride comfort and a longer tread life. Designed for drivers of pickups, SUV's and crossovers, the G056 is for highway use and not off the beaten path.
Yokohama's orange oil technology and added micro silica in the tread compound combine with a symmetric tread pattern to deliver increased dry and wet traction in a wide range of temperatures. (Orange oil helps in keeping the tread more pliable in colder temps.)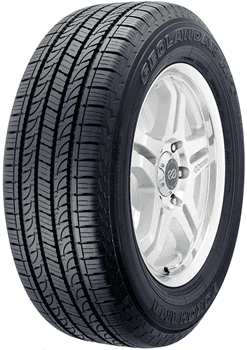 There's also triple 3-D sipes, multi-angled grooves and zig-zag circumferential grooves around the tread that further increase the grip on wet pavement, and help with traction on snow and ice as well. That said, ice traction and braking is not a real strength for this model.
An area that is a big strength for this tire is its treadlife, which is constantly mentioned by other drivers in reviews. Yokohama has added what they call adaptive shoulder blocks that form continuous outer ribs. The results of this are improved treadwear and lower road noise. An optimized contact patch also provide better tread wear and more miles from the tread.
Another area that the engineers from Yokohama concentrated on is ride comfort. Two polyester casing plies help in that regard. There are currently 38 sizes available that range from 15-20 inches, and the tire is backed by up to a 70K mile warranty.
Pros
Excellent traction with an emphasis on wet grip

Comfortable ride and very quiet

Long lasting treadlife

Value for the money
Cons
Overall Thoughts
The new Yokohama G056 is a massive improvement over the original HT-S in almost every aspect. In addition, we feel it is also a better performing tire than the G051 as well.
Wet traction is exceptional for a tire in this category. It holds the road surface securely and doesn't hydroplane like the older model. We also like what Yokohama has done with extending the treadlife. At this stage it's right among the best for a longer lasting lifespan. Finally, ride comfort is outstanding and ranks right up there with the Michelin Defender LTX M/S.
The only real issue we see is with braking and acceleration on ice. Of course this is a problem with most any all-season tire.
Overall, there are a number of outstanding tires in the truck and SUV all-season highway category, and this new G056 deserves its place right up there with any of them. Highly recommended.

Click Here For Current Yokohama Coupons
Click Here To Find Current Prices
What Vehicles Will The Yokohama G056 Fit?
(This is not a complete list of ALL vehicles this tire will fit)
Buick Rendezvous

Chevrolet Silverado, Astro, Trailblazer, Suburban, Tahoe, K1500

Chrysler Pacifica

Dodge Dakota, Durango, Ram

Ford F-150, Expedition, Explorer, Escape

GMC Sierra, Canyon

Honda Pilot, Element, Ridgeline

Hyundai Santa Fe

Jeep Grand Cherokee

Kia Sorento, Sedona

Lincoln Navigator

Mazda Tribute

Mitsubishi Montero

Nissan Pathfinder, Frontier, Xterra

Saturn Vue

Toyota Tacoma, 4Runner, Tundra, Sequoia, Highlander, T100, RAV4
Tire Sizes
15″
P235/75R15 108T XL OWL
265/70R15 112H BW
16″
P225/75R16 106T XL BW
P235/70R16 104T OWL
P235/75R16 109T XL OWL
P245/70R16 106H OWL
P245/75R16 109T OWL
P255/65R16 106T OWL
P255/70R16 109T OWL
P265/70R16 111T OWL
P265/75R16 114T OWL
275/70R16 114H BW
LT215/85R16 115R E BW
LT225/75R16 115S E BW
LT235/85R16 120R E BW
LT245/75R16 120S E OWL
LT265/75R16 123R E OWL
17″
P235/70R17 108T XL OWL
P245/65R17 105T BW
P245/70R17 108H OWL
P255/65R17 108T OWL
P255/70R17 110T OWL
P265/65R17 110T OWL
P265/70R17 113T OWL
LT235/80R17 120R E OWL
LT245/70R17 119R E OWL
LT245/75R17 121S E OWL
LT265/70R17 121S E OWL
18″
P245/60R18 104H BW
P255/65R18 109T BW
P255/70R18 112H BW
P265/60R18 109H BW
P265/65R18 112T BW
P265/70R18 114S OWL
P275/65R18 114T OWL
285/60R18 116H BW
LT275/65R18 123S E OWL
LT275/70R18 125R E OWL
19″
P255/60R19 108H BW
20″
P275/55R20 111H BW
P275/60R20 114H BW
285/50R20 112V BW
Price Range
Yokohama HT G056 prices range from approximately $90 and up. You may also find occasional rebates, discount prices, coupons and special offers on this tire.
Click Here To Find The Current Prices On All Yokohama Geolandar H/T G056 Sizes
Warranty
The G056 comes with a 5-year or 70,000 mile tread warranty on all P-metric sizes. LT sizes feature a 50,000 mile warranty. A first 2/32 inch of wear guarantee on the tire's uniformity is also included.
Materials and workmanship are covered for 5-years and include free first year or first 2/32 inch of wear tire replacement. A prorated amount is given for the remaining time period or down to the final 2/32 inch of tread depth.
Yokohama provides a 30-day test drive where you can exchange or refund the tire in the event you are not completely satisfied.
---