Yokohama Geolandar A/T G015 Tire Review & Rating
As the newest addition to its Geolandar lineup, the Yokohama Geolandar A/T G015 is billed as the company's toughest and most versatile all-terrain tire they have built yet. Set to replace the original AT-S that is currently a best-selling model in its own right, the new G015 is created to up the performance in several key areas.
Yokohama uses a tough Enduro all-season tread compound that features orange oil and unique high-tech polymers that are designed to deliver increased traction on or off road, as well as longer lasting treadwear. Next, EdgeTec Grooves help create a larger void area on the tread to rid the tire of dirt, sand and heavy amounts of mud.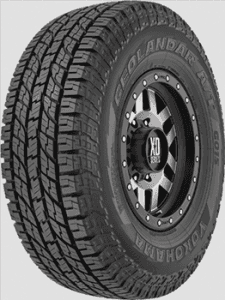 On the highway you'll find this model is designed to give you a more pleasant driving experience than you might think. Triple 3-D sipes add the biting edges for increased traction on wet or snow covered pavement. Yokohama engineers created these sipes to change their shape as the tire begins wearing down in order to continue to maximize traction and keep you safe on the road.
Speaking of traction on snow, the AT G015 carries the RMA mountain/snowflake emblem that designates it as meeting the severe weather requirements. Light or deep snow is no match for this tires' traction. While more than adequate itself, this new model handles snow and ice even better than the older AT-S. In fact, Yokohama states that snow braking and handling is improved more than 25% over the older A/T-S.
Yokohama offers a wide range of 15-20 inch sizes that cover 96 percent of truck/SUV market. They are available in both LT and P-metric sizes, and you'll also find either a 60K or 50K mile tread warranty.
Pros
On or off-road traction
Winter performance
Well-mannered on the highway
Longer lasting treadlife
Cons
Nothing that stands out at the moment
Overall Thoughts
While the original A/T-S ranked highly in the all-terrain class, it lacked the performance to match the models at the very top. Yokohama has stepped up their game with this new G015 and created a tire that now can be discussed in the same circle as tires like the BFG T/A KO2, Cooper AT3, Michelin LTX A/T2 and others.
There's been a big improvement in traction both on or off the road. The addition of EdgeTec grooves is certainly noticeable in dirt, sand and mud. Though not a serious mud tire by any stretch, this model holds up well in light to moderate mud. Traction on snow and ice is a huge plus for this tire as well. Sporting the mountain/snowflake emblem lets you know it has the same grip as a dedicated winter tire.
Treadwear has shown to be much improved at this early stage. Again, Yokohama spent considerable time in increasing the wear on this model, which they claim provides 33% better wear than the A/T-S.
Overall, while there are a number of excellent AT tires available today, Yokohama has managed to produce yet another good quality addition to this class that is highly recommended. Unless you're a hard-core mudder or rock climber, this is a tire that will get you through everything and get you there safely.
Click Here For Current Yokohama Coupons
Click Here To Find Current Prices
What Vehicles Will The Yokohama A/T G015 Fit?
(This is not a complete list of ALL vehicles this tire will fit)
Chevrolet Tahoe, Blazer, Silverado, Trailblazer, Suburban
Dodge Durango, Dakota, Ram
Ford F-Series, Expedition, Ranger, Bronco
GMC Sierra, Envoy, S-15
Honda CR-V
Infiniti QX4 SUV
Jeep Wrangler, Grand Cherokee, Commander, Liberty
Kia Sorento
Nissan Titan, Frontier
Toyota 4-Runner, Tundra, Tacoma, RAV4
Tire Sizes
15″
P235/75R15 108T XL OWL
LT215/75R15 100/97S C OWL
LT235/75R15 104/101S C OWL
30X9.50R15 OWL
31X10.5R15 LT 109S C OWL
32X11.50R15 OWL
33X12.50R15 OWL
16″
P235/70R16 104T OWL
P245/70R16 106T OWL
P245/75R16 109T OWL
P255/70R16 109T OWL
P265/70R16 111T OWL
P265/75R16 114T OWL
LT215/85R16 OWL
LT225/75R16 115/112R E OWL
LT235/85R16 120/116R E OWL
LT245/75R16 120/116S E OWL
LT265/75R16 123/120R E OWL
LT285/75R16 126/123R E OWL
LT315/75R16
17″
225/65R17 102H BW
235/65R17 108H XL BW
P245/65R17 105T OWL
P245/70R17 108T OWL
P255/75R17 113T OWL
P265/65R17 110T OWL
P265/70R17 113T OWL
P285/70R17 117T OWL
LT235/80R17 120/117R E OWL
LT245/70R17 119/116R E OWL
LT245/75R17 121/118S E OWL
LT265/70R17 121/118S E OWL
LT285/70R17 121/118S E OWL
LT285/75R17 OWL
LT315/70R17 OWL
18″
235/60R18 107H XL BW
255/70R18 113H BW
265/60R18 110H BW
265/65R18 114H BW
265/70R18 116H BW
275/65R18 116H BW
LT265/70R18 OWL
LT275/65R18 123/120S E OWL
LT275/70R18 125/122S E OWL
LT285/65R18 BW
LT285/75R18 BW
LT295/70R18 BW
35X12.50R18 LT 123R BW
20″
275/55R20 117H XL BW
275/60R20 115H BW
LT265/60R20 BW
LT275/65R20 126/123R E BW
LT285/55R20 122/119S BW
LT295/60R20 126/123S BW
LT305/55R20 121/118S E BW
LT325/60R20 121/118S D BW
35X12.50R20 LT 121R E BW
Price Range
Yokohama Geolandar A/T G015 prices range from approximately $117 and up. You may also find occasional rebates, discount prices, coupons and special offers on this tire.
Click Here To Find The Current Prices On All Yokohama Geolandar A/T G015 Sizes
Warranty
Yokohama provides a 60,000 mile treadlife warranty on all P-metric sizes, and a 50,000 mile warranty on LT models of the A/T G015. There is a first 2/32 inch of wear guarantee on the tire's uniformity for all sizes.
Materials and workmanship are guaranteed for 5-years and include first year or first 2/32 inch of wear free tire replacement. A prorated amount is given for the remaining time period or down to the final 2/32 inch of tread depth.
Yokohama includes their 30-day test drive guarantee whereby you can refund or exchange the tire if you are not completely satisfied.
---